Arnold Schwarzenegger is a no non-sense man. Being an army man himself and the son of a Police officer, Arnold loves to adhere to discipline. Having lived life hard, there is no sugar coating of words for him. If he sees it, he will tell whether someone likes it or not. Though he means no ill, he sometimes can be brutally honest.
ADVERTISEMENT
Article continues below this ad
When Arnold sat down for an interview with Tim Ferris, the interviewer pondered his usage of 'psychological warfare' in competition. Tim could not help but ask Arnie how he managed to get into people's heads. The Terminator star had an interesting answer.
ADVERTISEMENT
Article continues below this ad
For Arnold, it's never beating around the bush
Arnie loves to lay out the facts straight and clearly. Talking about the habit he adopted during his gym days, the champion said, "I always felt that people are vulnerable in certain areas." According to Arnold, people come to the gym to improve their physique. During his gym days, he realized that most people who come are "vulnerable."
He further realized that when the people were told about the areas they needed to improve, they became more vulnerable. Even though the concerned person knew that what he was told was a fact, they would defend themselves. Arnold was not appreciative of the attitude.
Making his point clear, he said, "I go to the doctor's office and say I have a cough. I don't go and beat around the bush." Following this same ideology, he loves to keep it straight. Even if someone does not like it, there is no stopping Arnold from saying, "in the gym, that you come here because you're fuc*ing fat." This simple trick helped Arnold in his professional bodybuilding years.

ADVERTISEMENT
Article continues below this ad
How Arnold Schwarzenegger managed to intimidate his competitors through mind games?
Before the 1975 Mr. Olympia tournament, Arnold told Lou Ferrigno's family that their son just had one month to prepare for the competition. Having won five consecutive titles, Arnie, with a broad smile, said that Lou needed to get in the perfect shape.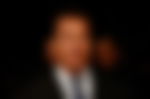 Even though Arnold was yet to win his sixth title, he convinced Lou and his family that he was the winner. Making them believe a hypothetical situation, he said, "Can you imagine the feeling I have? Six-time Mr. Olympia. Six f—ing times. It's incredible." The incident that is well documented in the bodybuilding documentary "Pumping Iron" is one of the most famous instances where Arnold played with his mind.
Watch This Story: Five Years Younger to Arnold Schwarzenegger's Lou Ferrigno Looking Like a Beast Next to the Terminator Left Fans Amazed Once