Wachiwit/iStock Editorial via Getty Images
This is the second article in a series focused on growth at a reasonable price (GARP) stocks. We wrote about Coursera last month to kick off this series.
It has been nearly five years since I wrote the article 10 Things Worth Celebrating About Twitter and a lot has changed since then. The stock, which was at $14.40 when I published that article, managed to eclipse $80 per share last year before giving back more than half of those gains in recent months. Jack Dorsey is no longer at the helm of Twitter (NYSE:TWTR) and at least one of the five product improvement suggestions I had provided in that article has been implemented in the last five years.
Big R&D Budget
Given the slow pace of innovation at Twitter, one would think that the company might be crimping on its R&D budget but I was shocked to see on Twitter's income statement that during the trailing twelve months, the company managed to spend $1.12 billion on R&D. Over one billion dollars. Yikes! This accounts for 23.4% of Twitter's revenue of $4.8 billion during the last four quarters. To be fair, Twitter has attempted a lot of experiments in the last five years and thankfully managed to do so without alienating its core users. The company even managed to weather the departure of one of its most popular users and generated a nearly 45% increase in revenue in the nine months following his suspension, compared to the same period the prior year.
Comparisons to Meta Platforms (formerly Facebook)
Critics of Twitter and Jack Dorsey have often pointed to its bigger brother Meta Platforms (NASDAQ:FB) and its stellar performance, execution and astute acquisitions of Instagram, WhatsApp and Oculus. Oddly enough, after the disappointing results from Facebook last week, Twitter has outperformed Facebook during the last five years and the outperformance was even more significant before the recent pull back in technology stocks as you can see from the chart below.

The interesting thing about this outperformance is that Twitter has barely started to realize its full potential and Facebook will have to spend a lot of R&D dollars on bringing the metaverse to life. The story of the virtual universe Second Life and its descent into relative obscurity does not inspire much confidence. Facebook has nearly $34 billion in net cash on its balance sheet and with enough focus, they just might pull off this audacious experiment.
A Show Me Story
Twitter has always been a show me story with a lot of potential. Despite significant revenue growth and a big increase in daily active users, the stock has not done a whole lot since going public. LongShortTrader's following tweet captures this sentiment perfectly.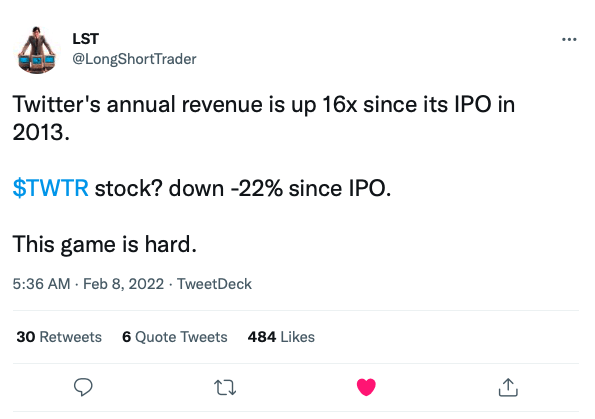 One of the responses in that Twitter thread points to massive stock dilution over the years as the company used stock-based compensation to pay its employees. Looking at Twitter's latest 10-Q filing and one from four years ago (Q3 2017), I see that weighted average basic shares outstanding have increased 8% in the last four years. While there has been some dilution, it has not been as significant as I expected. During the same time, revenue more than doubled from $590 million in Q3 2017 to $1.28 billion in Q3 2021.
Low Hanging Fruit
The low hanging fruit for Twitter is plentiful. Here are three areas the company could benefit from:
1. Twitter's recommendation engine was broken back when it launched its Moments product and remains broken long after Moments was mothballed. Twitter was recently recommending that I follow a user that had not tweeted in four years and had not liked anything on Twitter for over three years. A follow from me would probably trigger an email message to this user and might get them back to the platform. However Twitter is doing a disservice to its current engaged users by showing recommendations like these and active users are likely to ignore these kinds recommendations in the future.
2. Twitter's advertisement matching engine could use a lot of work. The ads are infrequent (compared to YouTube bombarding you with ads before every video) and mostly irrelevant. Given the amount of data Twitter has on its users, you would think that their ad matching algorithm would have improved by now. With a new CEO at the helm with a strong technology background, maybe Twitter will finally arrive at AI/machine learning models that improve both its ad matching and recommendation engines. It is shocking that despite these sub-optimal models, advertising revenue in Q3 2021 was up 41% year-over-year.

3. Better monetization of non-member consumers. While Twitter reports 211 million monetizable average daily users, there are a lot of non-member users that consume twitter either directly or through tweets embedded in articles, blogs and other sources. I pulled up one of my tweets from a private/incognito window and the screenshot below shows what came up. There is a ton of prime ad real estate on the left that is not utilized and the only call to action (CTA) on the page is the "New to Twitter?" message. Although one can claim that the follow buttons in the "Relevant people" section are also CTAs.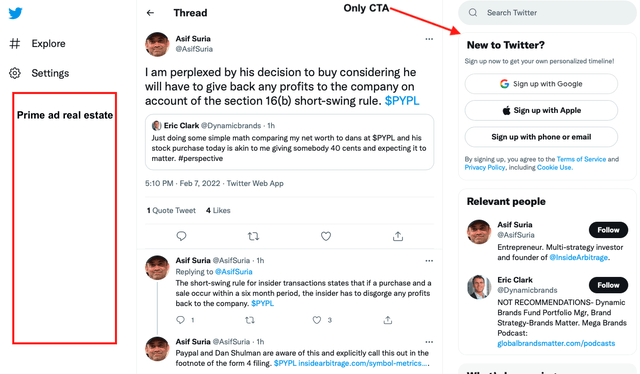 Valuation
I love Seeking Alpha's peer comparison tool and especially the ability to change the peers you compare a company with. I created a customized list comparing Twitter with Meta Platforms (FB), Snap (SNAP), Pinterest (NYSE:PINS) and NextDoor Holdings (NYSE:KIND). Since NextDoor recently went public through a SPAC combination, there was very little data available on the company and I decided to drop it from the comparison. As you can see below, on a forward EV/EBITDA basis, Twitter sports a more attractive valuation than both Snap and Pinterest, although Meta Platforms appears to be heading into deep value territory. On a forward EV/Sales metric, Twitter, Meta and Pinterest are within a stone's throw of each other.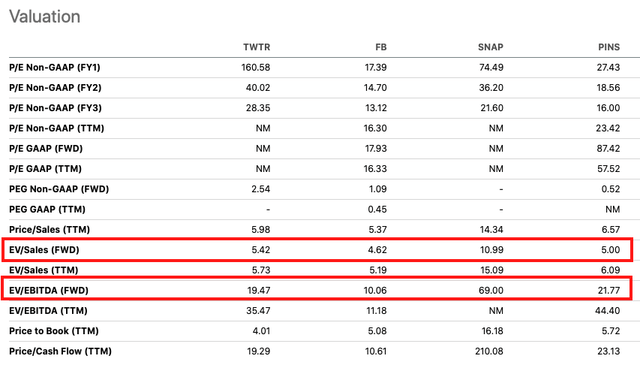 You don't often get opportunities to buy unique companies like Twitter for 5 times forward sales or 20 times EBITDA.
Plugging the next two years of consensus analyst estimates for 2022 earnings of 20 cents per share and 2023 earnings of 90 cents per share into a DCF model, assuming an EPS growth rate of 35% in year 3, declining 3% a year through 2031, an 8% discount rate and a 2% terminal growth rate, I get an intrinsic value of $55.16 per share, a 53% discount to current price. A DCF model is only as good as its assumptions and it's entirely possible that the future might unfold differently.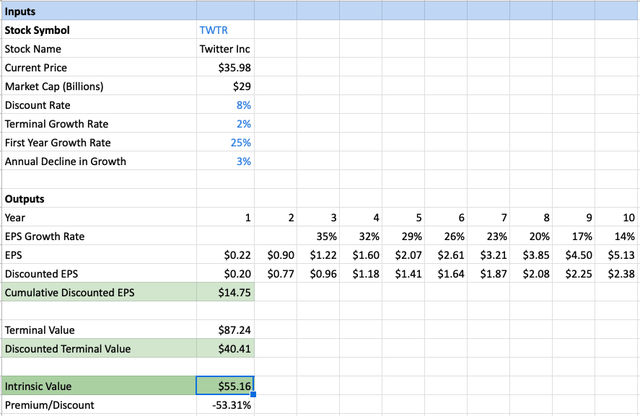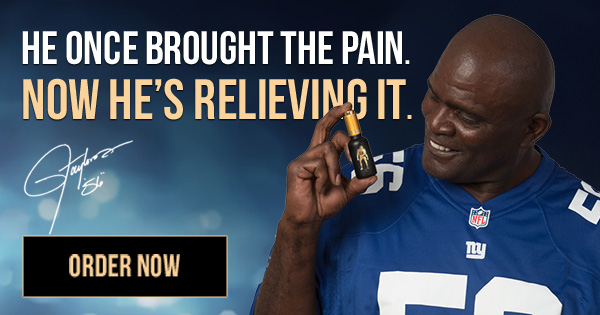 Conclusion
In early 2020, I was following the spread of the pandemic through Twitter (TWTR) and through conversations with investors on the other side of the globe who were already seeing mandatory shutdowns and the first-hand impact of the pandemic. It was fascinating to hear the former assistant director of the California Department of Public Health, Dr. Charity Dean, reflect on this on Barry Ritholz's Masters in Business podcast, where she said the following about the COVID-19 pandemic,
"So operationally as a country, I really think it's important that we rethink who's doing the frontline operations, do they have enough resources, and do we have a way to quickly get centralized intelligence out to all those people. Right now, the way they share information is fax machines, and emails, and phone calls. And that cannot move as fast as the pathogen.
The pathogens are moving faster, and so we have to develop systems that can move even faster than the pathogens. You know, what I was inspired by, was watching Twitter and how fast, rumors can spread on Twitter. In January 2020, that's where I was going to look for intelligence from Wuhan."
Paying a reasonable multiple for a company that is on the forefront of breaking news, that is used by everyone from the neighborhood kid to royalty and that fosters communities like finance twitter (fintwit) makes a lot of sense to me. I hold a long position in Twitter and plan to add more to the position in the next few days.