Former governor of California, Arnold Schwarzenegger, was a member of the Republican party. Notably, he served as the governor for eight straight years, from 2003 to 2011. However, interestingly, his ex-wife, Maria Shriver, comes from the Kennedy family who established the opposition, the Democratic party.
ADVERTISEMENT
Article continues below this ad
When the two people have an extreme contrast in their interests, the way for conflicts becomes clearer. In 2000, when Arnold hadn't become a governor yet, he was invited to MyTalkShowHeroes. Thereby, The Austrian Oak revealed the tricks he used to avoid the conflicts that may have taken place due to their different political interests. What did they do to avoid fights? 
ADVERTISEMENT
Article continues below this ad
Arnold Schwarzenegger and Maria Shriver knew their way out of trouble
Arnold Schwarzenegger cheerfully answered the questions regarding the couple's equation when it's about politics. Schwarzenegger wittily replied to the questions and implied everything was great between the couple. Moreover, he depicted how they have figured out ways to bear with the contrasting choices of each other.
When he was asked, "Your wife Maria Shriver, of course with the Kennedys, I mean a Democrat, when you watch election coverage together, what, do you sir in separate rooms? What do you do?"
Arnold wittily replied, "What we do is, I think, like every election night, we just sit there. Maria watches the results in the bedroom and I'm out there in Humvee watching the result. So that's what we do, so this way there's no fighting."

Maria's role in Arnold's political career
ADVERTISEMENT
Article continues below this ad
Notably, Arnold Schwarzenegger was under immense criticism in 2003 when he stood up for the governor's re-election. However, Maria was extremely surprised by his decision to stand in the election. She stood for him and fought against the allegations against him of being with multiple women over the years.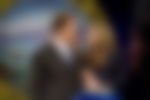 Apart from this, she also had to lose her job at NBC as his husband was running in the elections. Despite all the hurdles, Maria stood by Arnold and helped him win the elections. Moreover, she kept her duty first until the relationship ended in 2011. As she kept his illegitimate son's news a secret until he stepped down from the governor's post.
Watch this story: Hero of Mine: Arnold Schwarzenegger Bowed Down to the Martial Arts Legend Jackie Chan During Their Iconic Reunion in 2019
There might have political differences between the former couple before Arnold stood for the elections. But the couple had their ways sorted out to avoid any kind of conflict between them. Moreover, afterward, Maria supported her husband throughout his political career.