If you are looking for some top-notch scoring, the small forward position is the place to be. The position featured a potential scoring champion had he played enough games. It featured a blossoming prospect that could be the next Kevin Durant from his small forward playing days. The future of the position looks bright with Anthony Edwards coming off a sensational season that could lead to his first All-Star appearance.
When looking at the cost of the position, it will cost a team about $30 million per season for top talent. That is, if the team is evaluated correctly. DeMar DeRozan is looking like a steal for the Chicago Bulls. DeRozan is not a top-10 paid small forward and is coming off a season where he nearly led the league in clutch points and finished second among all small forwards in scoring with 27.9 points per game.
When looking around the rest of the small forwards, some players are getting a lot of dollar bills for not the same result. Some of these deals are deserved, while others need a season to prove their worth. These are the top-10 highest-paid small forwards in the league.
10. Gordon Hayward – $30,075,000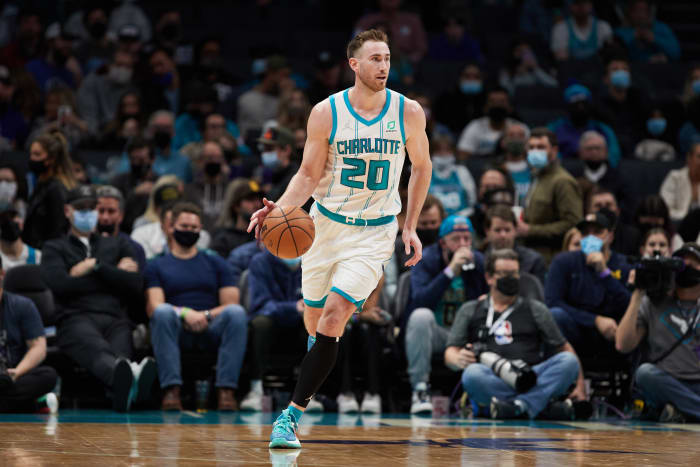 Credit: Brian Westerholt-USA TODAY Sports
2021-22 Stats: 15.9 PPG, 4.6 RPG, 3.6 APG, 1.0 SPG, 0.4 BPG
When you look at the dollar amount of what Hayward did last season, this is an uneasy feeling if you are a Charlotte Hornets fan. Hayward's scoring average was 20th among all small forwards. Players like Saddiq Bey, Keldon Johnson, Luguentz Dort, and Dillon Brooks all scored more than him. Hayward was thought to be a premier swingman in this lineup, but he is treading water for average play.
The Hornets are in a strange place right now. Miles Bridges was going to potentially be back and was fresh off of leading the team in scoring. LaMelo Ball looks like the real deal while Terry Rozier is a super reliable player. The team needs Hayward to play near a $30 million per year player. He is on the wrong side of 30 and has an injury history. This could be a bad contract coming up this season.
9. Jayson Tatum – $30,351,780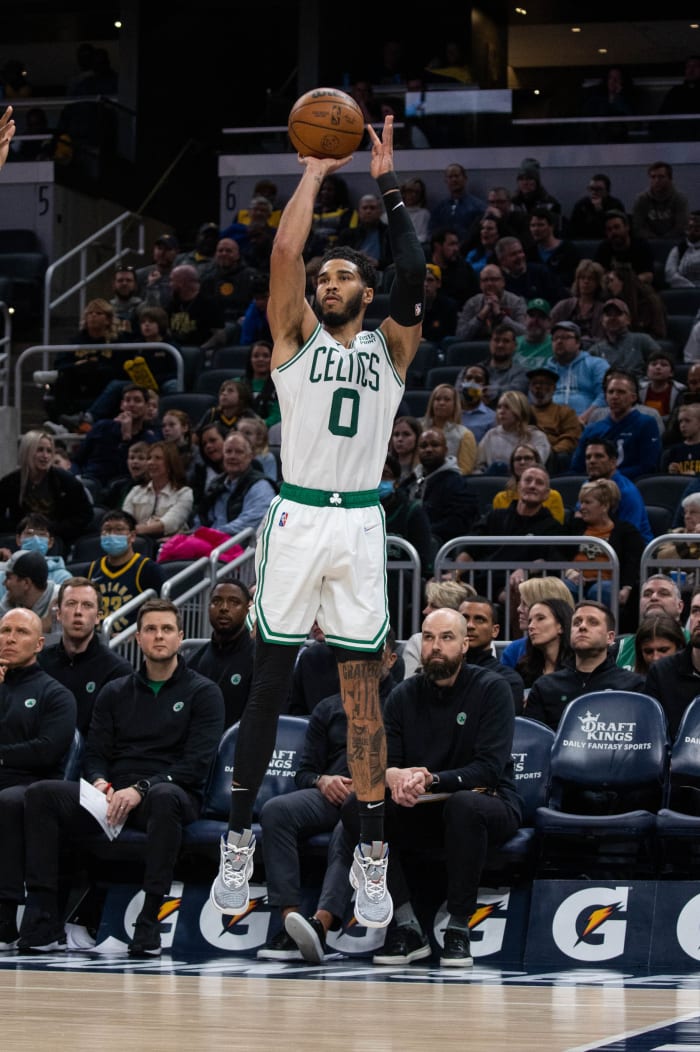 Credit: Trevor Ruszkowski-USA TODAY Sports
2021-22 Stats: 26.9 PG, 8.0 RPG, 4.4 APG, 1.0 SPG, 0.6 BPG
What a steal for the Celtics. Not only did the Celtics steal this player from the Brooklyn Nets all those years ago. The Celtics also are paying the ninth-highest salary for the position and are getting a top-3 player. His 26.9 points per game were third-best among all players. He was also tied for being the best outside shooter among players at the position. His 3.0 three-point field goals per game tied Anthony Edwards for the most.
Tatum was second in free throws made with 5.3, while he also recorded 22 double-doubles, which was second best. His player efficiency rating was second to DeMar DeRozan, another player that should be in the top 10 for salaries. Altogether, Tatum is one of the best at the positions, but the Celtics appear to be getting more than what they paid for.
8. Michael Porter Jr. – $30,913,750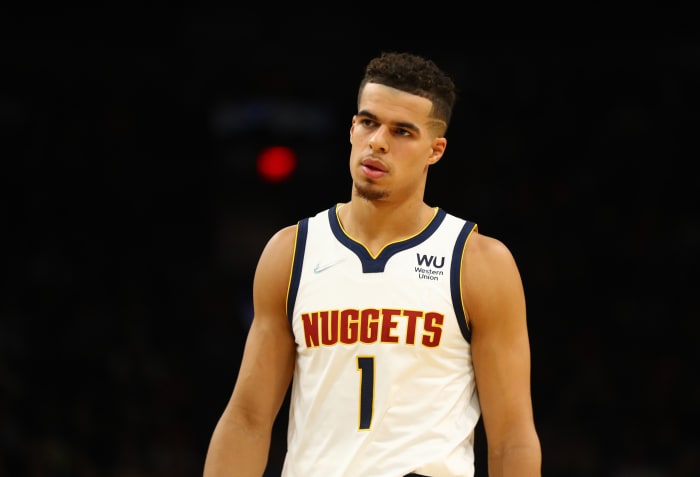 Credit: Mark J. Rebilas-USA TODAY Sports
2021-22 Stats: 9.9 PPG, 6.6 RPG, 1.9 SPG, 1.1 SPG, 0.2 BPG
The Denver Nuggets believe in Porter because if they didn't, they wouldn't have given him this massive contract extension. In four seasons, Porter has played 125 total games. When healthy, he showed glimpses of playing like an All-Star in the league. In 2019-20, Porter averaged 9.3 points, 4.7 rebounds, and shot 50.9% from the field. The following season that grew to 19.0 points, 7.3 rebounds, and a 54.3% shooting percentage.
At 24 years old, this could still potentially be a great signing for the Nuggets. The team is including Porter as their core for contending for an NBA championship with Jamal Murray, Aaron Gordon, and Nikola Jokic. If the Nuggets are going to win their first title in team history, Porter will have to live up to his contract and stay healthy.
7. Brandon Ingram – $31,650,600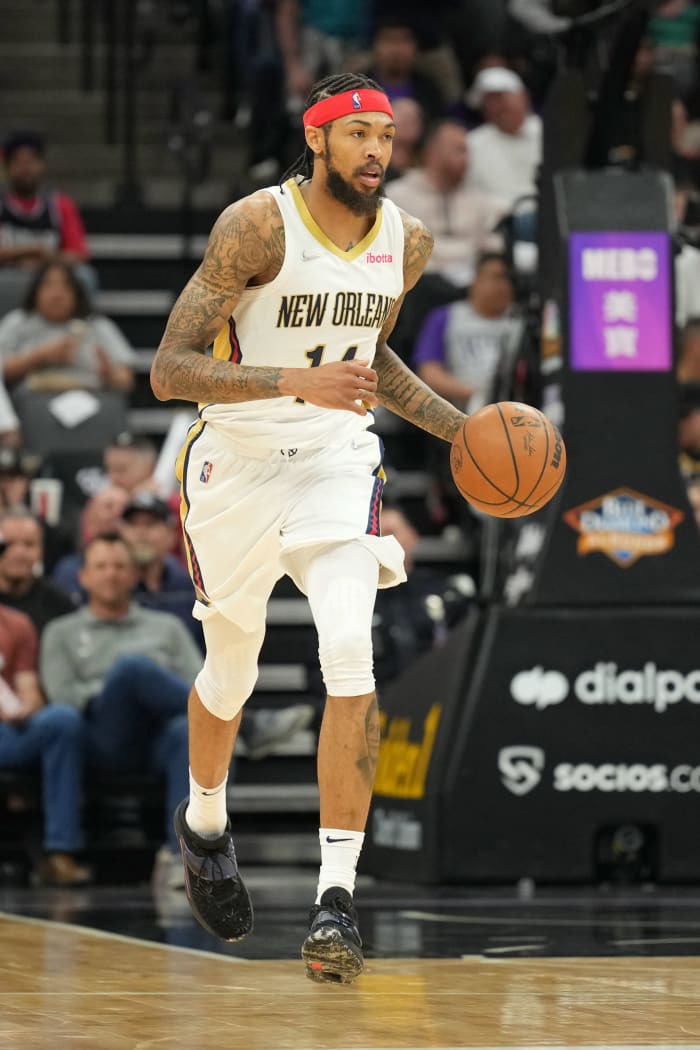 Credit: Darren Yamashita-USA TODAY Sports
2021-22 Stats: 22.7 PPG, 5.8 RPG, 5.6 APG, 0.6 SPG, 0.5 BPG
With Zion Williamson out for the entire year, Ingram had to take on the lead role on offense. Ingram finished with the fourth-best scoring average, but what sticks out the most was his passing. Among all small forwards, Ingram's 5.6 assists per game were second best. With Lonzo Ball leaving the last offseason, it was expected that Devonte' Graham would have played a larger role. Instead, it was Ingram that had superb playmaking.
Ingram's field-goal percentage (46.1%) was not as efficient as you would want it to be. Neither was his outside shooting, which came out to 32.7% from three-point range. With that said, with Williamson back, and C.J. McCollum with the team from the start of the year, Ingram could be more efficient with help.
6. Andrew Wiggins – $33,616,770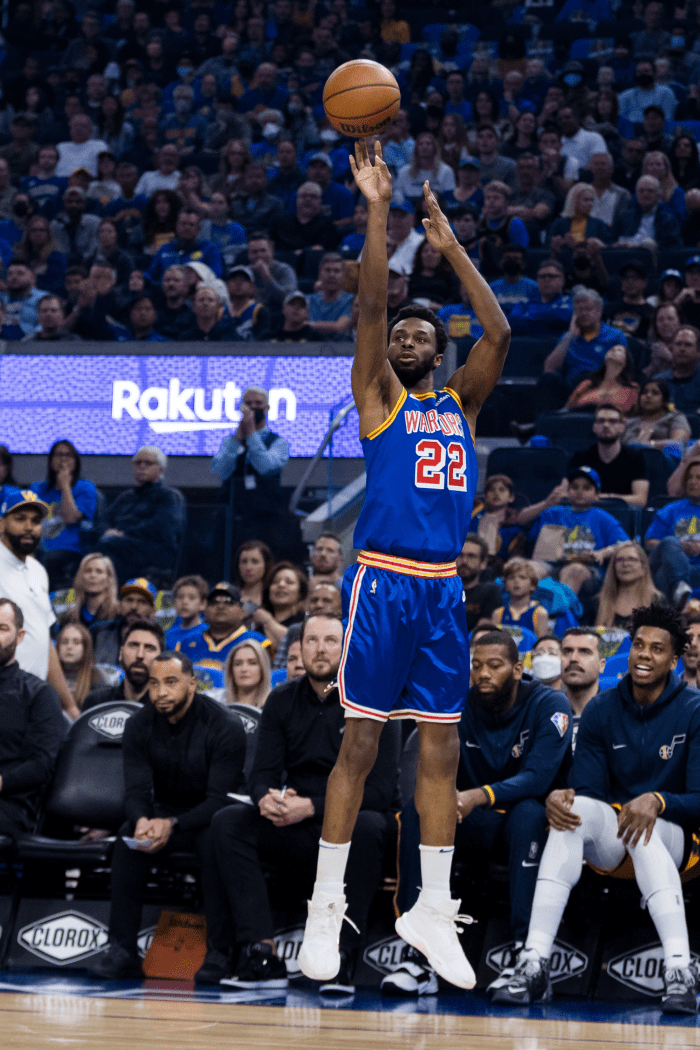 Credit: John Hefti-USA TODAY Sports
2021-22 Stats: 17.2 PPG, 4.5 RPG, 2.2 APG, 1.0 SPG, 0.7 BPG
In a contract year, Wiggins is coming off a great season which included his first All-Star appearance. If Wiggins can make it back to the All-Star Game, it could help his resume in getting his second big contract. Wiggins was a part of the 2022 championship Golden State Warriors. With the team, he often led the team in rebounding, while being one of the team's best defenders.

Wiggins was 13th in scoring but is coming off his best season shooting from outside. During the 2020-21 season, Wiggins shot 38.0% from outside. That number grew to a career-high 39.3% three-point field goal percentage. It could be a product of the Warriors system, but Wiggins fit in nicely. While this might be a lot of money for the production, Wiggins is playing a role similar to Andre Iguodala from years ago, but is doing it better. If the team repeats as champions, it will be worth the investment.
5. Jimmy Butler – $37,653,300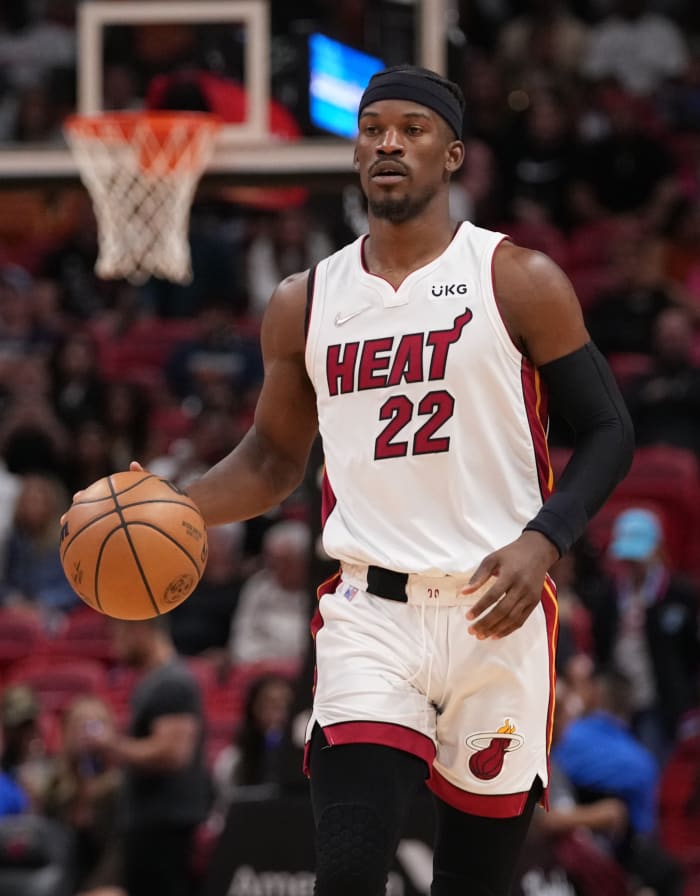 Credit: Jasen Vinlove-USA TODAY Sports
2021-22 Stats: 21.4 PPG, 5.9 RPG, 5.5 APG, 1.6 SPG, 0.5 BPG
Butler is teetering on being a top-10 player in this league but he is confirmed as one of the best small forwards in the league. He is also paid like one of them as well. Butler was fifth in scoring among small forwards, but his game brings a little bit of everything. Where he succeeds the most is his defense. His 1.6 steals per game nearly led all small forwards, but it came up just short of the 1.7 per game from Herbert Jones.
The difference between the two players is that Butler played 57 games in comparison to the 78 games from Jones. Had Butler not missed time, who knows what would have happened? In the playoffs, Butler nearly pulled the Heat back to the NBA Finals but missed one late shot in Game 7 of the Conference Finals. With his work ethic, you know he is going to look to lead this team back to the Finals again.
4. Khris Middleton – 37,894,276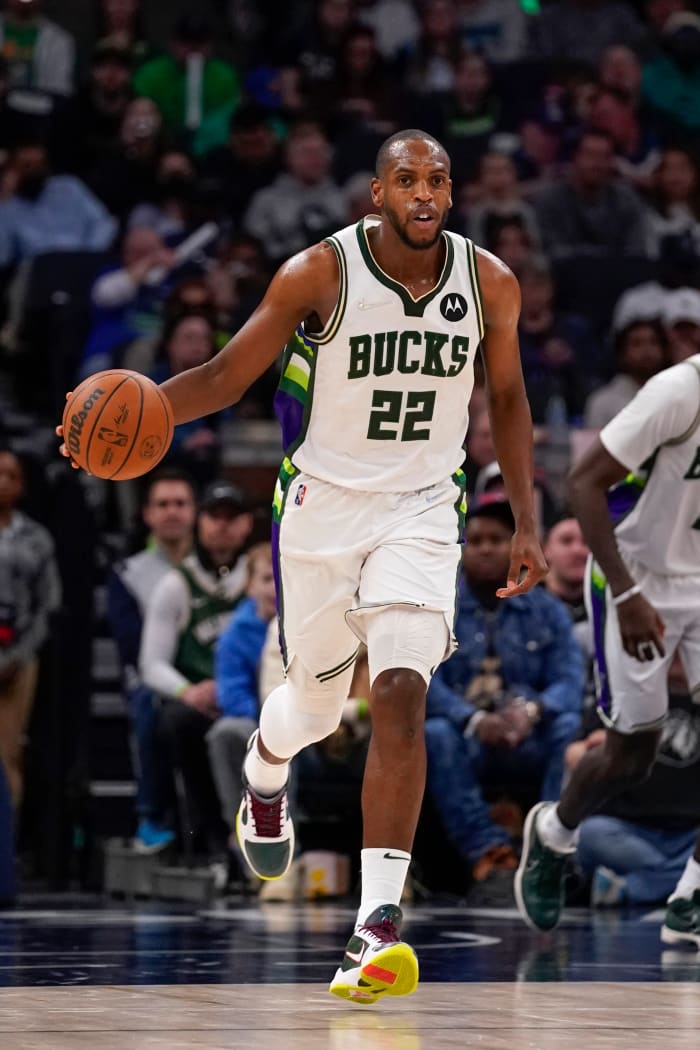 Credit: Nick Wosika-USA TODAY Sports
2021-22 Stats: 20.1 PPG, 5.4 RPG, 5.4 APG, 1.2 SPG, 0.3 BPG
When healthy, the duo of Middleton and Giannis Antetokounmpo is tough to stop. With Jrue Holiday in the fold, the trio led the Bucks to the 2021 championship. Middleton missed time in the playoffs last season, which led to the team losing in the second round. Assuming that Middleton is going to be strong and healthy all season, the Bucks should be considered a favorite to come out of the East once again.
Middleton was one of eight small forwards to average at least 20.0 points per game. That included a strong rebounding and assist average as well. What many forget is that Middleton could be the best player to have on your team in crunch time. Middleton led all small forwards in free-throw percentage with 89.0%. If you need a free throw late in the game, it's crucial to get the ball to Middleton at all times.
3. Kawhi Leonard – $42,492,492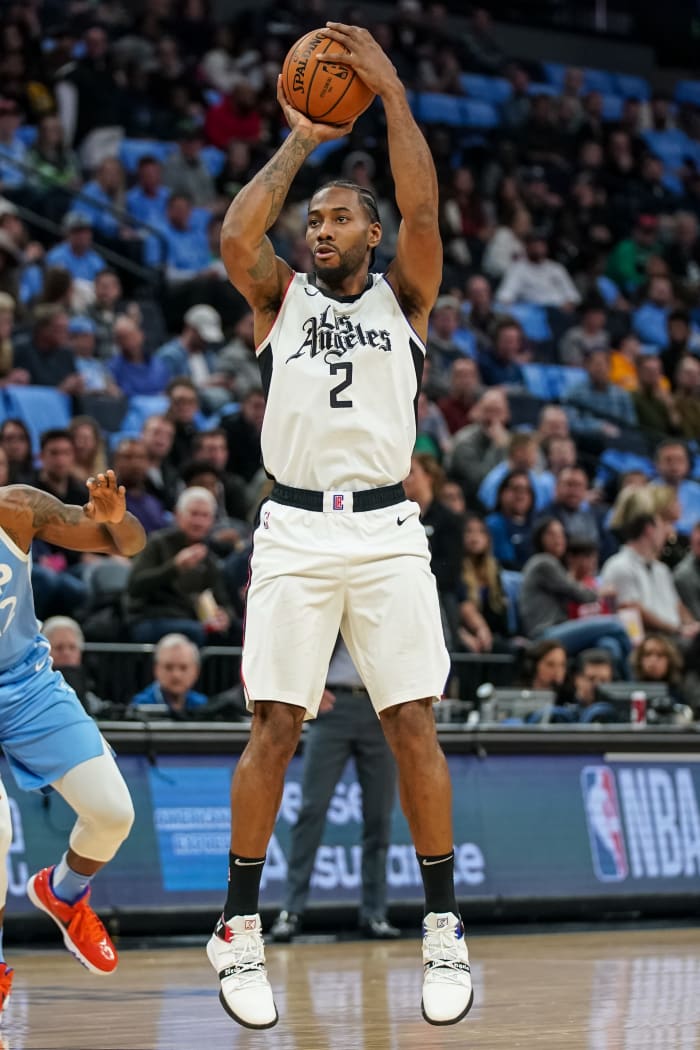 Credit: Brace Hemmelgarn-USA TODAY Sports
2021-22 Stats: None
Leonard did not play last season, but he enters this season one of two players making over $40 million. When Leonard was healthy during the 2020-21 season, he averaged 23.8 points, 6.5 rebounds, 5.2 assists, and 1.6 steals per game. The Clippers made the Conference Finals but were defeated by the Suns. Had Leonard played in that series, the Clippers might have made the NBA Finals for the first time in NBA history.
Instead, Leonard had to watch from the stands. Then, he had to miss all of last season due to a torn ACL. He remains a two-time Finals MVP and a top-5 caliber player when he is healthy. The Clippers are hopeful he will be 100% this season. If he can stay healthy, we saw what he did with the Raptors in one season. Leonard has yet to play over 60 games in a season and this will be his fourth season with the team. It all comes down to if he can stay healthy.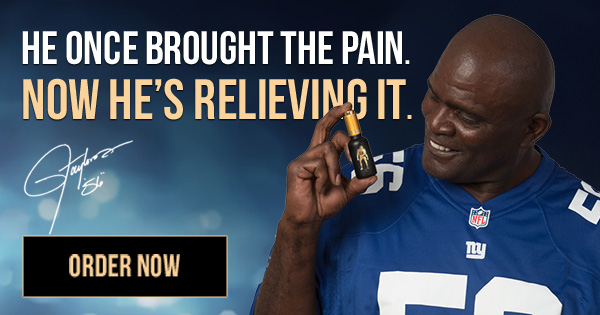 2. Paul George – $42,492,568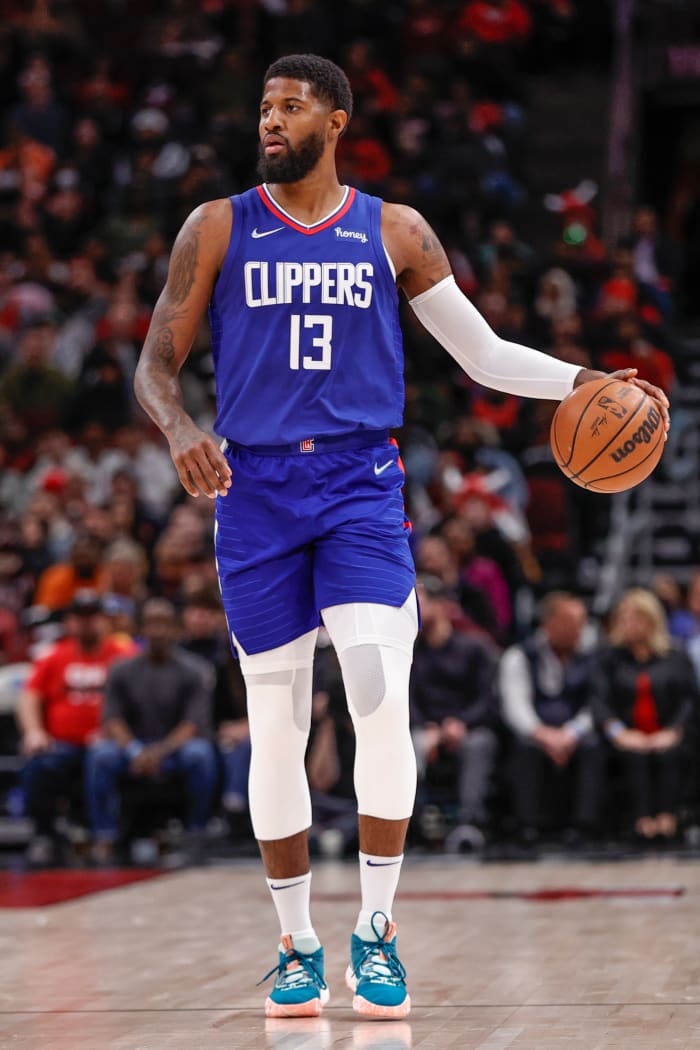 Credit: Kamil Krzaczynski-USA TODAY Sports
2021-22 Stats: 24.3 PPG, 6.9 RPG, 5.7 APG, 2.2 SPG, 0.4 BPG
The Clippers took a hit to the team when George was out for an abundance of games as well. George played in 31 games last season. Like Leonard, George has not played a full season with the team either. The chemistry between Leonard and George looked good when they were on the floor together during the 2021 playoffs. With that said, the most regular season games George has played in a season with the Clippers is 54 games.
You can see what he averaged when he was healthy. Going into next season, George will likely be the team's shooting guard because Leonard will be back as the small forward, while Robert Covington could play minutes at power forward. With that said, George's natural position is at small forward. Altogether, the Clippers have $84 million tied to the position.
1. LeBron James – $44,474,988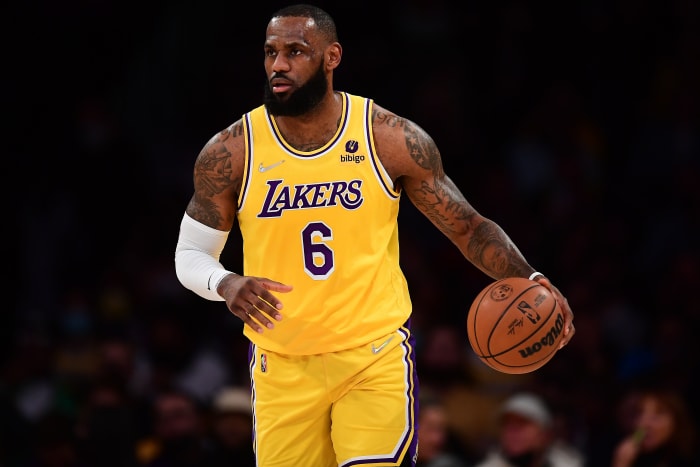 Credit: Gary A. Vasquez-USA TODAY Sports
2021-22 Stats: 30.3 PPG, 8.2 RPG, 6.2 APG, 1.3 SPG, 1.1 BPG
The highest-paid player will be the man entering his final season in his contract with the Los Angeles Lakers. James is going to be one of the highest-paid players in the entire NBA. He's essentially earned his money. He led the Lakers to the championship in 2020, where he was the Finals MVP. He was in contention to win the scoring title, but injuries limited him to 56 games. It was the first time he averaged over 30 points per game since the 2007-08 season with the Cleveland Cavaliers. Mind you, this was all why he was 37 years old.
This is a critical year for James. Last season, the Lakers won 33 games and did not make the playoffs. The deal for Russell Westbrook was a bust. Regardless, when you pay top-dollar for a player, you want a top-notch season. James shot 52.4% from the field, which was second best. He led all players at the position in assists and blocks, while he was second in rebounds. Again, this is a man that has spent more than half of his life in the league playing basketball. That's a lot of wear and tear on the body, but James continues to play like he is one of the best on the floor. 
Next
The Highest Paid NBA Power Forwards For The 2022-23 Season
The Highest Paid NBA Centers For The 2022-23 Season
Building The Perfect NBA Small Forward: LeBron James's Mentality, Jayson Tatum's Shooting
The Top 10 NBA Players With The Most To Prove In The 2022-23 Season
Ranking The 10 Best Draft Picks In Los Angeles Lakers History