Paris Fashion Week may have marked the official close of the AW22 show season, but as ever, there were still some off-schedule treats which promised to keep the festivities going. Last week saw Burberry put on its first live show in two years, with a London-centric extravaganza featuring Bella and Gigi on the runway and everyone from Kate Moss to Carla Bruni on the FROW. A hard act to follow, but last night's Alexander McQueen show might just have done it.
Set in a vast warehouse in Brooklyn, Alexander McQueen's AW22 show marked the luxury brand's grand return to New York City – for the first time since 1999.
'I am so happy to be back in New York, a city that has always been close to our hearts,' says Sarah Burton, McQueen's Creative Director. 'It is part of our community, a place that has always welcomed us, and this season I want to honour that. So, this collection is inspired by that idea of community, and specifically by mycelium, by the reality of nature as a community that is far, far older than we are.'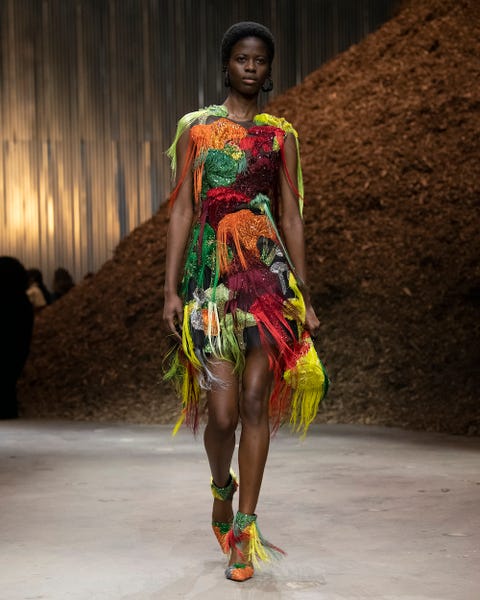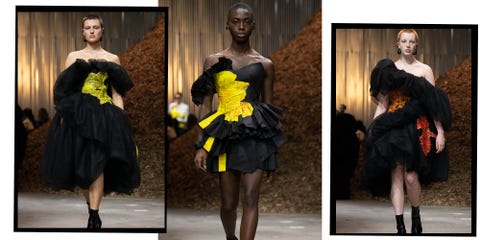 Mycelium is a specific structure of fungus often found in soil, and which has recently been used as a sustainable leather alternative. References to this natural phenomenon, and nature more generally, were seen throughout the AW22 show – from the piles of mulch in the seating area and bright colours taken from photographs of mushrooms, to the fact that about 85 per cent of the collection was produced from sustainable and recyclable fabrics.
There were beautiful ballgowns, sharp suits and punk-style leather pieces to admire, while certain looks made reference to the infamous spray-paint dress from McQueen's 1999 show with graphic colours and prints. Kaia Gerber also returned to the runway for one final time this season, in a beautifully embellished one-shouldered minidress.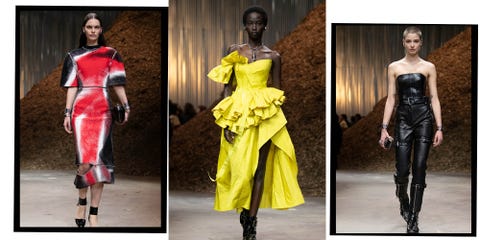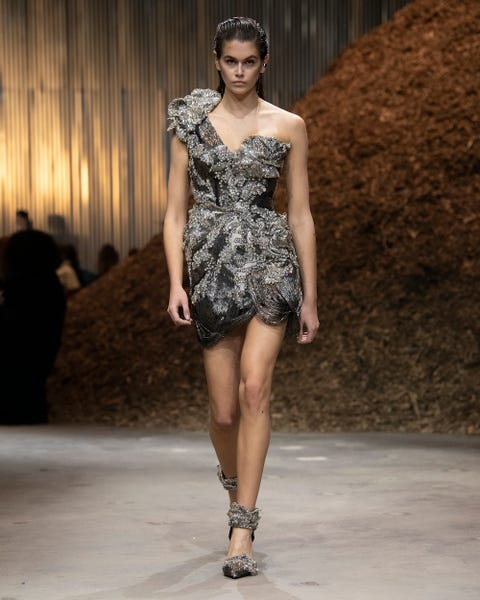 The overall message, however, was far more profound – and particularly poignant given global events unfolding in the background.
'Mycelium has the most profound, interconnecting power, relaying messages through a magical underground structure, allowing trees to reach out to each other when either they or their young need help or are sick. The idea is humbling, beautiful, and, of course, a metaphor for interconnection and for community between people, between us all,' said Sarah Burton.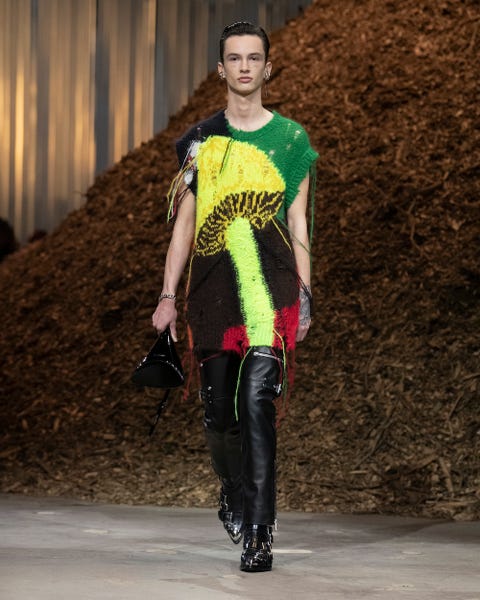 'We exist as single, individual entities on one level, but we are far more powerful connected to each other, to our families, to our friends, to our community. Given everything that has happened over the past two years, that seems more important than ever. As a community we are infinitely more able to restore, reinvent, rejuvenate – heal.'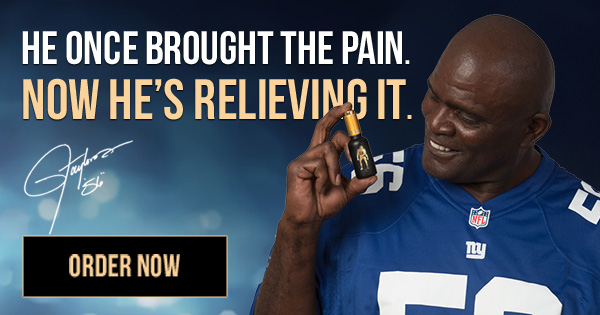 Clementina Jackson
Fashion Writer
Clementina Jackson is ELLE UK's Fashion Writer, covering everything from celebrity style and industry news to the latest trends.
This content is created and maintained by a third party, and imported onto this page to help users provide their email addresses. You may be able to find more information about this and similar content at piano.io