Apple TV+'s Slow Horses sees MI5's Least Wanted spies live out their days bickering and snoozing in a grotty, underlit building near London's Barbican – till a teenager is kidnapped by a far-right gang and threatened with execution.
The adaptation of the first of Mick Herron's Slough House novels launched on Friday 1 April and is a pacey, blackly funny espionage drama, workplace comedy and acting showcase, with a cast that most shows can only dream of.
But where have you seen them before?
Allow us to assist…
Slow Horses cast: Olivia Cooke as Sidonie Baker
Apple
Oldham's finest is perhaps best known for playing Art3mis in Steven Spielberg's Ready Player One, but she was also Becky Sharp in ITV's Vanity Fair in 2018, Emma Decody in Bates Motel and memorably Lou, Riz Ahmed's girlfriend in Oscar-nominated Sound of Metal. Diehard romantic will also recall her in Me, Earl and the Dying Girl. Guess which one she played.
You'll also be able to see her this August in Game of Thrones spin-off House of the Dragon.
Jack Lowden as River Cartwright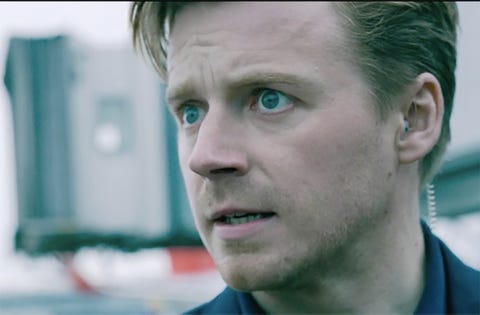 Apple
You'd be forgiven for thinking you'd seen Lowden before even if you actually hadn't, as he gives off a very strong 'Hot Fuzz-era Simon Pegg' vibe. But the Scottish actor starred in The Tunnel (the Anglo-French adaptation of The Bridge), Wolf Hall, War & Peace (he was eager beaver Nikolai Rostov), Dunkirk and Mary Queen of Scots playing Henry Darnley alongside Margot Robbie's Elizabeth I and Saoirse Ronan's Mary.
Freddie Fox as 'Spider' Webb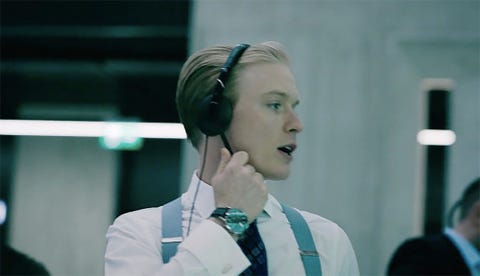 Apple
WHo's that smarmy bastard? It's only the son of Edward Day of the Jackal Fox, brother of Emilia Silent Witness Fox, cousin of Laurence 'famous for other things' Fox, Freddie Fox! You'll know him for his sinister, sexually ambiguous turn in The Murders at White House Farm, for playing Mark Thatcher in The Crown and, unforgettably, for being the voice of the iconic Dennis the Menace in over 100 episodes (and counting) of CBBC's Dennis & Gnasher: Unleashed.
Dustin Demri-Burns as Min Harper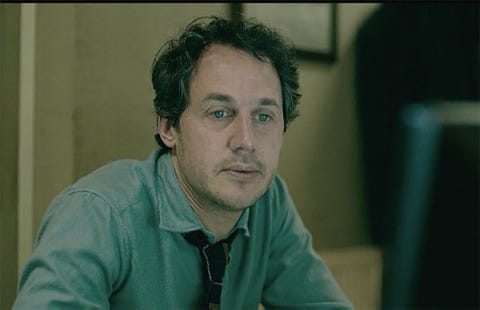 Apple
One half of the sketch duo Cardinal Burns, Demri-Burns has also popped up in the likes of Stath Lets Flats as the horrible, bullying boss of Stath's neighbouring letting agency, as rogue Briton Crazy Cedric in Horrible Histories: The Movie and any number of TV comedy series from Drunk History to Psychobitches.
You might also have spotted him in Peaky Blinders season season three as Monsieur Silk.
Saskia Reeves as Catherine Standish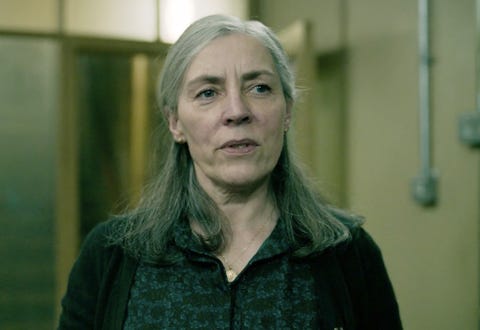 Apple
Reeves has been working consistently (and excellently) since the '80s, but nothing has made as much of a splash – for reasons that will become clear – as 1991's Close My Eyes, in which she played the often-naked sister to Clive Owen, with who she had a torrid affair.
More recently she'll be familiar as Thomas Cromwell's sister-in-law Johane in Wolf Hall, as Connie in the BBC comedy drama Us and as lady's maid Ellis in Julian Fellowes' Belgravia.
Christopher Chung as Roddy Ho
Apple
We hoped the socially-backward-Asian-tech-nerd cliché might have died a death by now, but apparently not. No disrespect intended to Australian actor Chung, though, who perfectly captures Ho's obnoxious arrogance and almost sweet clueless innocence.
Chung was, in fact, a top-100 contestant on Australian Idol in 2006 and appeared very briefly in Neighbours, as is a rite of passage for many young Australian actors. He's more familiar to British viewers as Archie Wong from Waterloo Road.

Rosalind Eleazar as Louisa Guy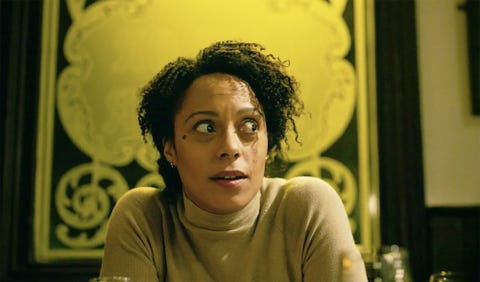 Apple
Rosalind played Violet Cross in Hulu's period drama Harlots, and more recently starred as Agnes in The Personal History of David Copperfield and Kate in ITV's Lake District-set Deep Water alongside Anna Friel.
Paul Higgins as Struan Loy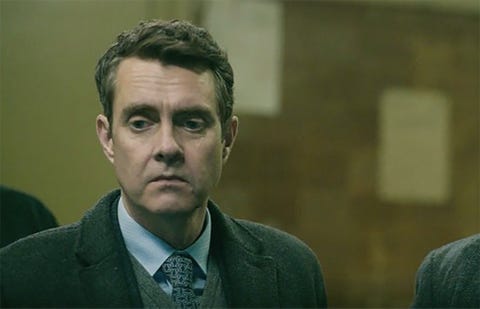 Apple
Line of Duty of course! A familiar face to British TV viewers, Higgins has appeared in numerous hits like The Thick of It, Utopia, Raised By Wolves (not the sci-fi one) and The Ipcress File.
But it's his turn in Line of Duty as weaselly H candidate Chief Superintendent Derek Hilton that he'll be best remembered for. (He was the second of the Hs to be nobbled after 'Dot' Cottan and before Gill Biggeloe.)
Brian Vernel as Curly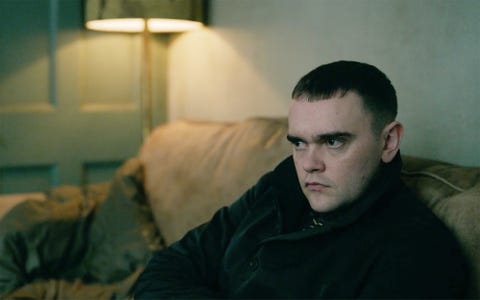 Apple
The accent might have thrown you – Vernel is not from Essex but Glasgow in real life, and is best known around the world for his brief but memorable turn as the very Scottish debt collector Bala Tik in a galaxy far, far away, who you last saw shouting, "You're a dead man, Solo!" at a rapidly departing Harrison Ford in The Force Awakens.
He's also been seen recently in Gangs of London (he plays Billy Wallace) and The Last Kingdom, in which he played Odda the Younger.
Antonio Aakeel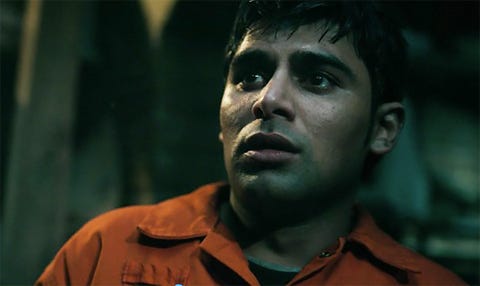 Apple
In his ten-year career, Aakeel has appeared in Skins, Man Like Mobeen and Dublin Murders, but the parents of small children will recognise his voice as the intrepid Paani, associate of the Octonauts.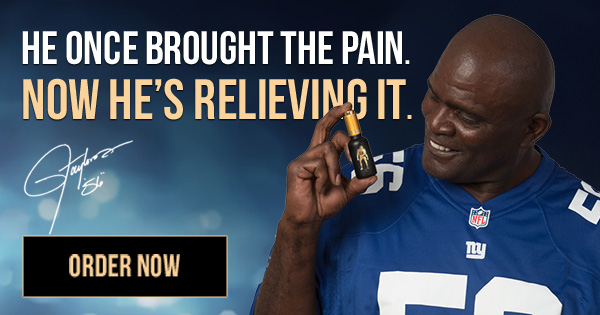 Gary Oldman as Jackson Lamb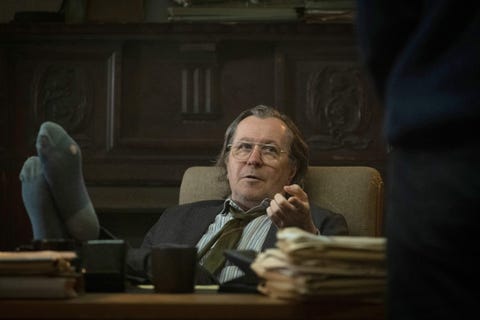 Apple
You won't need reminding who Gary Oldman is, but you'd be forgiven for not always recognising him. The legendarily versatile actor's career is a chameleon's history: he played Sid Vicious in Sid and Nancy, Lee Harvey Oswald in JFK, Drexl the pimp in True Romance, Mason Verger in Hannibal, Sirius Black in the Harry Potter films, Commissioner Gordon in Christopher Nolan's Batman trilogy and Winston flaming Churchill.
That's range, dear boy.
Jonathan Pryce as David Cartwright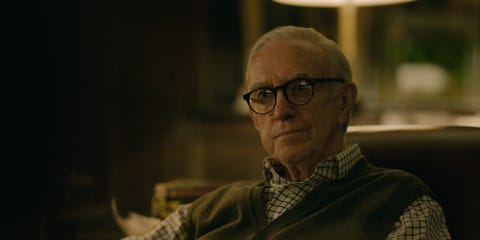 Apple
Another theatrical legend, Pryce most recently popped up as the High Sparrow in Game of Thrones and will soon be seen as Prince Philip in The Crown. Other hits include Taboo, Wolf Hall, the Pirates of the Caribbean series, Tomorrow Never Dies, Evita and Brazil.
Slow Horses premieres on April 1, streaming on Apple TV+.
This content is created and maintained by a third party, and imported onto this page to help users provide their email addresses. You may be able to find more information about this and similar content at piano.io