Arnold Schwarzenegger and Maria Shriver spent over two decades together. Although they were a couple, their political ideologies didn't align. Notably, Arnold began supporting the Republican party shortly after arriving in the USA. Maria, on the other hand, was part of political royalty. Shriver was Eunice Kennedy's daughter and former president John F. Kennedy's niece.
ADVERTISEMENT
Article continues below this ad
In 1999, when Arnold appeared on the Tonight Show with Jay Leno, rumors of him joining politics were floating around. And when Leno asked the former Mr. Olympia about Maria supporting him, Arnold initially expressed doubts about his wife's stance.
ADVERTISEMENT
Article continues below this ad
Democrat's Maria Shriver v/s Republican's Arnold Schwarzenegger:
During their conversation, Jay Leno asked the Hollywood action superstar about his interest in running for political office. "Now there was talk of you running for political office… Is that something you have an interest in?" asked Leno. "I really don't know," said Arnold Schwarzenegger. However, Arnie made a humorous remark that he has the support of all the Austrian bodybuilders living in Los Angeles.
After hearing the former Mr. Olympia's answer, Leno asked how Maria Shriver would react. "I mean, your wife Maria, she is a Democrat. Would she support you? You'll run as a Republican, right? How would that work?" Jay asked the seven-time Mr. Olympia winner. "Knowing Maria, she probably will be running against me," said Arnold.
Arnold's answer surprised Jay, who exclaimed, "Really?" However, the bodybuilding icon's answer was a joke. He then said Maria is "very supportive," and would stand by him if he decided to run for political office. Although Arnold hadn't planned to participate in any elections, his involvement in politics… The interview turned out to be prophetic.
In 2003, Arnold ran for the governorship of California. And guess what? The former Mr. Olympia defeated the Democrat candidate Gray Davis and became the Governor of California. Maria supported her husband throughout the campaign, though.

Arnie, the governor:
ADVERTISEMENT
Article continues below this ad
In 2004, Arnold returned to the Tonight Show with Jay Leno. "One of the biggest movie stars in the world… since last November he's been kept busy running the state of California," said Leno while introducing Arnold. "I love saying this, Governor Arnold Schwarzenegger!" Leno also said.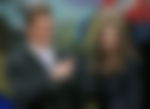 Leno asked Arnold about his experience working as a public servant. The Terminator actor said although it was hard work, he enjoyed it. He also said in the world of politics, people recognized him as "Maria Shriver's husband," instead of Mr. Olympia or a Hollywood action star.
Watch this story –  Bodybuilding legend Arnold Schwarzenegger's golden tips for weight loss
Notably, even though Arnold joked about his then-wife would support him in his political career, she stood side by side with him.