Singer Rebecca Ferguson has accused her former team of attempting to thwart her career by having her perform at former President Donald Trump's inauguration in 2017.
The British musician, who competed on the U.K.'s version of The X Factor in 2010 alongside the likes of One Direction and Cher Lloyd, sparked backlash when she initially announced that she had been approached to perform for Trump.
Several days before the inauguration was scheduled to take place, Ferguson said in a statement that she would no longer be heading to Washington, D.C., after her request to perform Billie Holiday's "Strange Fruit"—a protest song that describes the lynching of Black Americans—was rejected.
"There are many gray areas about the offer for me to perform that I'm unable to share right now, but I will not be singing," she said in her statement. "Due to circumstances beyond my control concerning the offer to perform at the Inauguration Concert, I was thrown into the middle of a political arena last week.
"I wasn't comfortable with the song choice made on my behalf, and although I'm very blessed to have a gift that gives me amazing opportunities, as a mother and an artist, I had to defend my stance. That is why I made the decision to sing 'Strange Fruit' when I was invited.
"I requested to sing 'Strange Fruit' as I felt it was the only song that would not compromise my artistic integrity and also as somebody who has a lot of love for all people, but has a special empathy as well for African American people and the #blacklivesmatter movement, I wanted to create a moment of pause for people to reflect."
In a series of videos shared on TikTok this week, Ferguson, 38, spoke extensively about her experience with her team of handlers at the time, who she accused of attempting to sabotage her career.
Ferguson did not specify who on her team was responsible for the alleged thwarting. Although she was signed with Sony at the time, artists often have many other representatives outside of their record label. Newsweek reached out to Sony for comment.
Explaining why she had accepted to perform for Trump, Ferguson said in the first of her videos that she had been "working so much that I didn't know much about Donald Trump.
"The only thing I knew about Donald Trump was that he was on The Simpsons and he had Trump Towers. Actually, prior to the presidency people actually liked him. Like, if we're being honest, Trump was on Home Alone, etc."
Ferguson admitted that when she got the offer to perform at Trump's inauguration, she "didn't have a clue he was even nominated. All I thought was, 'Oh wow, inauguration. That's like a big deal to anyone.'"
She then said that an unnamed journalist spoke with her on the phone, warning her not to follow through with the performance, as members of her team were "trying to end" her career.
Following the conversation, Ferguson said that she "went on Google, I had a little look and I [saw] all the controversy and everything. I was like, 'Oh my God, you're right—no one wants to go! There's this going on, all these accusations, etc.' [The journalist] said, 'No Becky, they're sending you to end your career.'…anyway it turned out it was all true."
Touching on her insistence on performing "Strange Fruit" at the inauguration, Ferguson said: "The point I was making is if Donald Trump allows me to stand at his inauguration and sing 'Strange Fruit,' that will be a very powerful, moving moment—and it would show that, actually, he's not racist and that he supports the African American people."
In a follow-up video, Ferguson said that she was "accidentally-on-purpose" forwarded an email chain that showed she would be performing three songs. While "Strange Fruit" was included, she said that the email chain stated it would be the only song performance not televised.
"Look, I don't get into politics and regardless of your political opinion, any sane person who was looking after me would know that that was not a good move for me at that time…I'm all about love and acceptance and allowing people to have their own political views but everyone knew that was not a good thing for me."
In reaction, Ferguson said she decided to tweet her intended appearance at the inauguration and was soon "inundated with lots of requests to go and perform for Jimmy Kimmel and various other major TV networks in America, which to the music industry is a very big deal—it's slightly like a golden ticket."
Despite the influx of TV offers, the journalist that Ferguson said she had remained in touch with continued to warn her that her team would not allow her to make any of the potentially career-building show appearances.
"The team are not gonna allow you to go, because the plan was that your career was supposed to end," Ferguson said the journalist told her. "You going to the Donald Trump inauguration was going to be the final ending of your career."
"I didn't wanna believe her," Ferguson continued, "but then when I was speaking to my team and saying, 'Look, I got these unbelievable, amazing requests can we go over and sing my new album?' I was just left in silence and no one was responding, no one was wanting to action it. Like, I've still got all the emails of all the requests I was getting and all these major TV shows wanting me to go perform on their show, but no one was letting me go.
"It was sad because it started to sink in that everything this journalist was saying was a warning, was a kind warning," Ferguson continued. "She's obviously been told by someone and she was advising me and she was trying to help me, but it was so upsetting for the penny to finally drop and to realize that actually, people didn't mean well by me.
"This was my time and…my career was now over and it had been decided by the powers that be above that not only would my career be ended, but it would be ended in a way that they wanted to bring humiliation to me."
Ferguson insisted that she wasn't criticizing Trump or his politics, stating that "at that time, he wasn't popular and he wasn't a good look for me."
This, she said, made it all the more noteworthy that she was "being pushed" to perform at Trump's inauguration.
The singer, who has spoken out about the unsavory side of the music industry in the past, hit out at the industry's "slave system," where a number of "vulnerable" people are often "exploited."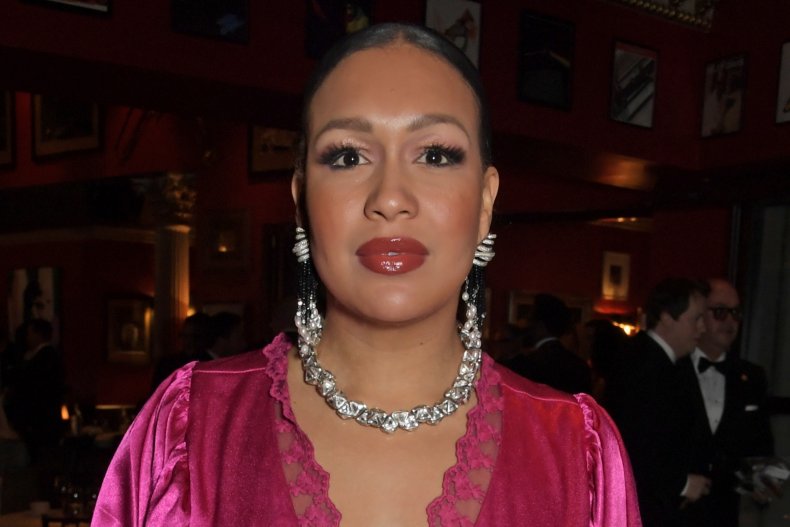 "They exploited again the fact that I wanted to be accepted," Ferguson said of her experience. "I wanted to be loved and I wanted to do well because I'd come from a very poor background and a troubled background. I think I became a slave and I think I became someone that they wanted to ultimately control. And when they realized that they couldn't control me and that I wouldn't fall in line, I became disposable."
"I'm hoping that by speaking about it, it's highlighting what goes on and it's highlighting how evil people can become," she added. "And I hope that the people listening to it, that inflicted it on me, I hope it's changing their hearts and I hope that they're realizing the amount of trauma that they have caused, not just to me but to other people."
Ferguson this week told Newsweek in a statement that she spoke out in an effort to highlight "some of the injustices and exploitation" in the industry.
'I'm glad that the truth is coming out and I'm thankful to everyone who is supporting me," she said in the statement. "I didn't give any interviews around the Trump Inauguration request because of political sensitivities and I was mindful that I didn't want to involve myself in matters that were much bigger than me.
"I'm appreciative to those who are listening now and have revealed the truth behind some of these controversial decisions so that my fans can see what was going on with my career and I'm glad to be highlighting some of the injustices and the exploitation that is being committed against artists and people who take part in entertainment programmes."