Arnold Schwarzenegger faced many hardships as a child. Arnold's father, Gustav, was the police chief of his hometown in Austria. However, the family was poor and lived a hard life. Arnold once revealed how their home had no running water. Instead, the Schwarzenegger children would schlep water from the well, and everyone took turns bathing.
ADVERTISEMENT
Article continues below this ad
Growing up in such conditions motivated Arnold to move out of Austria and search for a better life. Arnold immigrated to America in 1968. With just a few hundred dollars in his possession, the Austrian set his sights on becoming Mr. Olympia. However, after befriending Franco Columbu, Armold hatched a plan. Although he didn't know it, Arnold's plan would make them immensely rich.
ADVERTISEMENT
Article continues below this ad
Becoming a millionaire
Shortly after arriving in America, Arnold knew he had to begin earning a steady income. After meeting Franco, Arnie got a friend and a workout partner. However, Arnold also realized "Franco's talent was to be a bricklayer, a very skilled bricklayer," Franco Columbu had learned the skill of brick playing in Italy and Germany. So Arnold propositioned Franco to start a brick-laying business.
The pair planned to undercut the competition by offering their services at a lower price. However, their plan wasn't working. In a stroke of genius, the seven-time Mr. Olympia winner decided to rebrand their fledgling business. The pair published an ad in the L.A. Times branding themselves "European bricklayers and masonry experts." And the trick worked.
Arnold and Franco's business took off. The pair abandoned their original plan to undercut the competition and began charging exorbitant prices. However, a week after they had posted their ad, an earthquake stuck in L.A. and damaged many houses. "Franco and I were busy for two years rebuilding chimneys and fireplaces and patios and walls," said Arnold.
Arnold became a millionaire. However, Arnold's passion was bodybuilding. The Austrian went on to become a seven-time Mr. Olympia, a Hollywood action icon, and the Governor of California. Arnold once revealed that he and Franco fondly recalled their business venture, calling it "Pumping Bricks".

Arnold Schwarzenegger worked for Joe Weider
ADVERTISEMENT
Article continues below this ad
Arnold's first job after arriving in America was with legendary promoter Joe Weider. Arnold gave information about his training to Joe, and Weider published Arnold's photographs in various magazines. Weider even paid Arnold a small salary and provided him with a car and an apartment.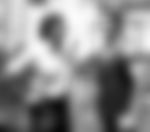 Joe Weider, also known as "The father of bodybuilding" mentored Arnold. In 1965, he created the Mr. Olympia contest. Joe and his brother Ben also established the International Federation of BodyBuilding (IFBB).
Watch this story – Arnold Schwarzenegger and Other Athletes Who Suffered From Depression and Anxiety
Arnold Schwarzenegger's journey is a rags-to-riches story. What is your opinion about the same? Let us know in the comments below.