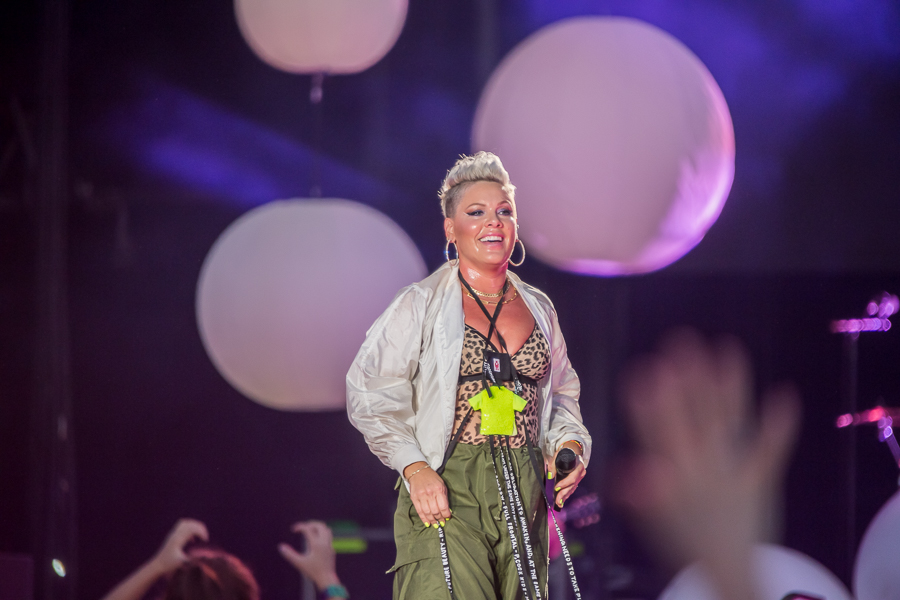 NAPA — Metallica is huge but has played the Bay Area a lot in recent years. Twenty One Pilots have also made recent appearances, and while hip-hop supergroup Mount Westmore was great its individual members come here often. But from the moment that BottleRock Napa Valley released its daily lineup months ago, the general consensus was that Sunday was the hottest ticket. And there was one reason for that: P!nk. 
The hitmaker and high-flying acrobat simply doesn't come here enough. But on Sunday, she both made up for lost time and met all the expectations, even if she did make everyone wait for the cirque magic, and all the talk of how her pyrotechnics were going to blow Metallica's out of the water didn't materialize.
The production was still top notch, of course. A wide ramp projected from the main stage. On the stage, there was a giant screen behind a giant silver heart that rose from stage floor to ceiling (also a screen), large white balloons that looked like the last grapes in the bag hanging from the rafters and cables that ran from both ends of the stage to the soundstage in the middle. Late in the set, she was hooked up to a harness and then went … ziplining while singing and performing stunts at the same time.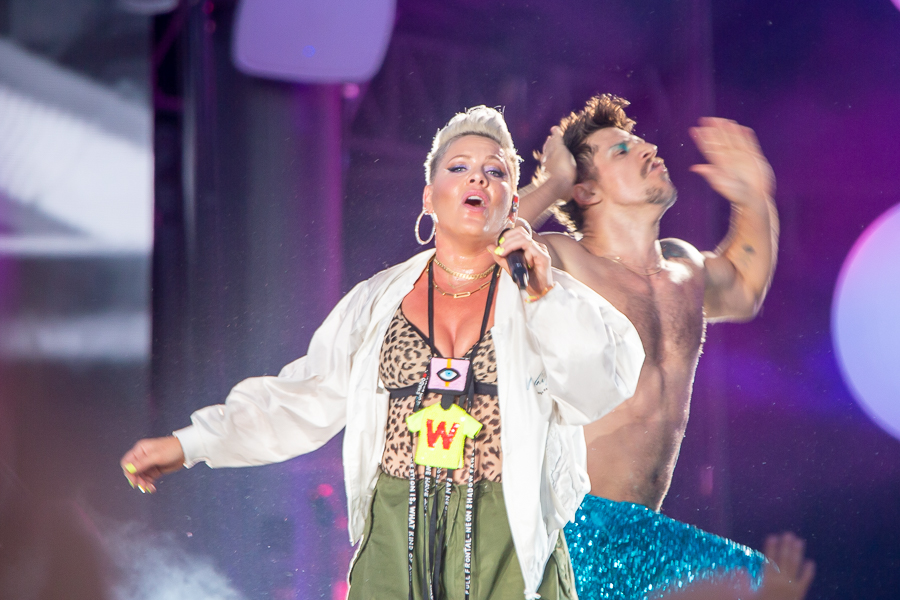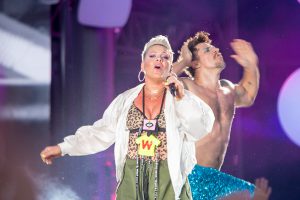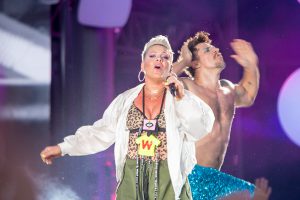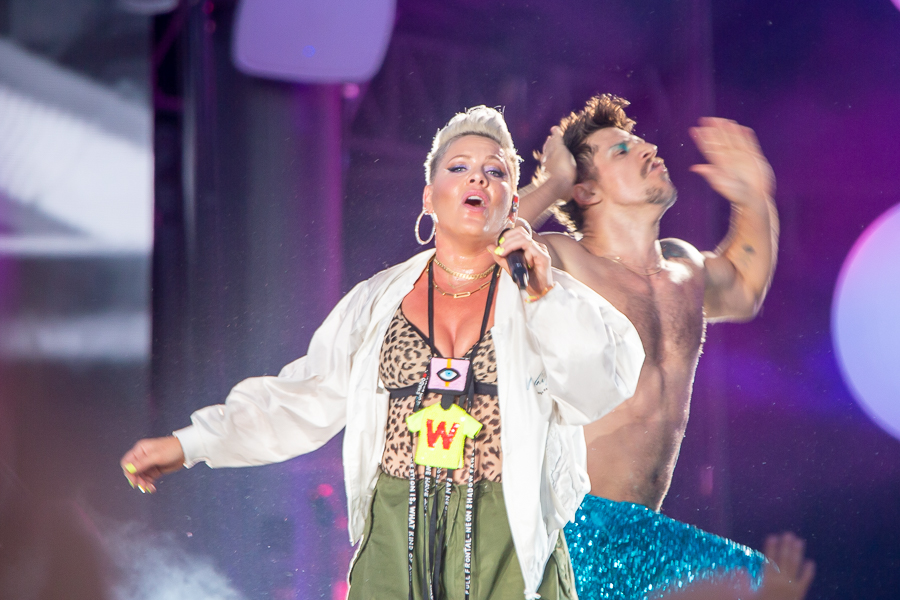 P!nk arose from below the ramp as jets of fire shot up in front of the stage. The one ugly stain on an otherwise gorgeous day at the festival happened here. Festival security guards seemingly surprised by her entrance reacted by charging at a group of news and festival photographers, and at least one suffered a foot injury in the ensuing melee. The show continued on with set opener "Get the Party Started," the first of several blockbuster songs that stunned the senses with color, explosions, confetti and a style all P!nk's own. Three female dancers appeared in sparkly, Vegas-like outfits, followed by three male dancers just as colorful. Throughout the poppy parts of the show they would follow the artist (real name: Alecia Beth Moore) around the stage, fawning over her, helping her do a flip on the stage and adding to the sugary-sweet vibe.
"Raise Your Glass" and "U + Ur Hand" continued this beautiful and frenetic onslaught.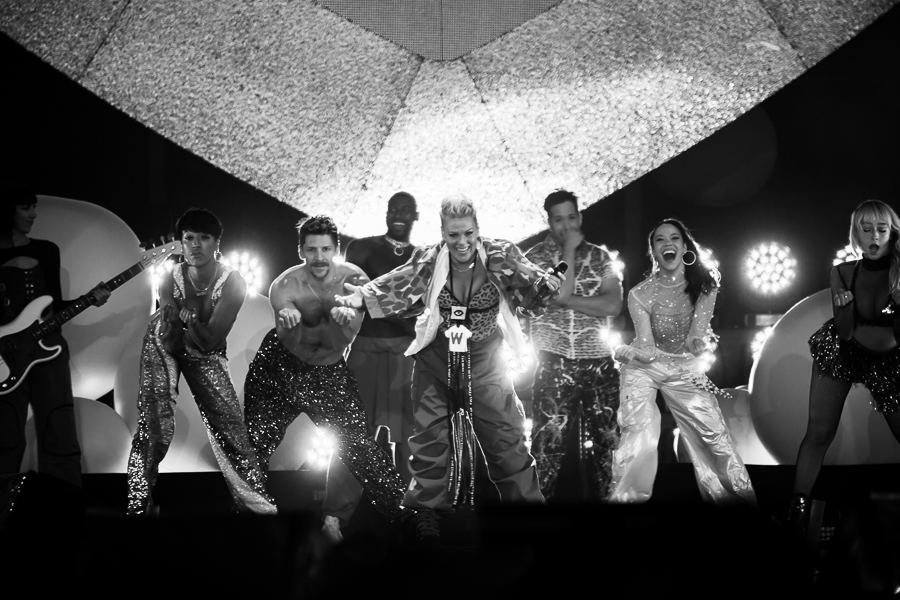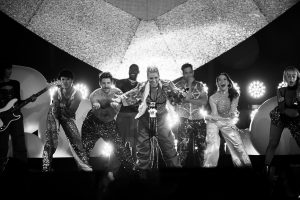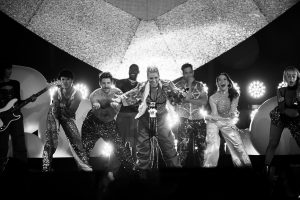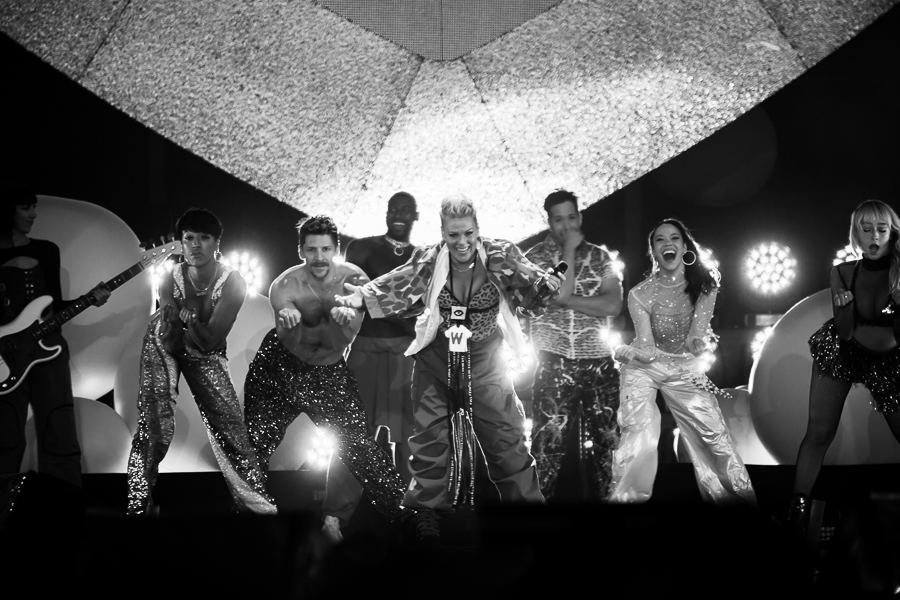 "You're welcome for this," P!nk said as two of the male dancers stripped off their shirts to real lots and lots of abs. This simple move flipped the script of gender norms at concerts, where it's often the women being sexualized. Later on, P!nk would dedicate a few of covers to "kick-ass women." The first was Bishop Briggs' rocker "Like a River," which was a faithful recreation.
"I wish this was my song," P!nk said.
Also included was a mashup of her own tune "Funhouse" with No Doubt's "Just a Girl," 4 Non Blondes' "What's Up?," Joan Baez's "Babe, I'm Gonna Leave You" and "Me and Bobby McGee," which was popularized by Janis Joplin.
"In the spirit of bad-ass women, I feel like at every festival, Janis Joplin should be here," P!nk said. Of course, the other thing most of those artists have in common is a link to the Bay Area.
During "Just Like a Pill," P!nk crawled around on her knees, making eye contact to give her fans, including a couple of young girls, a memory of the show.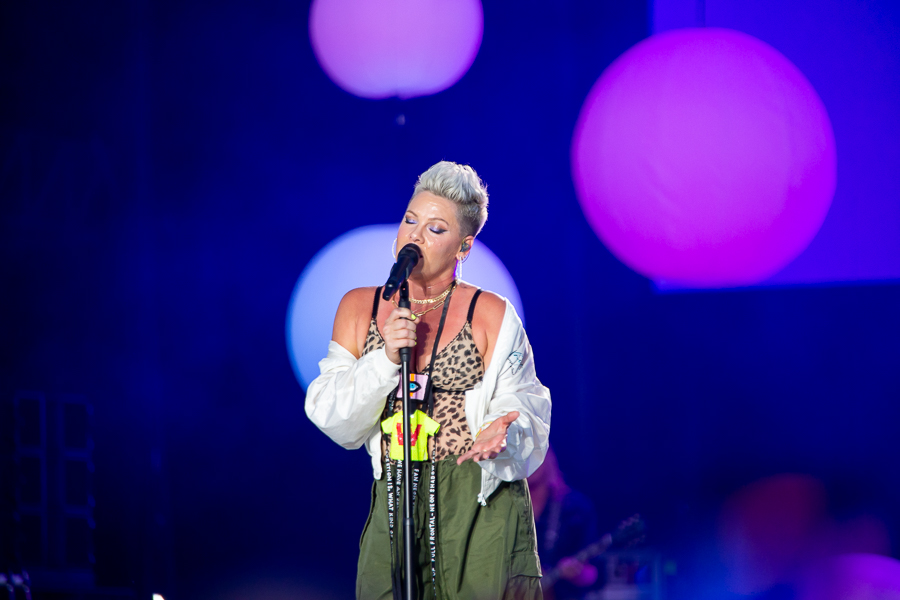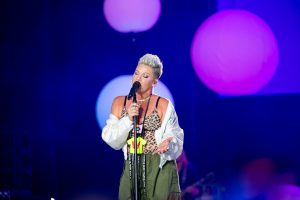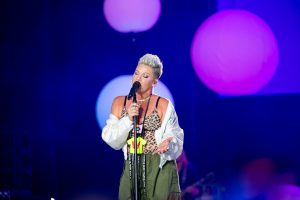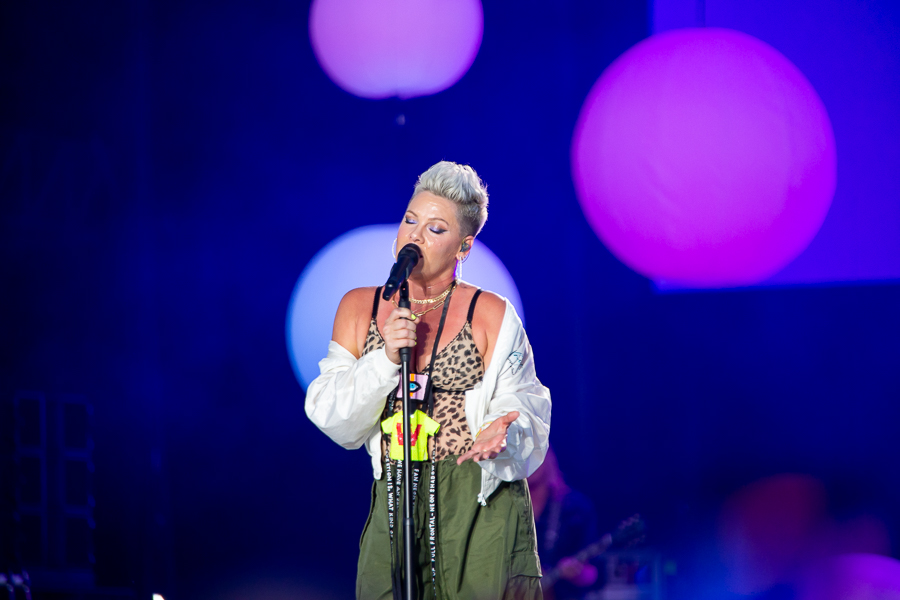 "Enjoy this makeup. It's for about one song left," she said at one point, which caused one onlooker to comment on how she'd gotten through multiple songs at such high energy and was still powerfully belting like she had just gotten started.
But at this point, the performance did slow down some, with "Who Knew," "Try" and "Just Give Me a Reason"—this was all before the Briggs cover turned on the overdrive again. She interspersed ballads with fast songs for a while, including tunes like the folky "Please Don't Leave Me" (which she said she had never performed before) and an acoustic "Cover Me in Sunshine" with rockers like "Trouble." Her 10-year-old daughter, Willow Sage Hart, came out to sing the last verse of massive hit, "Cover Me With Sunshine." P!nk had introduced that song by speaking about how all people have lived with some form of trauma over the past couple of years, and how performing at BottleRock gave her a sense of hope going forward.
After the spirited 4 Non Blondes singalong, the singer returned to the center of the ramp with the rest of her band. She recalled attending the prior year's festival and seeing the Foo Fighters play, and how much it fulfilled her just 45 days after her father's death. She also spoke about the devastation following the death of drummer Taylor Hawkins. The band performed the bluegrass-inspired "I Am Here" as an avenue for healing.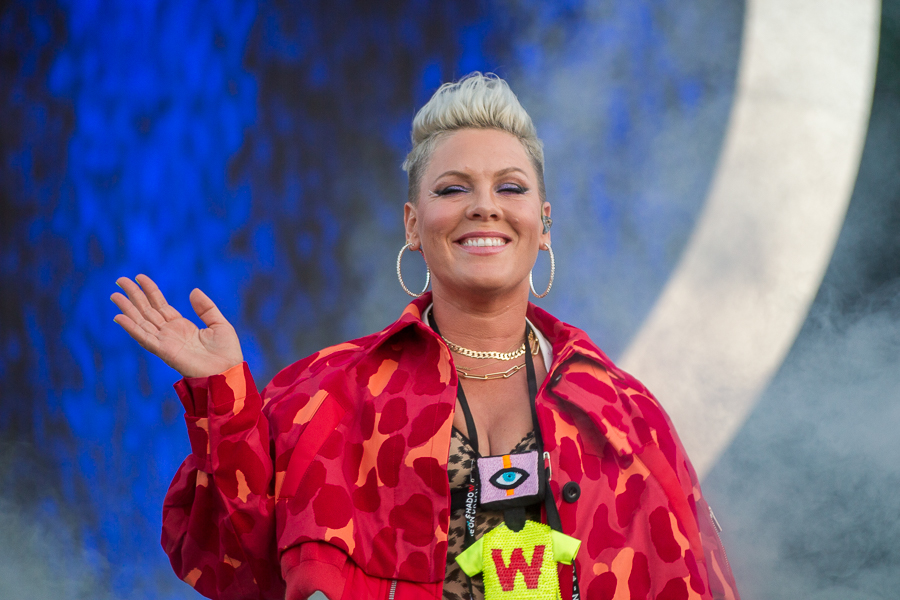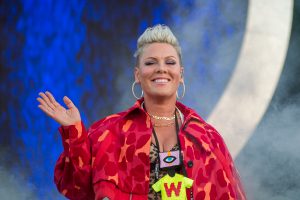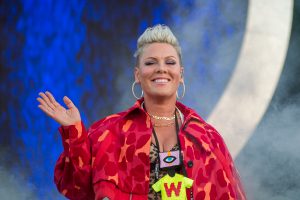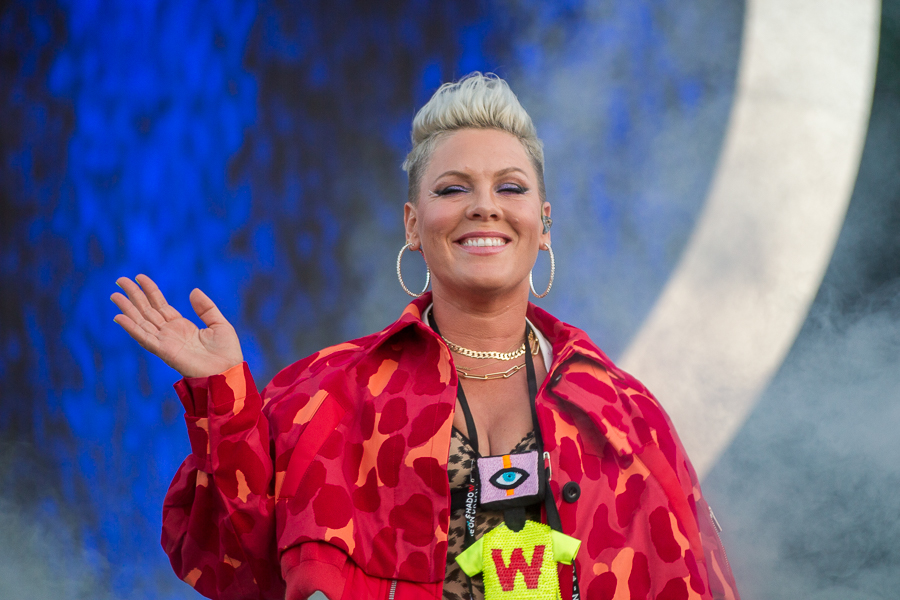 After the Joan Baez cover, Pink returned to close her set with a barrage of hits like "What About Us," "Fuckin' Perfect" and "Blow Me (One Last Kiss)." On the final song, the singer donned a neon green jumpsuit as dozens of largely inflated white balloons were tossed into the crowd. 
But the magic of the set is what came next.  Pink strapped herself into a circular tire-like harness and levitated above the crowd. She's been known for her high-wire act in arenas, but to pull this off outdoors was a far rarer feat. 
While initially staying static above attendees, P!nk was launched all over the place. She kicked and swung her arms the entire way, as if to reach out and touch the crowd. Naturally, as she sang, "You let me fall," she was dropped to just a few feet above people's heads as pyrotechnics shot from the stage behind her. It was a breathtaking and exhilarating moment, capping off a crowdpleaser of a set in a way no one certainly could have seen coming.
Pitbull
What can we say about Pitbull, other than the Floridian, whose music people have very strong reactions about, turned in one of the most entertaining sets of the entire weekend?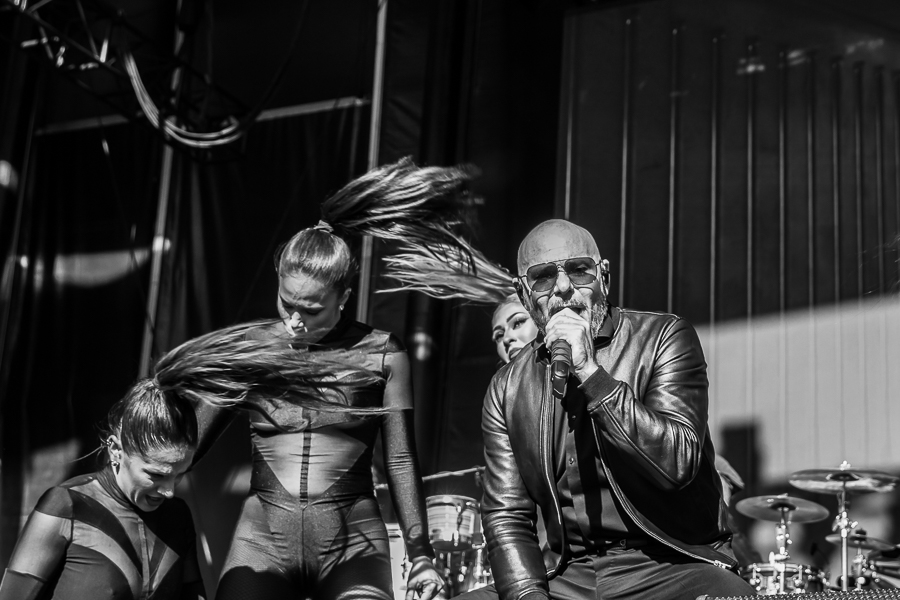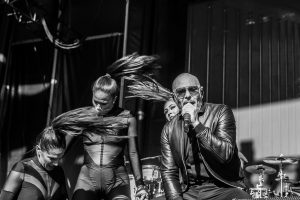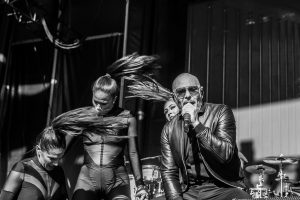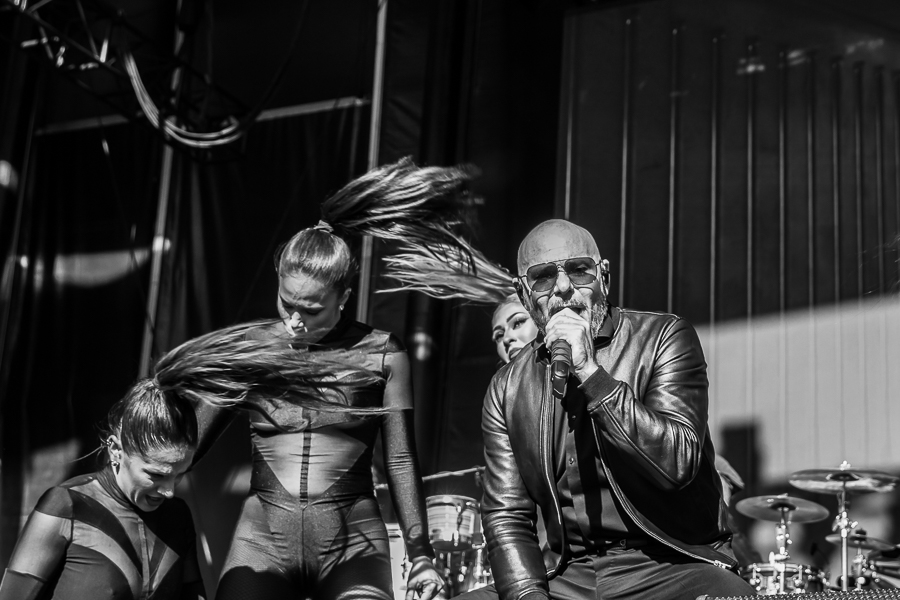 This wasn't complicated music. It didn't have many layers. But the performance summed up why Pitbull is America's official party artist. Or jock jam artist. Any of his songs fit where young people are moving, or during a timeout of an NBA game. But more importantly, these songs are also hits. His crowd knew the words and came ready to move.
Pitbull had a full band, with a DJ and six dancers who had the same but opposite effect of P!nk's shirtless Chippendales. He himself wore black slacks and a black leather jacket (right in the sun on the hottest stage at BottleRock at almost the hottest time) and sang along while the dancers gleefully gyrated in front of him, to his sides and up against him.
Every one of the songs was a banger, from "Don't Stop the Party" to "Hey Baby (Drop It to the Floor)," as well as "Hotel Room Service," "International Love," "I Feel Good" and EDM number "Party Ain't Over." Then there was a sequence with several songs smashed together, and by the time "Fireball" rolled around, we were looking around for the conga line. There had to be one somewhere.
Pitbull also gave a brief speech encouraging young people to be leaders rather than followers to become successful.
"Struggle, fight, sacrifice. That's how you live your dream," he said. "Hard work pays off."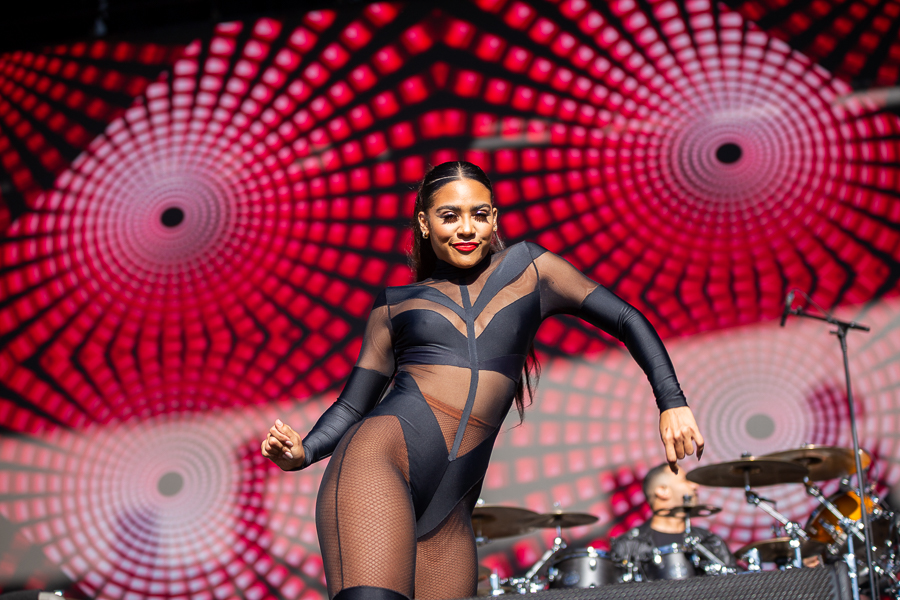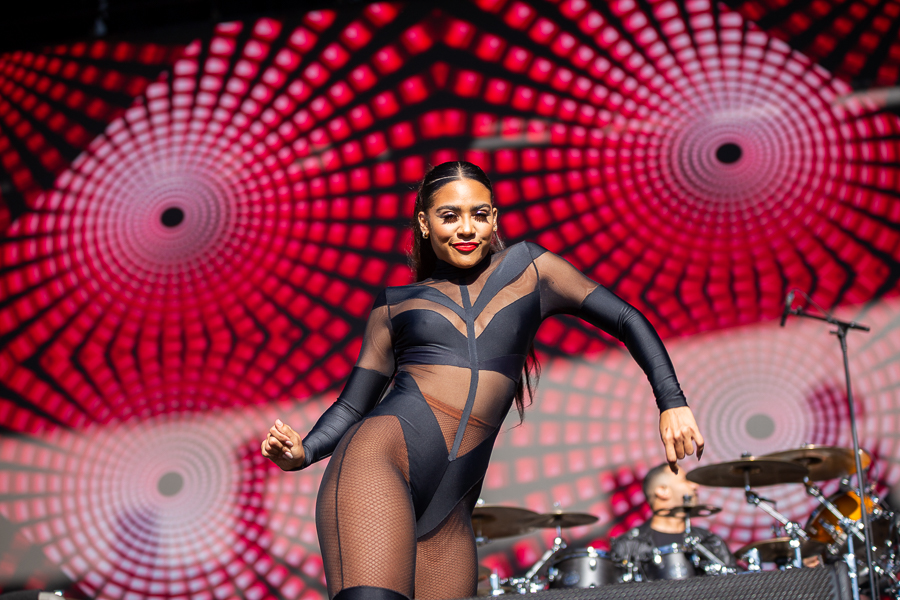 Then it was back to partying, with a cover of Jon Bon Jovi's "Living On a Prayer," A-Ha's "Take On Me" and Pitbull's "Feel This Moment," with Christina Aguilera's part delivered by a recording. Blake Shelton collaboration "Get Ready" was mixed into Ram Jam's "Black Betty" numerous times.
Toward the end of the set, Pitbull gave another talk about music's uniting force—the general message of many of his songs.
"When the going get tough, the tough get tougher," he declared, before pausing the show as he got word through his in-ear monitor that police needed it quiet to resolve some matter. "Nothing gonna stop us but police; I gotta be honest about that."
Highlights of the last part of his set included Zac Brown collaboration, "Can't Stop Us Now" and the ever-popular "Timber."
Luke Combs
While Pink's headlining set may have had most of the buzz going into the night, there's no underselling the draw that was country phenom Luke Combs. The country megastar is one of the biggest names in the genre, and the packed gathering at the Verizon Stage certainly reflected that. Combs encouraged a party atmosphere, and the crowd loudly obliged, opening with the raucous country rocker, "Cold As You."
Luke Combs had the crowd raise their beverages, in most cases beer, as he raised his red Solo cup before kicking into "1 2 Many." The stage was multi-layered, with plenty of projection screens and platforms for the many band members to perform. The outlaw country-meets-southern rock aesthetic was the perfect match for the festival stage. Combs powered through his set, including "When It Rains It Pours," "Forever After All" and "Beer Never Broke My Heart."
Alessia Cara
Singer-songwriter Alessia Cara brought a bouncy enthusiasm to her midday set, bringing an anthemic pop sensibility with a beefed-up festival rock round. Cara was all smiles throughout her set, mixing uptempo pop jams with melodic ballads. Opening with "Here," Cara utilized the added ramp space to the max, walking down into the crowd to belt out the first track.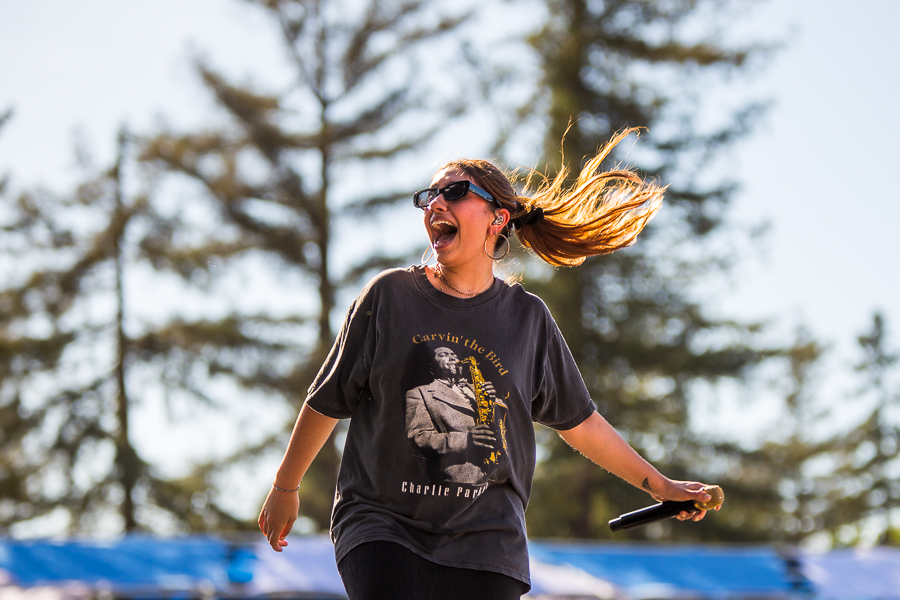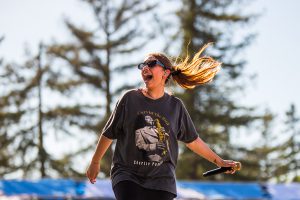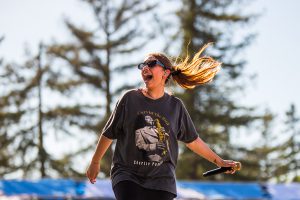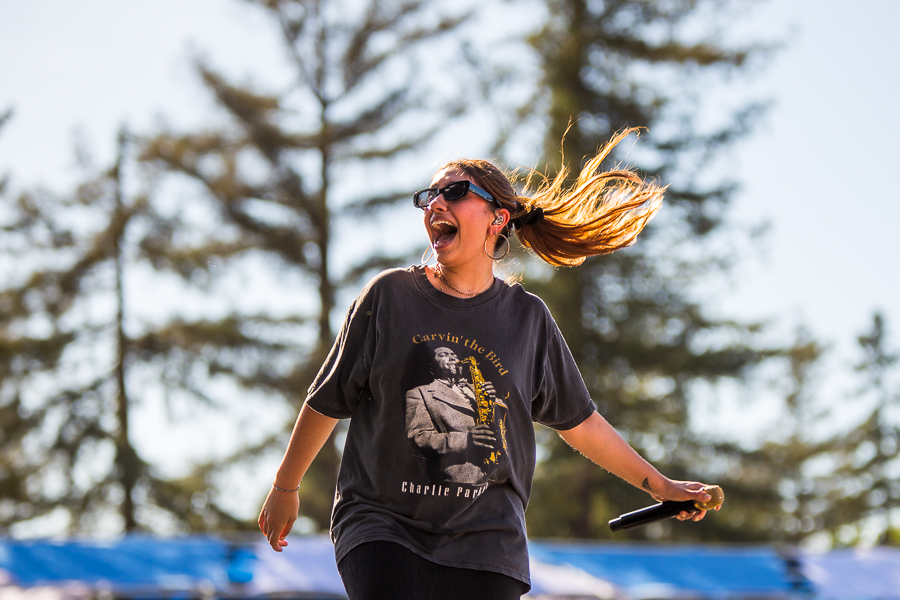 Cara lay down on a bed placed on the stage where she belted out "Sweet Dream." It wouldn't be the first stage prop Cara would mix into the set. Cara moved through the set with "Find My Boy," "Wild Things" and "Bluebird"—which she called a deep cut off of her most recent release.
"Sorry to be rude for wearing glasses, but it's really sunny out here; I can't see any of you," she joked midway through the set.
Cara took a faux phone call as an introduction to "Take Me Back," an upbeat breakup song with plenty of gusto. The singer strapped on a guitar for a cover of The Neighbourhood's "Sweater Weather," as well as the Disney ballad, "How Far I'll Go," before closing out the set on a high note, bringing the crowd to life with "Scars to Your Beautiful" and Zedd collaboration "Stay."
The Wailers with Julian Marley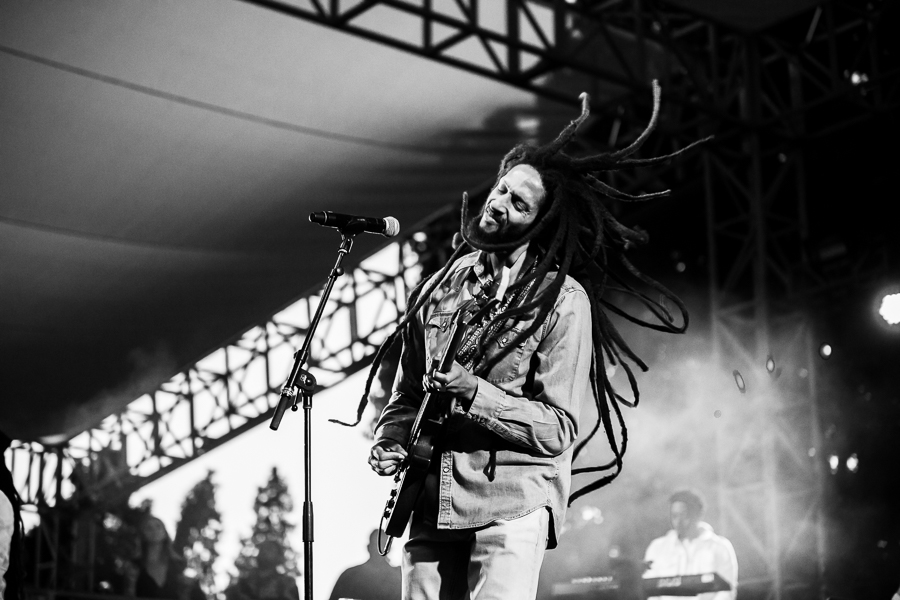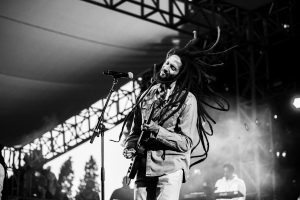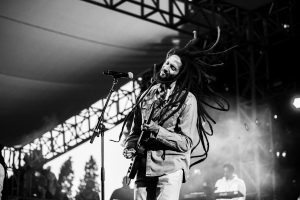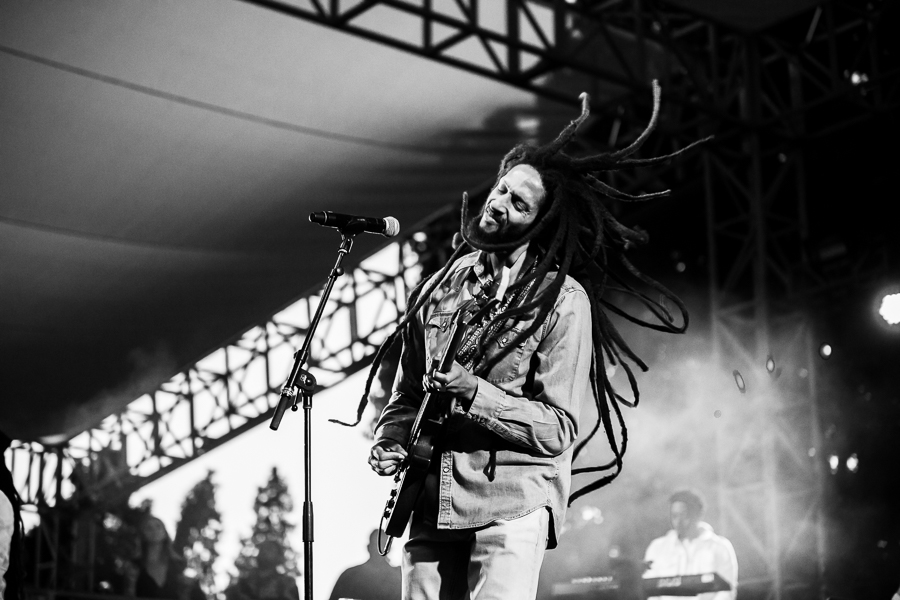 As if the star power on the festival's main stage wasn't enough, rounding the evening out was a performance by The Wailers featuring vocals by Julian Marley, the son of the legendary Bob Marley. The performance brought authentic renditions of Marley's songs, as well as Bob Marley & the Wailers tracks. The reggae flavor was in full flair, with the band playing classic tracks like "Positive Vibration," "Revolution" and "Them Belly Full (But We Hungry)." 
The younger Marley occasionally quoted his father and spoke of the relevancy of the message of the tracks in today's world as the crowd swayed to the grooves. The band continued the barrage of hits, including tracks like "Get Up, Stand Up."
Aly & AJ
The performance by pop duo Aly & AJ may have been delayed slightly by technical gremlins.  The late start didn't kill the group's momentum; instead they took it in stride.
"We're gonna come back out in a few minutes, and you guys are going to pretend we weren't just here," Aly Michalka.
After a quick reset, the band re-emerged to the soundtrack of surf rock, launching into the opening track "Pretty Places."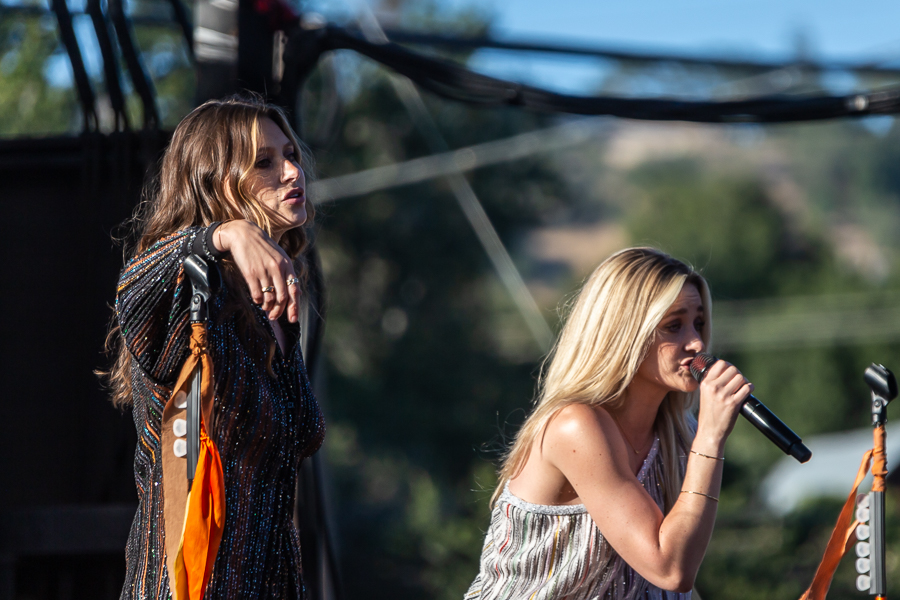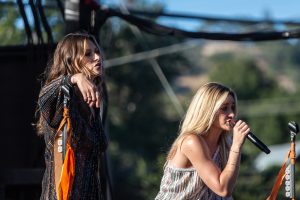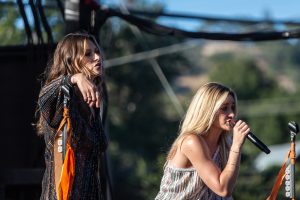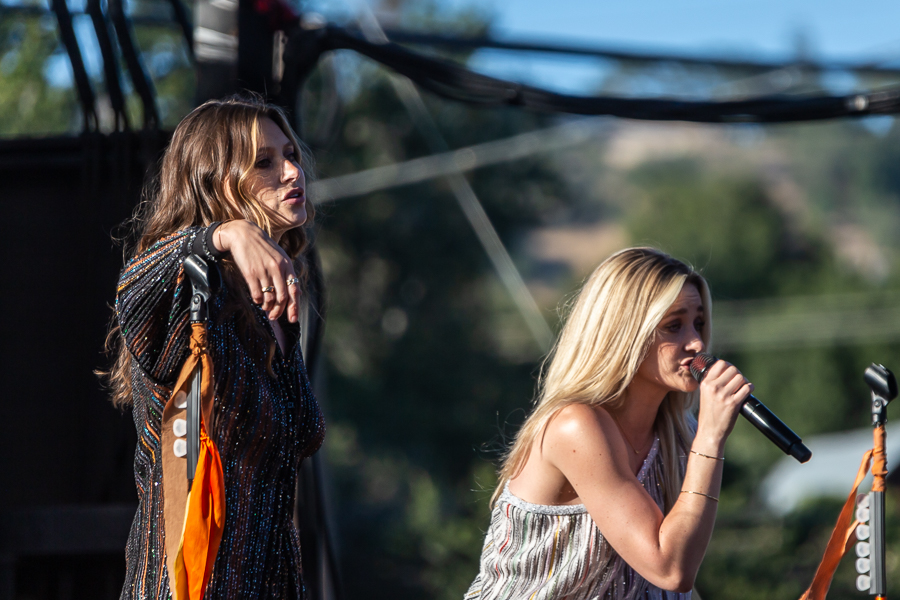 "That was great; it's like we're playing BottleRock twice!" AJ Michalka joked once the show was rolling again.
The group is back following a more than decade-long hiatus, with a new sound infused with country, americana, and rock and roll. Playing tracks like "Lost Cause" and "Listen!!!" the duo kept the energy rolling through their performance.
The pandemic may not have been the inspiration for "Symptom of Your Touch," but it certainly lent itself to the situation.
"We had this song in our pocket before the pandemic, but when it happened we changed around a few lyrics and fit," Aly Michalka said. 
The duo sipped on glasses of aperol spritz, glistening orange with sun shining through the glass. Despite going up against a well-attended Pitbull set, Aly & AJ still pulled a large enthusiastic crowd. Naturally, the duo closed with the hit, "Potential Breakup Song."
Tai Verdes
Older attendees at BottleRock may not have known much about alt-R&B singer Tai Verdes before the festival. If they went with their kids, they likely couldn't escape his music by nighttime. Verdes, who worked at a mobile phone store at the outset of the pandemic before becoming a sensation through TikTok, came out as an honest-to-goodness heartthrob.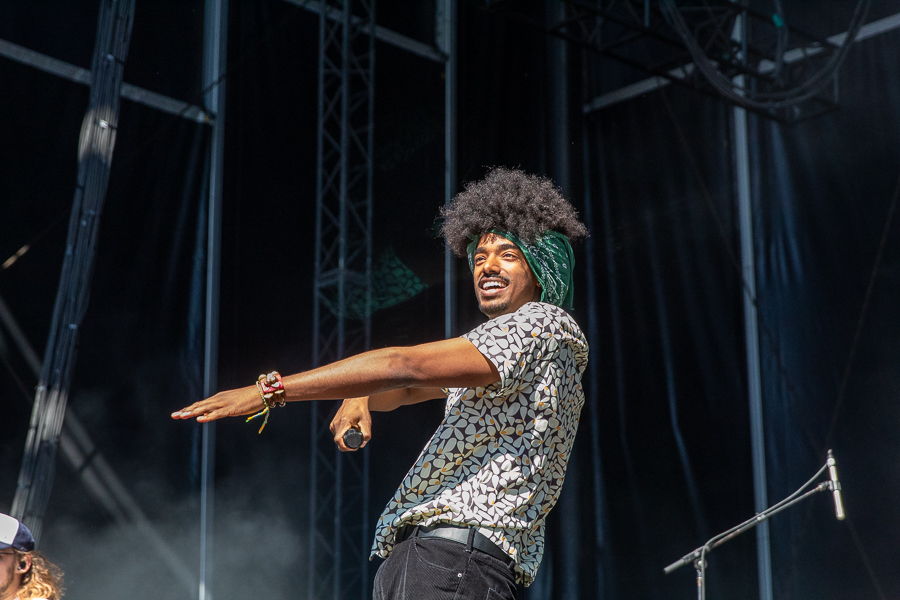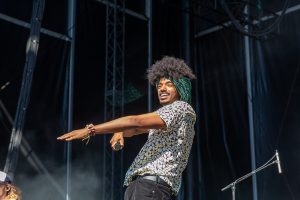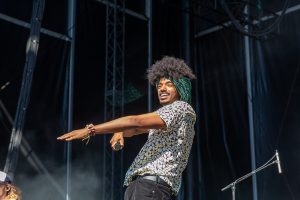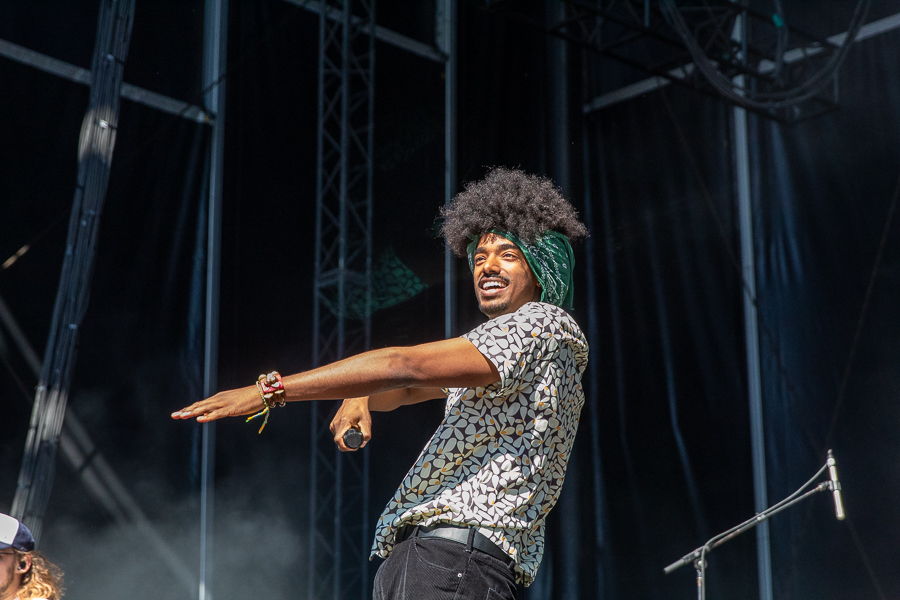 When he wasn't (presumably jokingly) mocking the crowd for not going crazy enough, he was putting on a breakthrough performance of sweet pop and soul ballads. The music might not sound the same, but for a sort of comparison, consider someone like Harry Styles.
Many of his songs are already hits on social media, but they still had a newness or freshness to them when performed live at BottleRock. Like "FEELING THIS BAD NEVER FELT SO GREAT," many of the songs were poppy, breezy, suitable for dancing or vibing. "Solamente" began as a stripped-down arrangement before blossoming into a melodic treat after the rest of the band joined in midway.Other fan favorites like "3 Outfits" and "Stuck in the Middle" also played well. During the latter, he hopped off stage to give fans some attention. The conversational hit devolved into a pop-punk arrangement of the song by the end. And "I deserve 2 b alone" was highlighted by a blistering guitar solo by Tai Verdes' guitarist. Not bad from a guy who bumped to the festival's second-largest stage because of a cancelation.
Vance Joy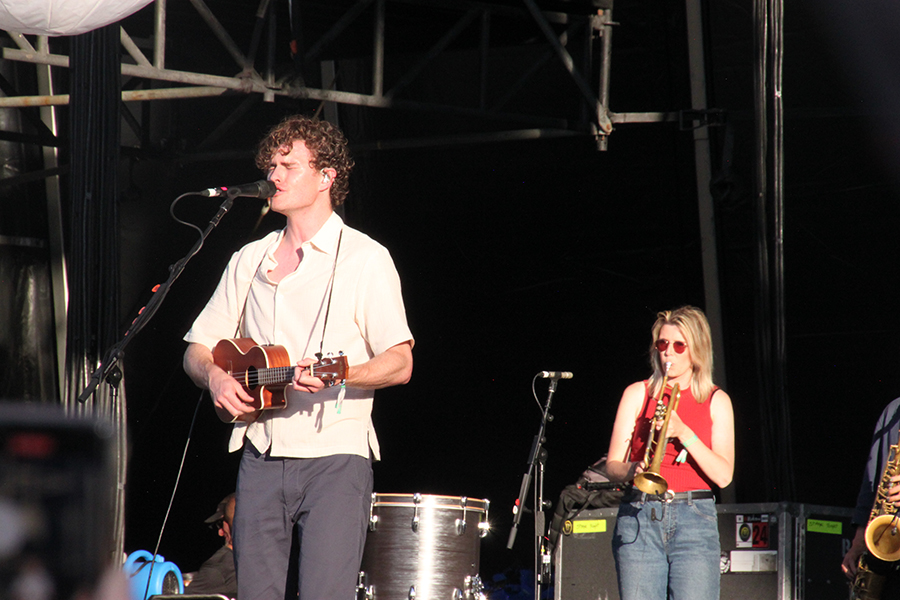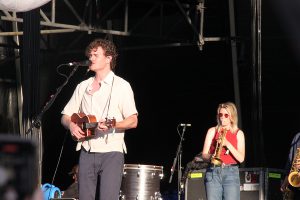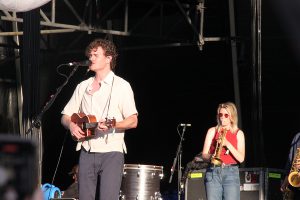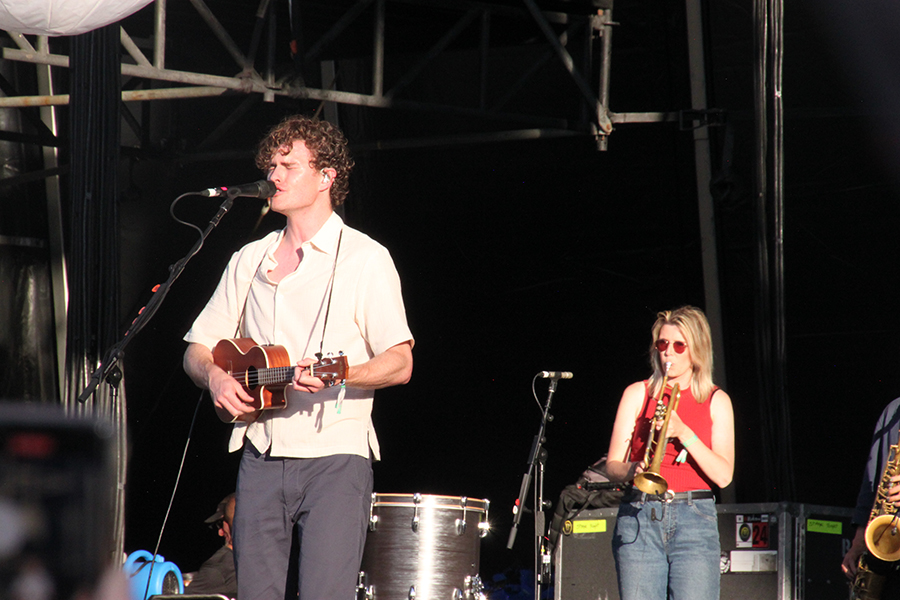 Australian singer-songwriter Vance Joy had his set times and stages moved more than one time. He didn't have to worry about having a small crowd, though, because he directly preceded P!nk at the JaM Cellars stage. But it wasn't necessarily his crowd. Up near the front, people were talking over his beautiful folky songs and even poppier numbers.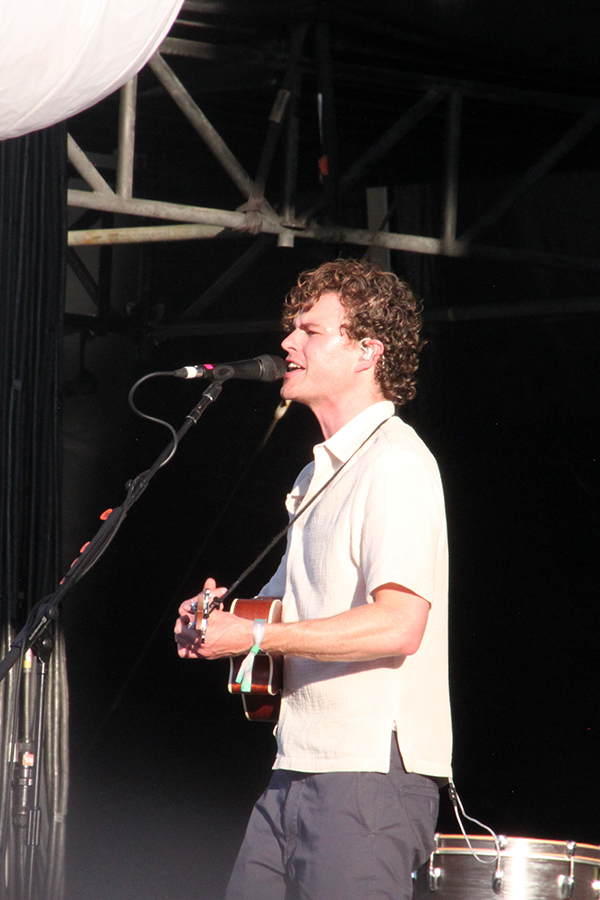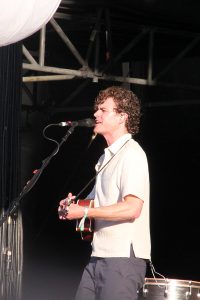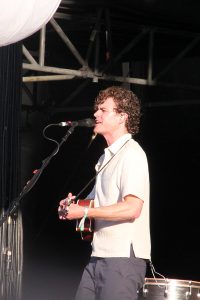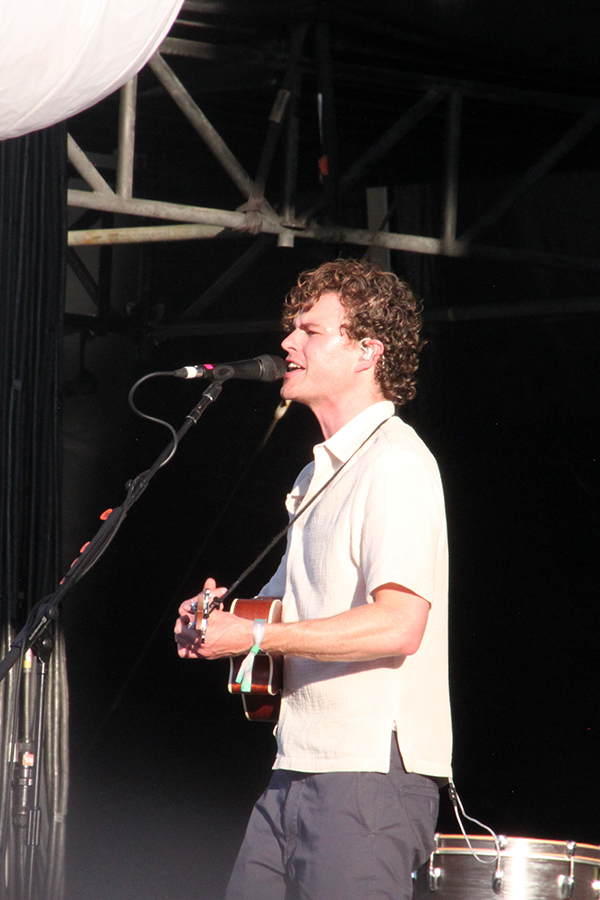 The artist, whose name is James Gabriel Keogh, took the opportunity to introduce songs from his forthcoming album alongside his established international hits. His band included a saxophonist and trumpeter, which enriched the sound even further. 
Switching off between a couple of acoustic guitars and his ukelele, Vance Joy worked his way through the set, which included new song "Missing Piece," "Clarity" and "Saturday Sun."
There was also "I'm With You," off his second album, 2018's Nation of Two, and a brassy, sensual cover of Big Mountain's "Baby I Love Your Way." He rounded out the shortened performance (he got only 45 minutes after the changes) with "Georgia," the uptempo "Fire and the Flood" and "Lay It On Me" before closing with "Riptide," his first major hit.
Ana Tijoux
"My English is sometimes good, sometimes no, but the energy is there," Chilean-French singer and rapper Ana Tijoux declared shortly after walking onto the Allianz Stage Sunday afternoon, and quickly showed what she meant by delivering a hard-hitting and often poignant set that sometimes relief on her emotion more than her words—since she sang and rapped primarily in Spanish.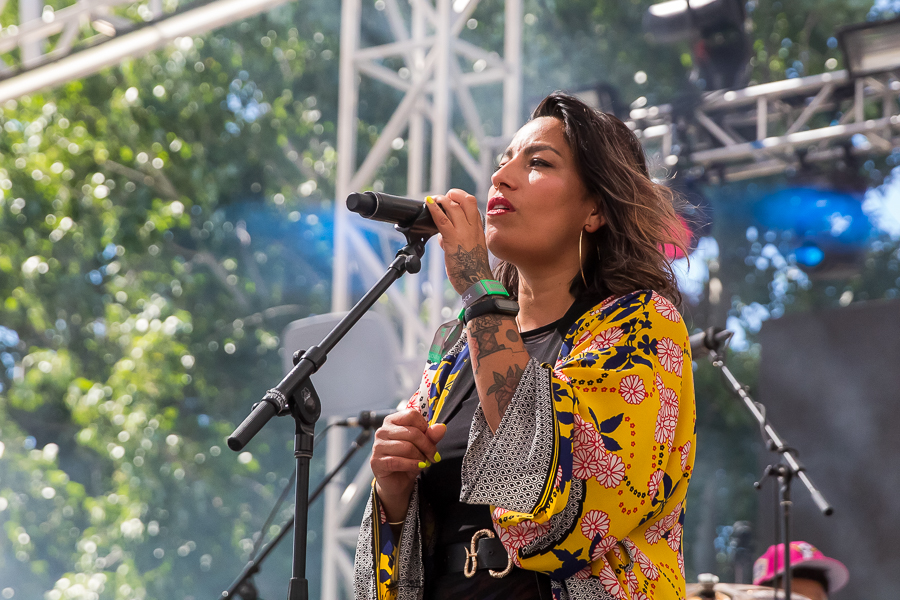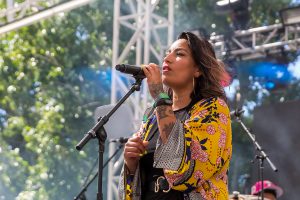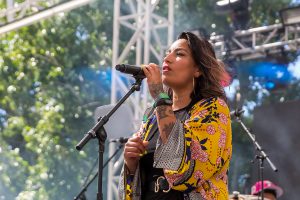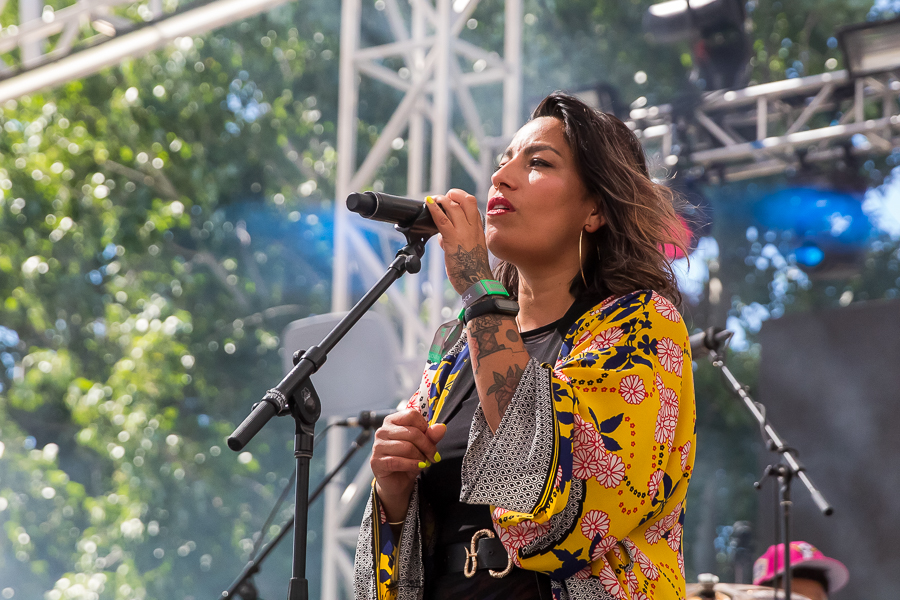 She and her backing quartet started with a piano ballad, "Luchin." But while it began wistful and jazzy, the rest of the band eventually joined in and the song swelled into a cacophony, Tijoux's voice growing harder and harder, and the pace picking up into a whirlwind.
From there, the performance went in numerous directions. "Mi Verdad" was hard-hiting, with funky keys, hip-hop and jazz fusion. The song felt like it had several independent movements before coming together at the end. Then there was the slinky "Libertad." 
On another song, Ana Tijoux rapped, sang, whooped and vocalized by rolling her tongue. Despite language barriers, the crowd knew when to "oh-oh" with her when the time came. This one featured some of her fastest bars.

Her best-known song (in the U.S., it's thanks to many syncs on TV and in films), "1977," was performed with a jazzier arrangement.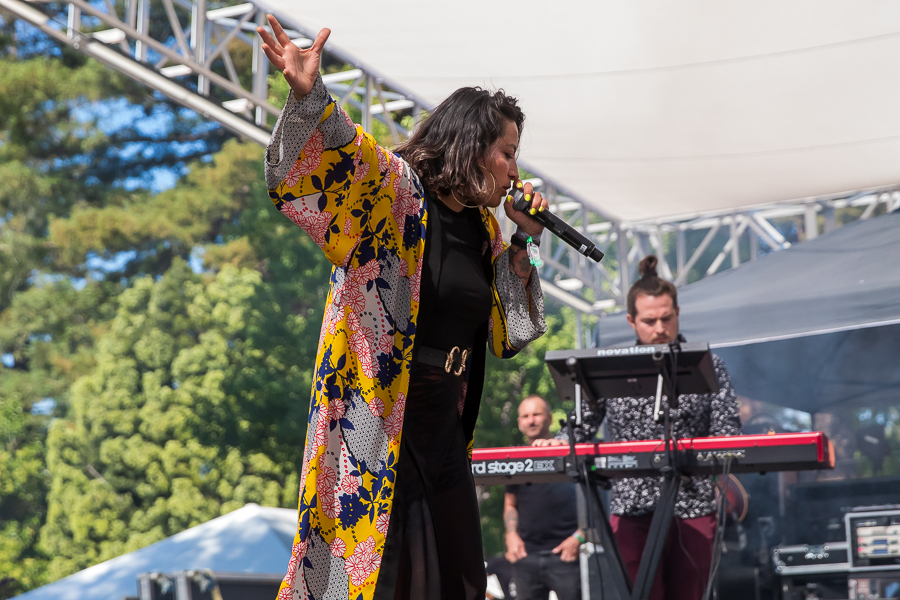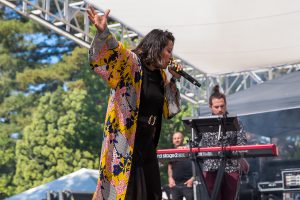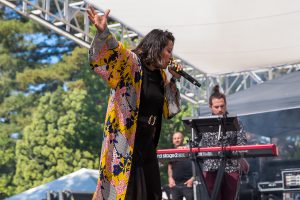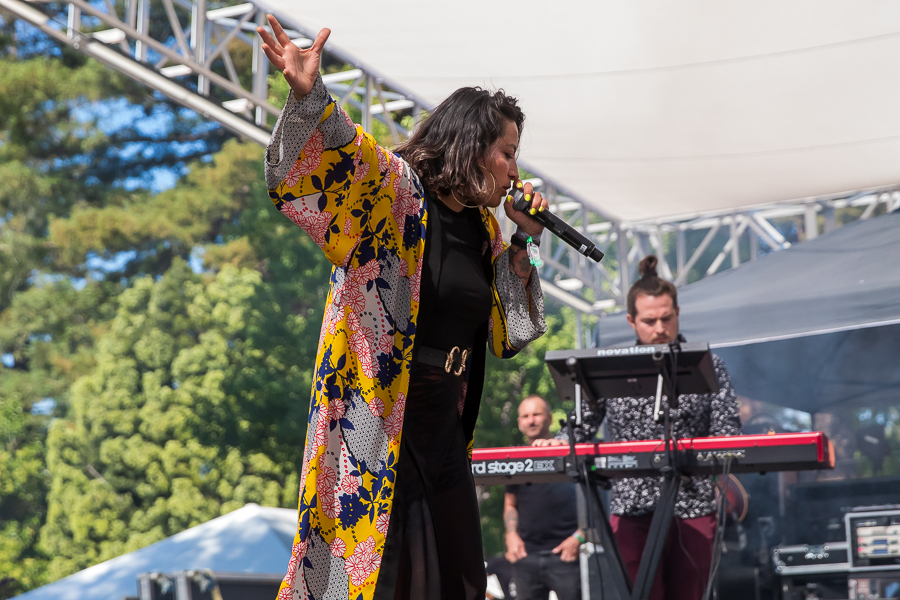 "Let's make a little juego," she said afterward. "We're going to make a new language!" She led the crowd in a call and response along to some of her vocalizations. Her band then went into a jazzy jam that seemed improvisational.
I love you, I love you too! Are you my husband? My ex husband? I don't remember. I was so drunk.
Toward the middle of her performance, Tijoux, a mother, spoke of the massacre in Texas; her sadness about gun violence and the state of the world in general, and then praised those who support mental health and wellness, and dedicated "Sacar la Voz" to those building communities and organizing movements. 
"Mental wellness is part of the revolution," she said. "What the fuck, I'm a hippy. We need more love. Mucho amor!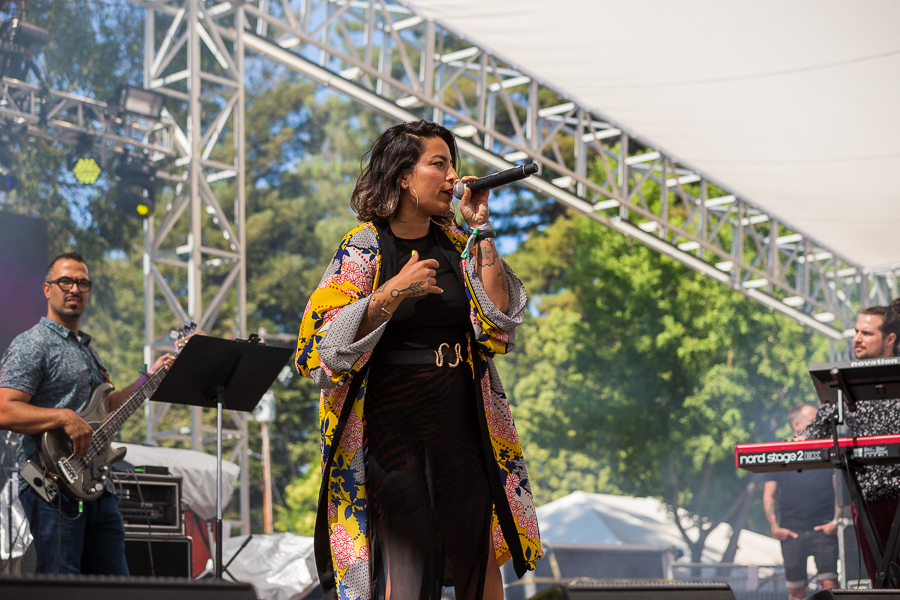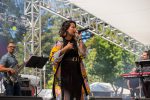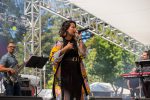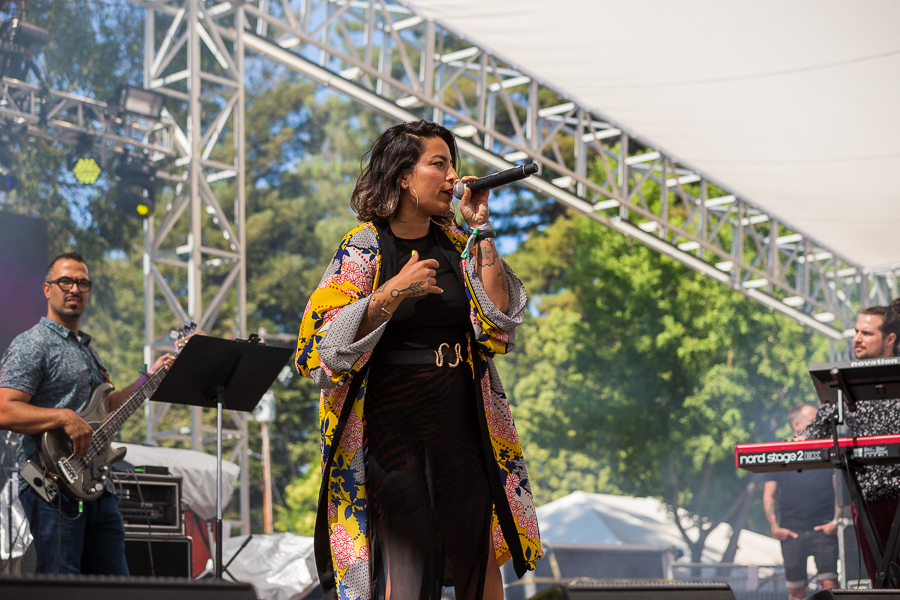 Ana Tijoux performs at BottleRock Napa Valley at the Napa Valley Expo on May 29, 2022.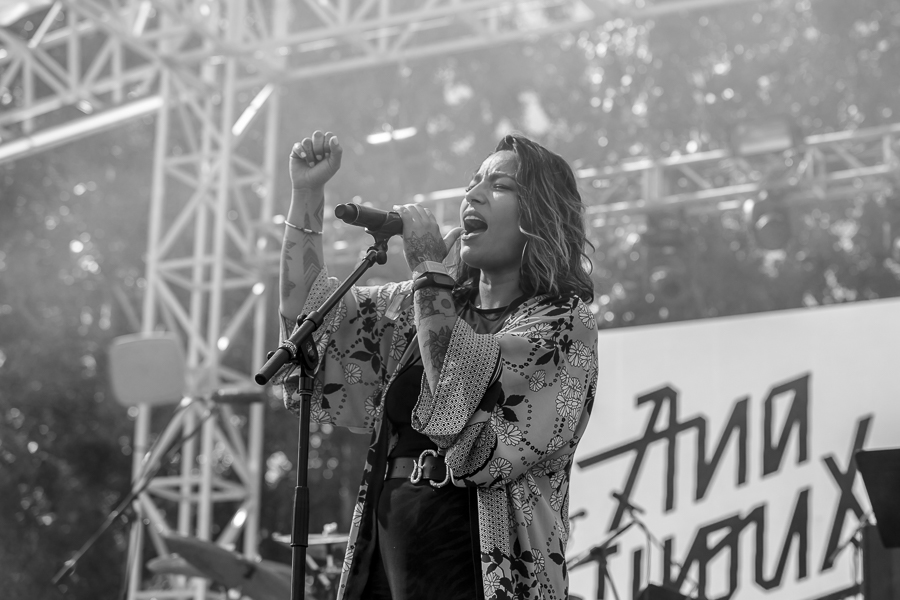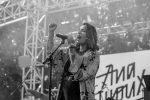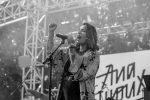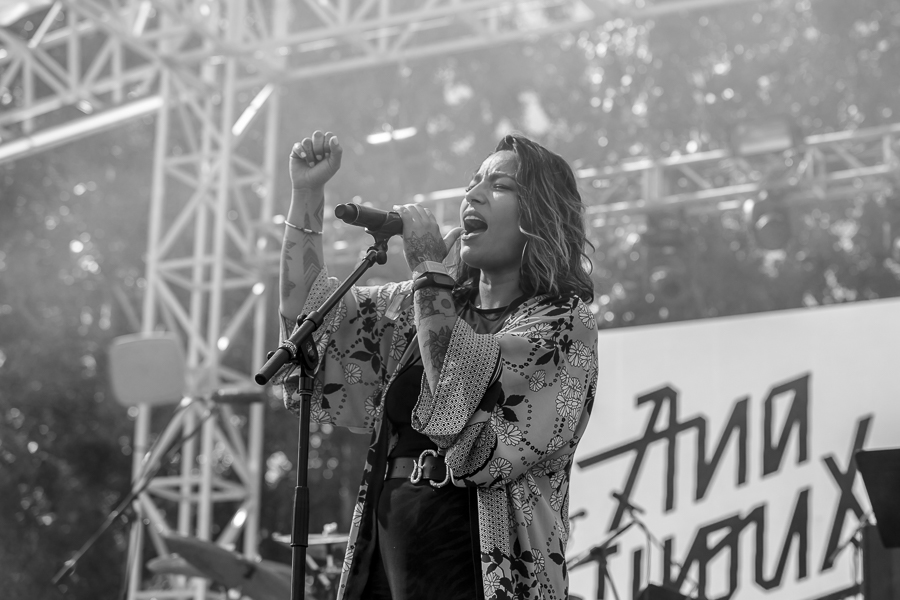 Ana Tijoux performs at BottleRock Napa Valley at the Napa Valley Expo on May 29, 2022.


Michael Franti
There are few ambassadors to BottleRock like singer-songwriter Michael Franti. Franti has played the festival countless times, far more than any other artist, and it simply never seems to get old. Franti's sets are upbeat and joyful, and the epitome of summer, offering up a relaxed collection of songs. Franti drew a large crowd to the JaM Cellars stage and got the vast majority of them dancing and clapping along.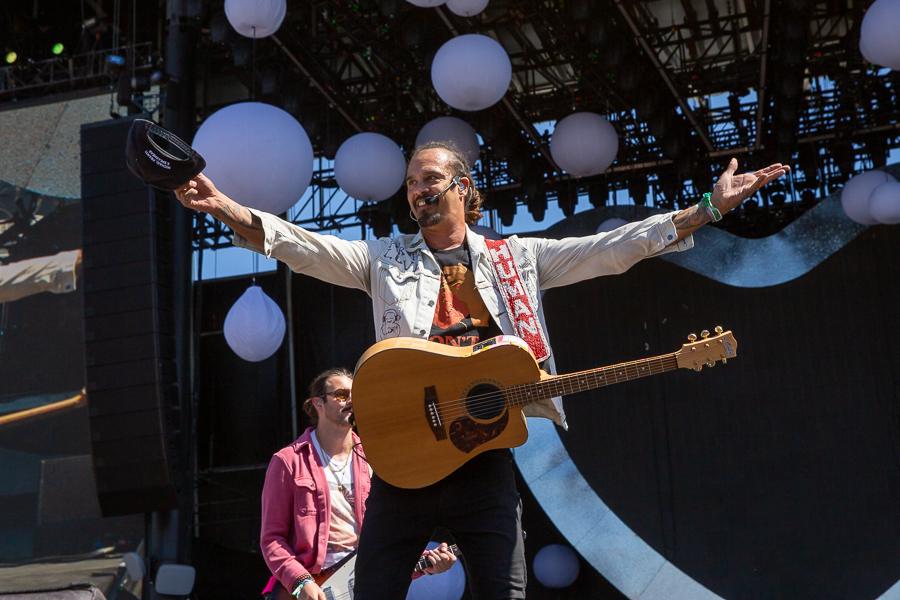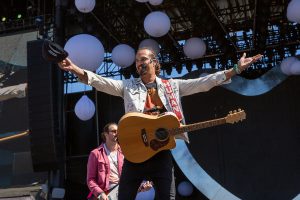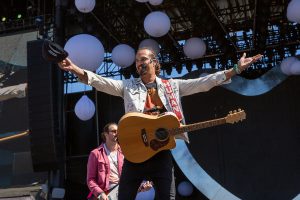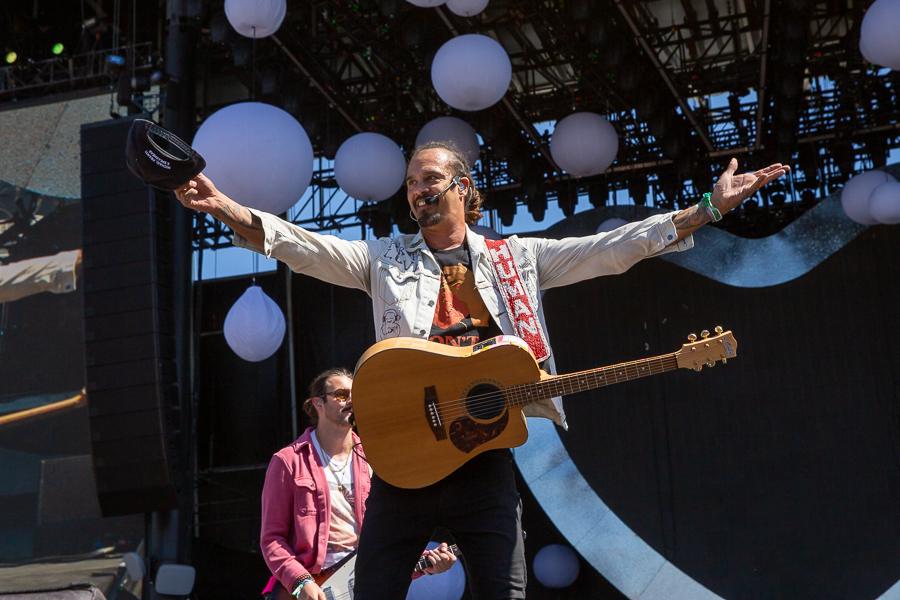 Today's performance was all about engaging the fans, bringing audience members up multiple times to sing, dance and be a part of the performance. At one point in the set, Franti encouraged the groups in the crowd to form a circle for their own mini-mosh pit of sorts.
Franti told a story about a love song that came after an argument with his wife, and how his worst day after meeting her was better than his best before that.
"Hang on to that quote," Franti said.
Franti also took a moment to thank all the first responders and front line workers who were at the forefront of the pandemic, making it possible for a festival like BottleRock to go off without a hitch. Toward the end of his set, Franti brought a group of kids on stage—the children of the band members and crew—for a last hurrah of joy.
Blu DeTiger
Bassist Blu DeTiger played a set heavy on funky R&B rhythms that was just as much about the music as it was the songs. DeTiger, who became a viral sensation playing bass covers of popular songs during the pandemic, brought a polished set to the festival. With DeTiger's background in the rhythm section, her songs are groove-heavy, with the bass taking an obvious leading role.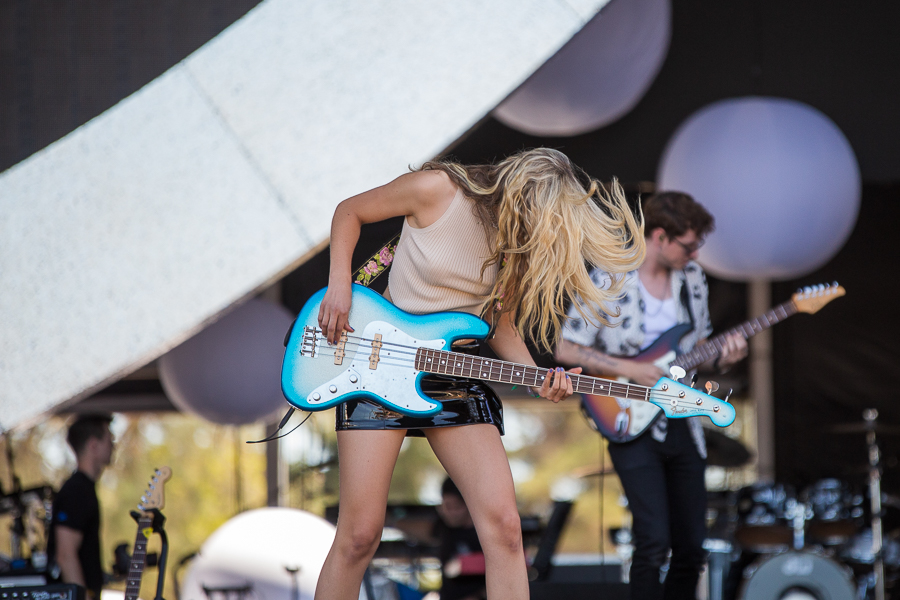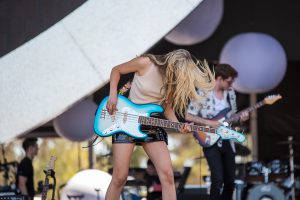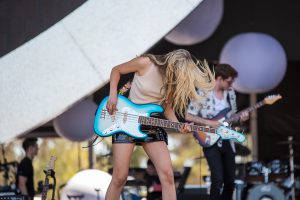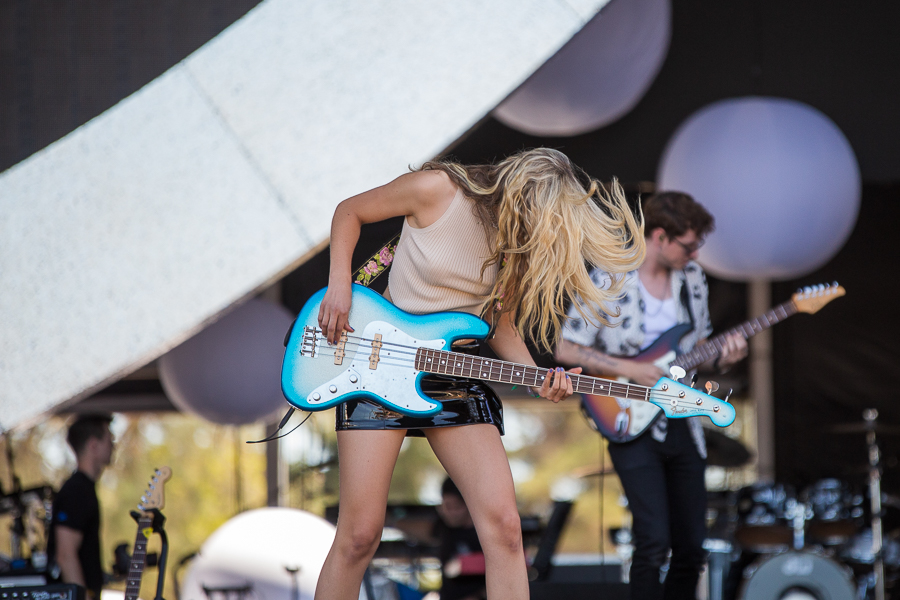 Blu DeTiger sang with a deep and soulful voice, and she was soft spoken when she bantered with the crowd between songs. The weather was just about perfect for the multi-talented musician, and she pointed it out a few times over the course of the set.
"Can we play you a new song?" DeTiger asked, garnering approval of the crowd. "I'm glad I got that reaction—because I was planning to."
DeTiger took a moment to introduce her fellow bandmates, giving them each time to show their skills during an extended jam. One of the most fun moments of the set came when DeTiger broke out a cover of Gorillaz' "Feel Good Inc."
Tessa Violet
Tessa Violet looked like a colorful bird onstage, with her signature yellow hair and wearing a sheer, ribbed pink and teal cape, sparkly shorts and iridescent white platform boots. The poppy singer-songwriter hopped around, twirled about the stage and jammed on her guitar (quite well when the song called for it).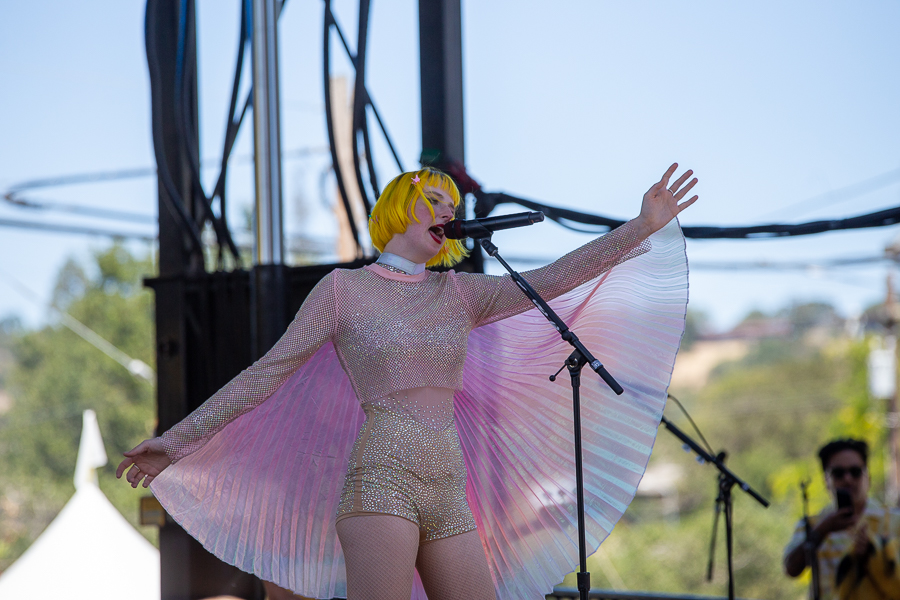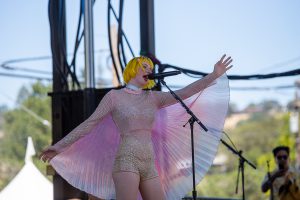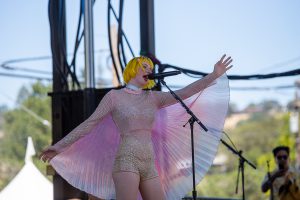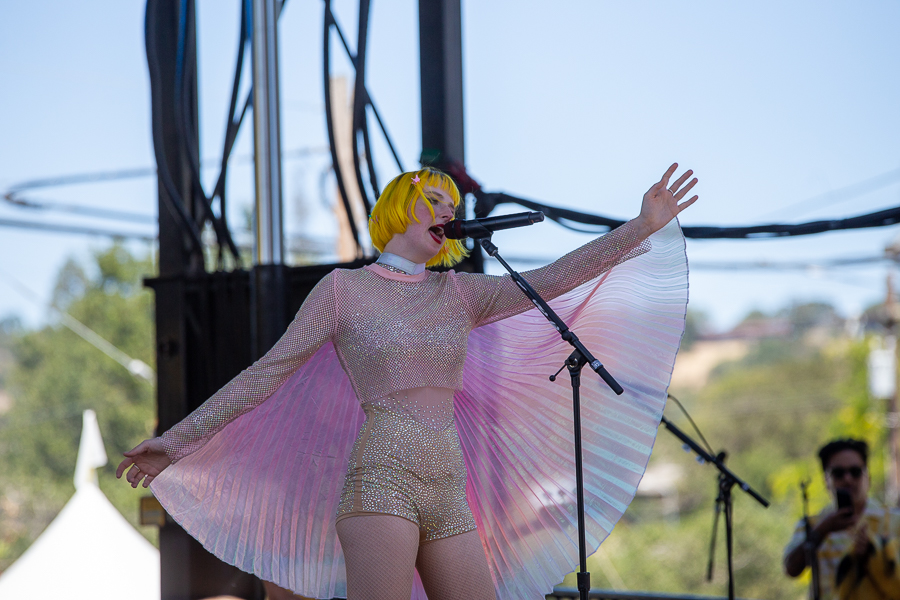 She and her two-member band opened with the bassy "Yes Mom" and disco-rhythm of 
"I Like (the Idea of) You." The came "Bad Ideas," not only the title track to her last album but her way of life, she implied. She described "Bored" as being about the isolation of being cooped up in her room—the video for which she recorded in March of 2020; just before lockdowns began and the isolation increased. The chunky power pop tune hit just the right spot
"Wishful Drinking" had a crunchy rock breakdown and concluded with Tessa Violet letting out a scream while holding her guitar above her head. Other highlights include a ramshackle, folky cover of Jimmy Eat World's "The Middle" and a new tune performed in a slow waltz, which provided the other end of the spectrum to the big riffs and blasting bass of previous numbers.
Taipei Houston
Layne and Myles Ulrich, sons of Metallica's Lars Ulrich, were still playing their first shows as Taipei Houston last December. Now, the garage and grunge duo is playing to hundreds or even thousands at festivals.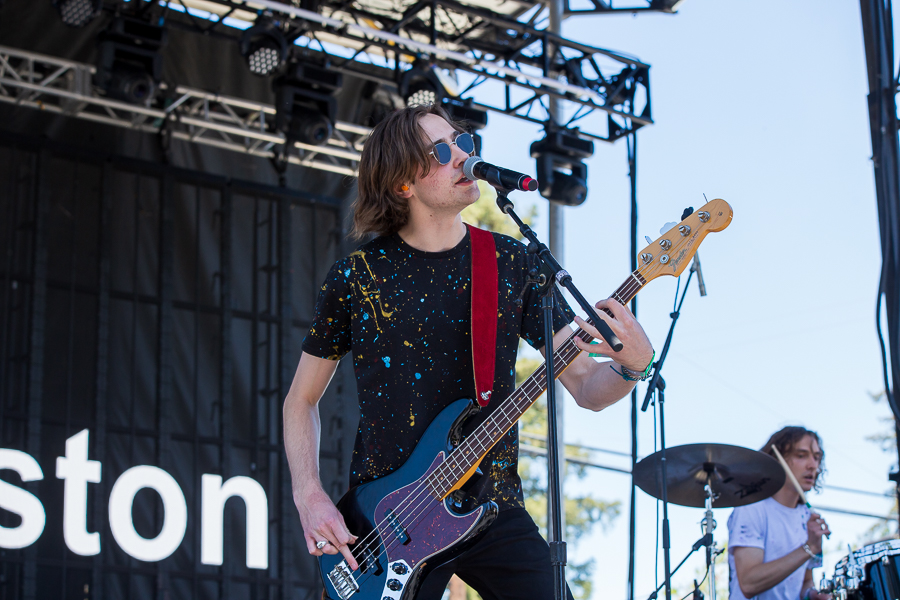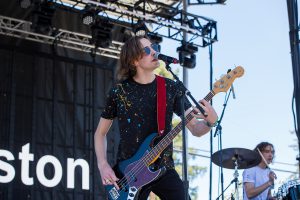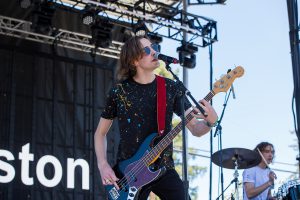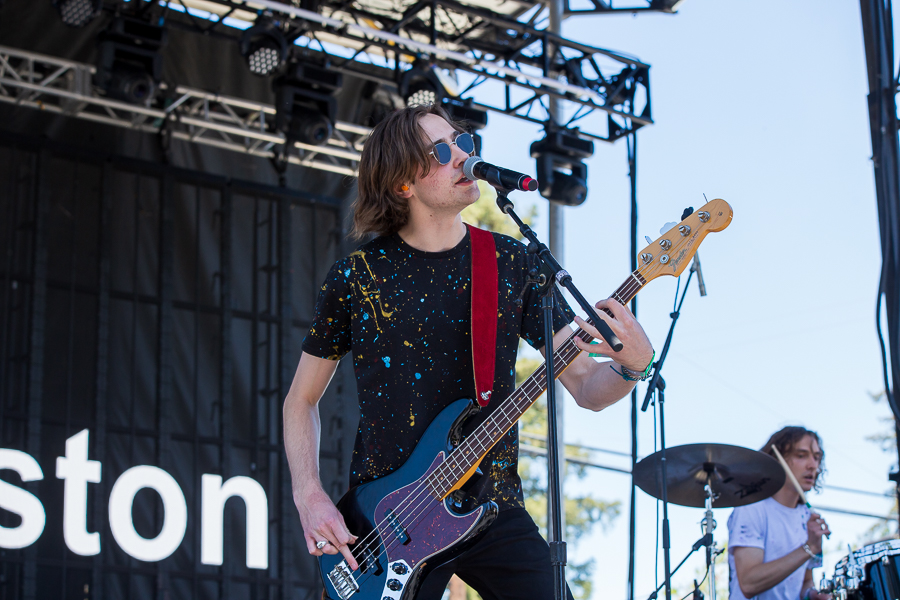 Taipei Houston sounded a lot like Royal Blood at Outside Lands (that's a good thing) where its mix of distorted bass, aggressive drumming and snarling vocals got early arrivers moving around.
Layne Ulrich essentially played guitar parts on his bass on songs like "As the Sun Sets," one of numerous grimy rockers. Another tune felt like one five-minute-long jam session, rather than a song with any formal structure.
The band changed tempos in numerous songs, with fast-paced verses and slower, fat breakdowns. Layne Ulrich switched between his numerous effects, making his bass sound different. The songs often incorporated blues rock as well, creating a balanced variety. Other highlights included
Jharrel Jerome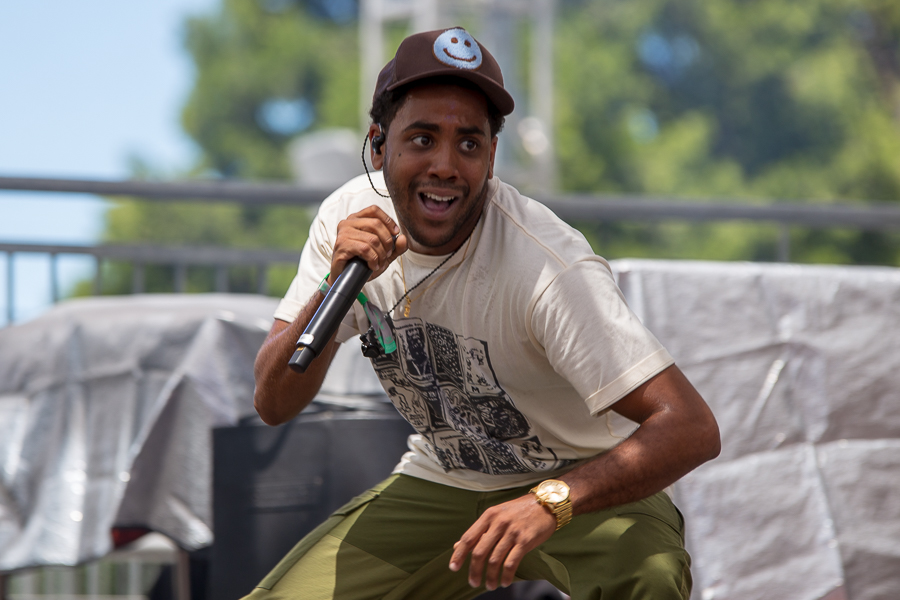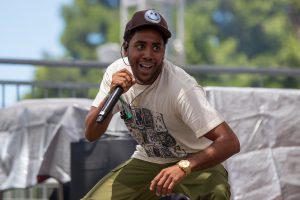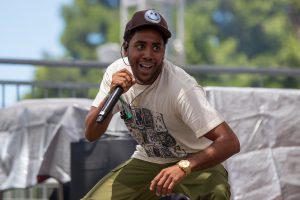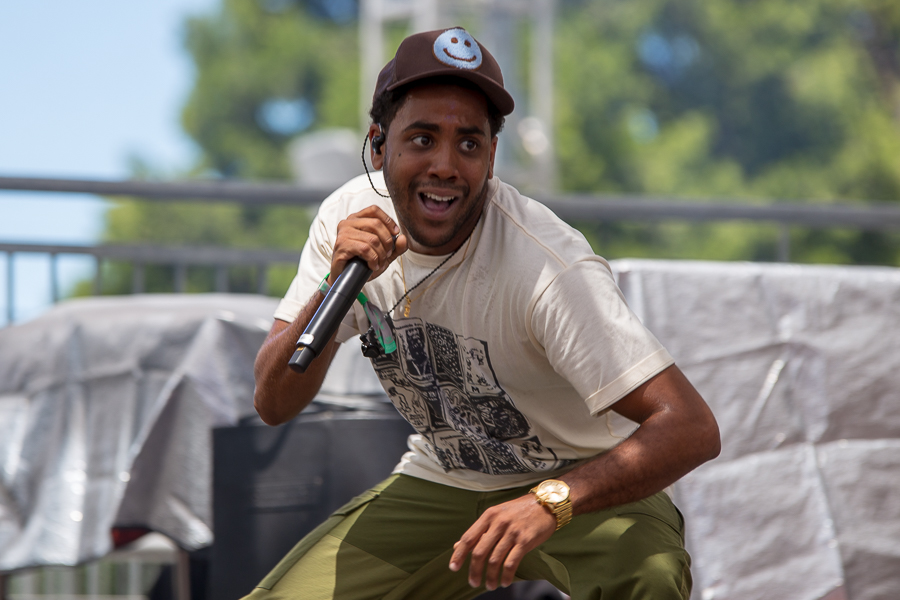 You may not recognize Jharrel Jerome as a musician. It was, after all, his very first live performance, but the rapper has been on plenty of other stages, as an award-winning actor.
At BottleRock, Jerome performed an abbreviated set that was sometimes paused for technical and audio difficulties. During the songs, though, he appeared to be having the time of his life, letting loose and being willing to make mistakes. Jerome said that he has yet to release any songs, but that he plans to release them throughout the rest of the year.
The roughly 30-minute set included songs that may be called "Supposed To" and "Mister Hollywood," which began with audio of him accepting an Emmy win and chronicled some of his acting successes. "Thank you! I'm an actor. But I'm also a rapper."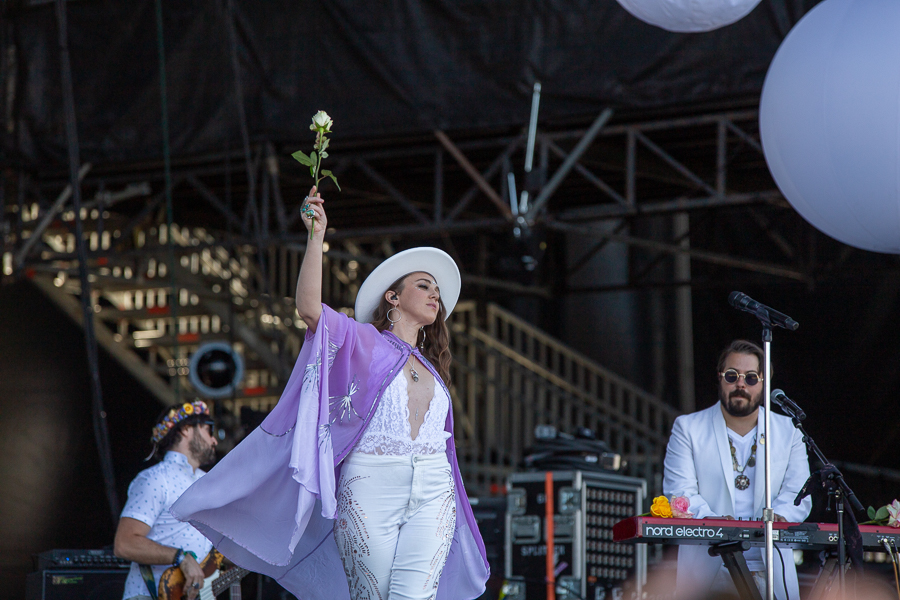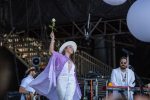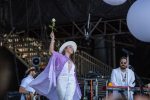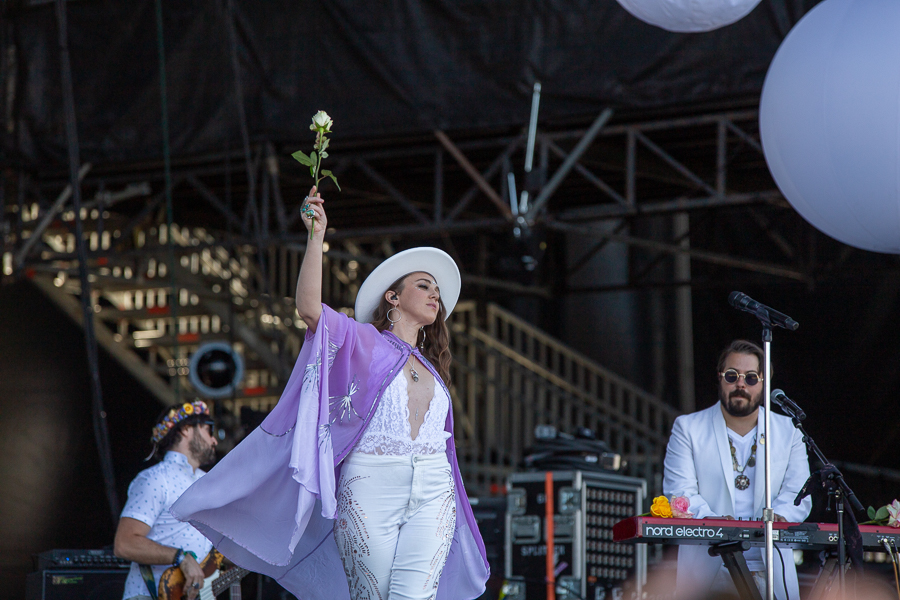 Jaleh performs at BottleRock Napa Valley at the Napa Valley Expo on May 29, 2022.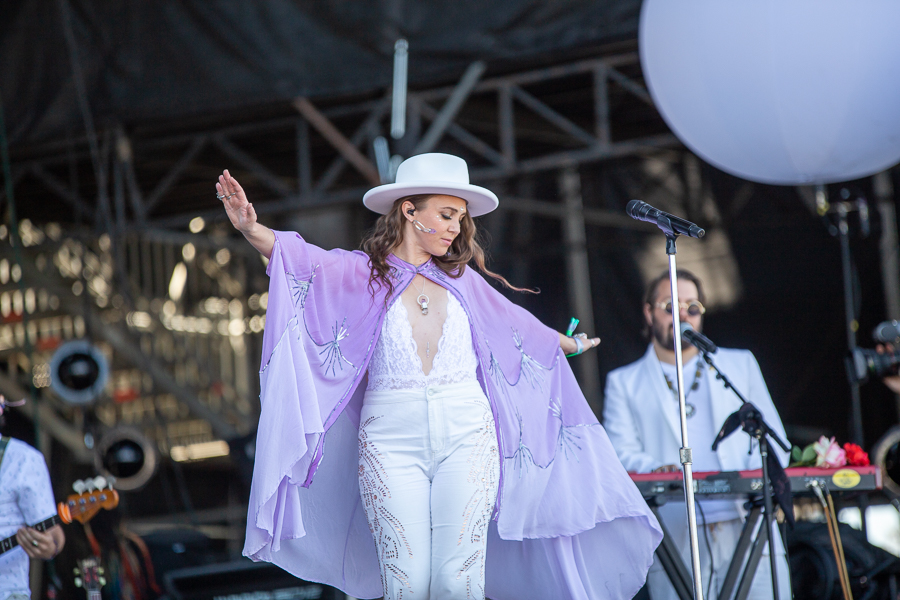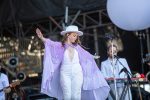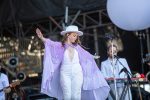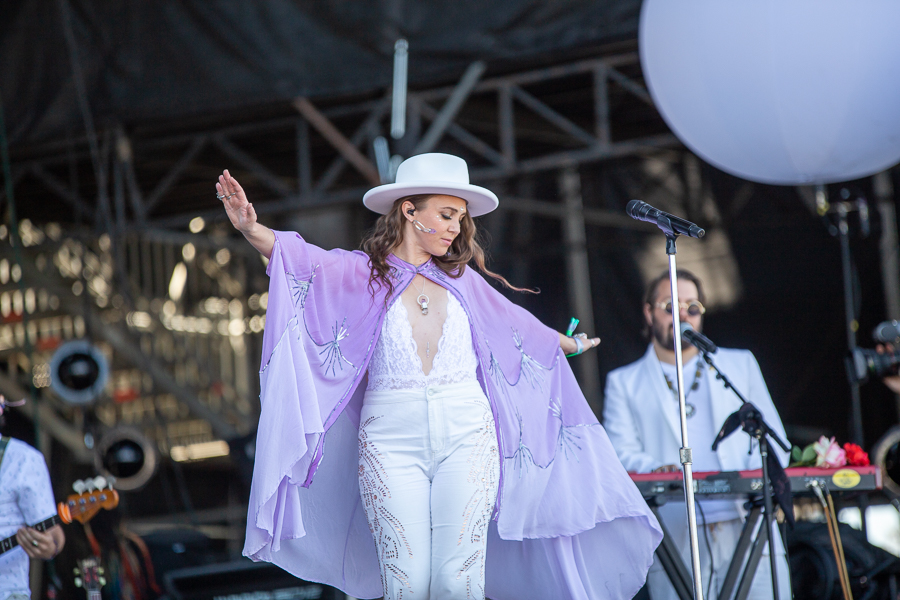 Jaleh performs at BottleRock Napa Valley at the Napa Valley Expo on May 29, 2022.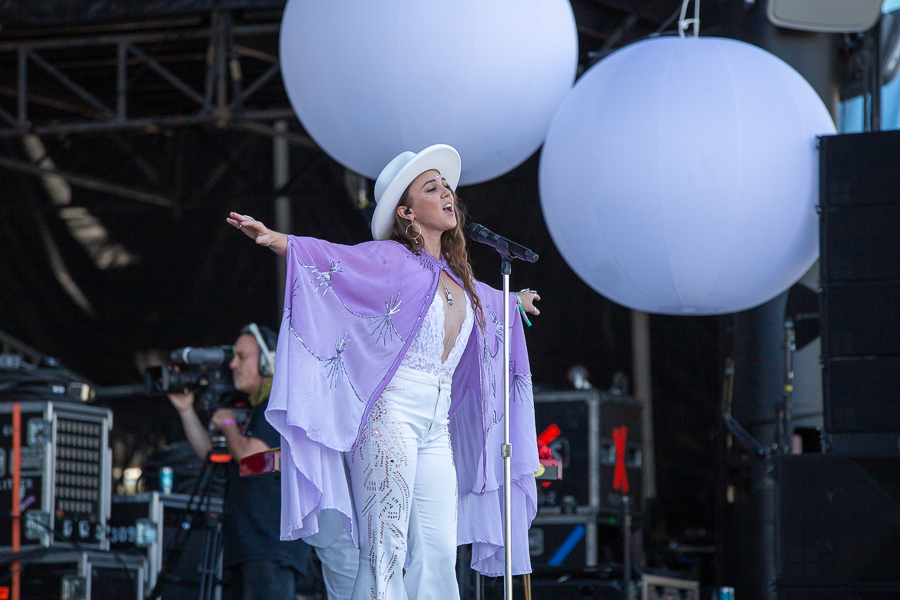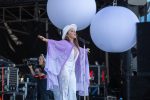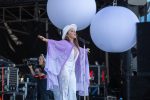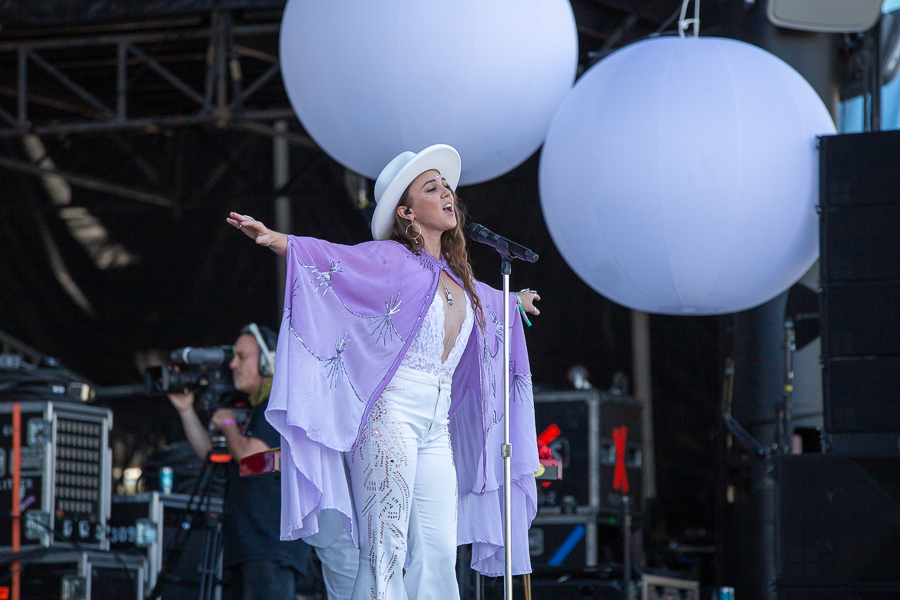 Jaleh performs at BottleRock Napa Valley at the Napa Valley Expo on May 29, 2022.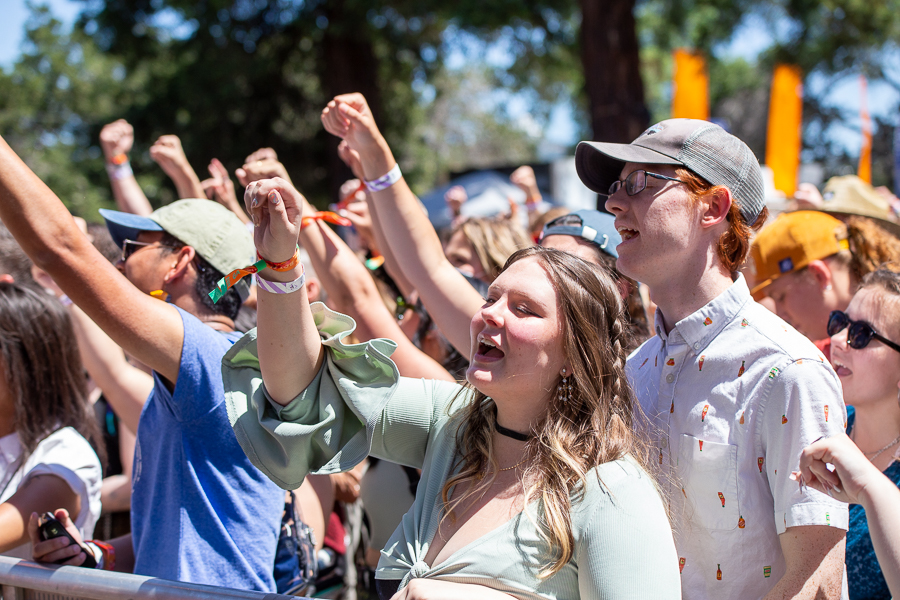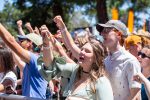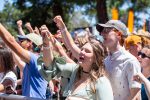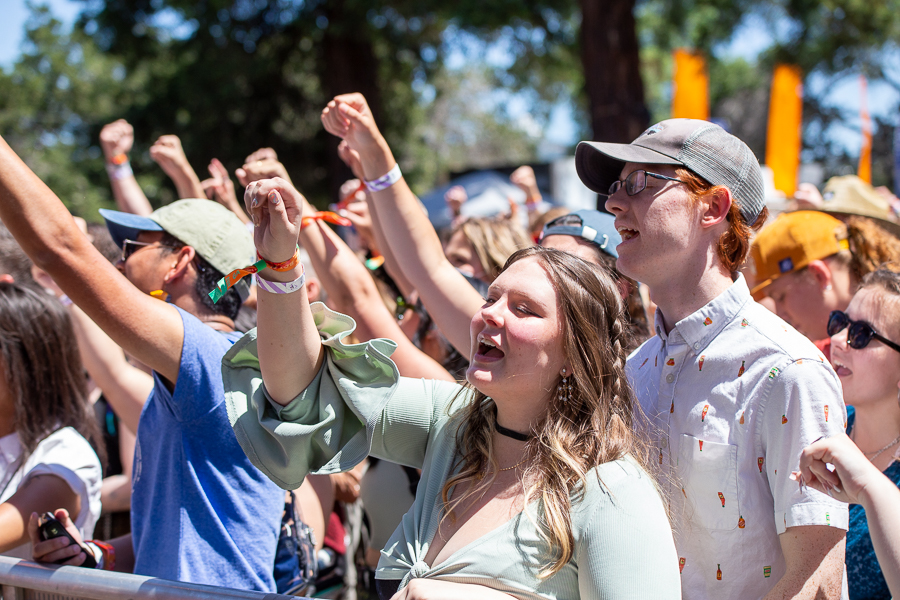 Attendees at BottleRock Napa Valley at Napa Valley Expo on May 28, 2022.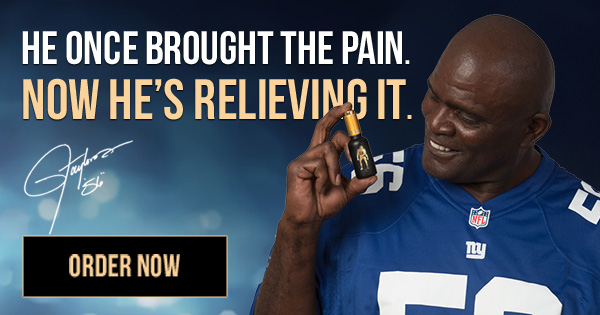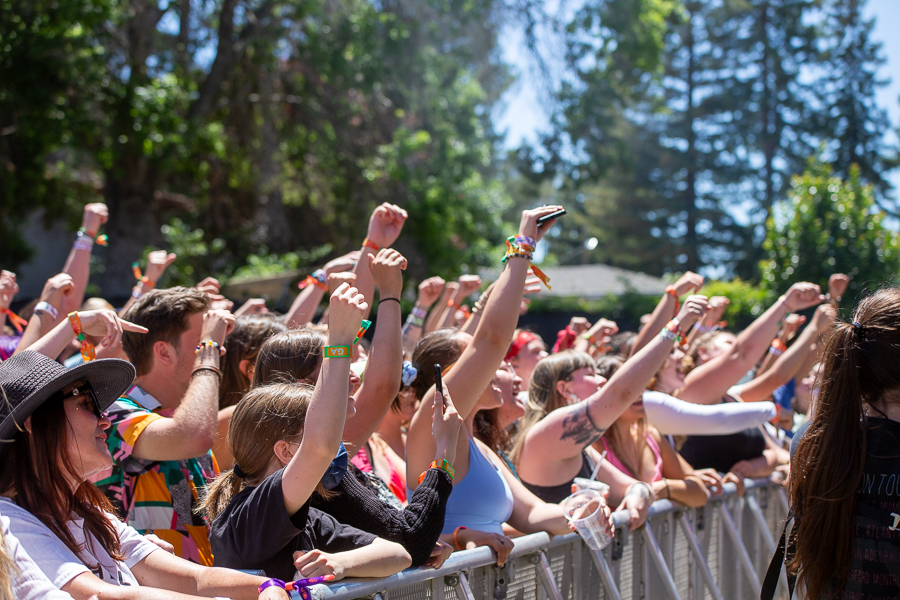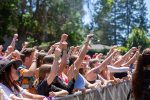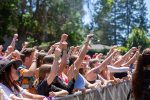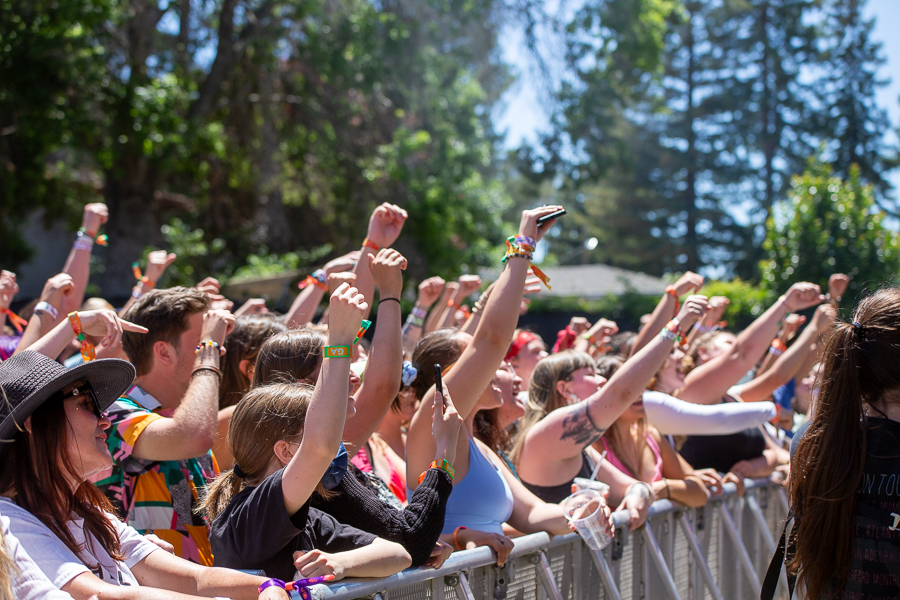 Attendees at BottleRock Napa Valley at Napa Valley Expo on May 28, 2022.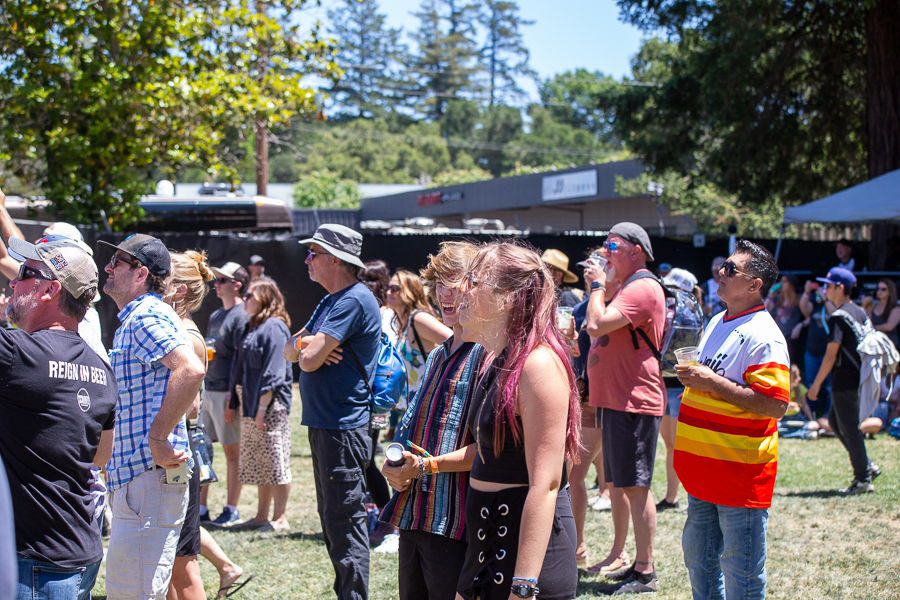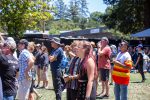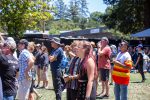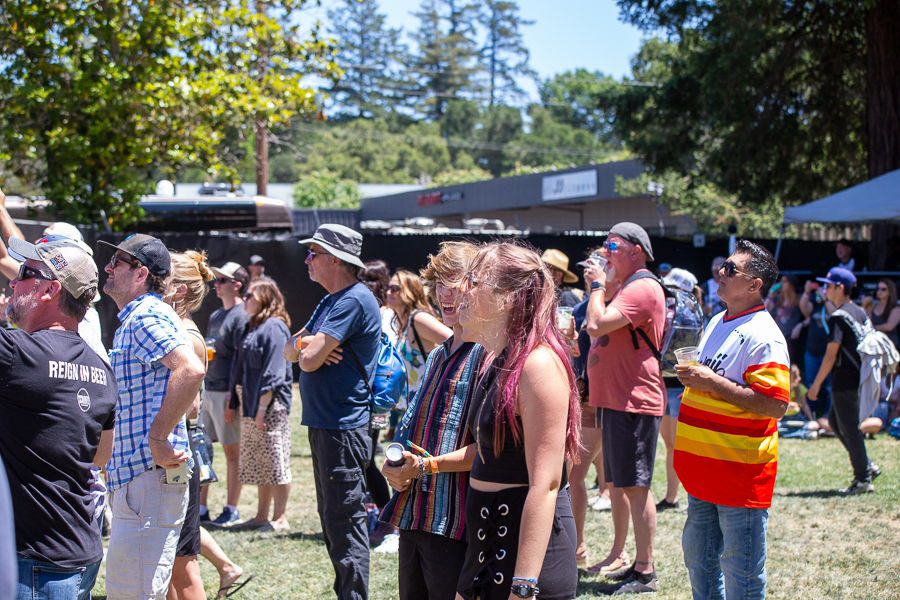 Attendees at BottleRock Napa Valley at Napa Valley Expo on May 28, 2022.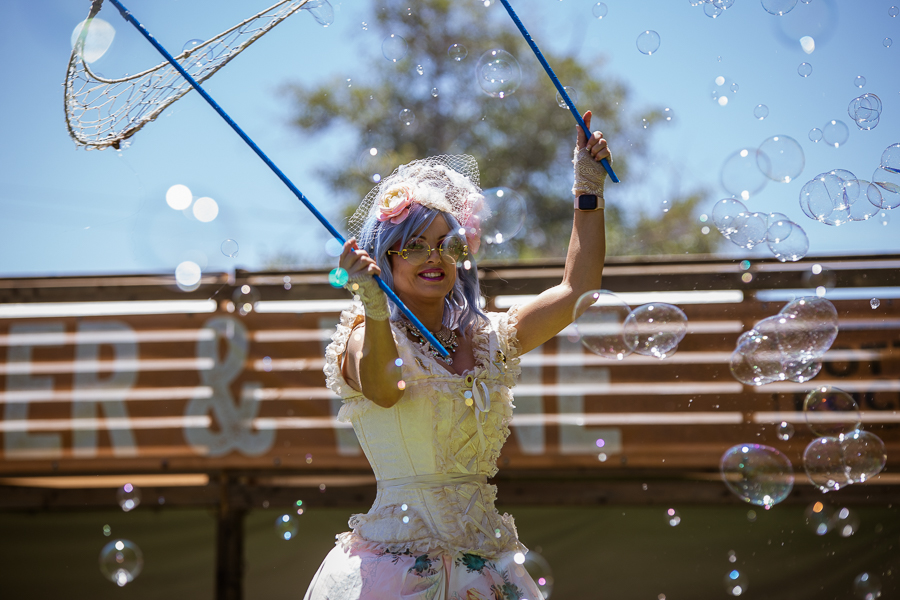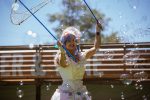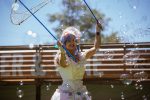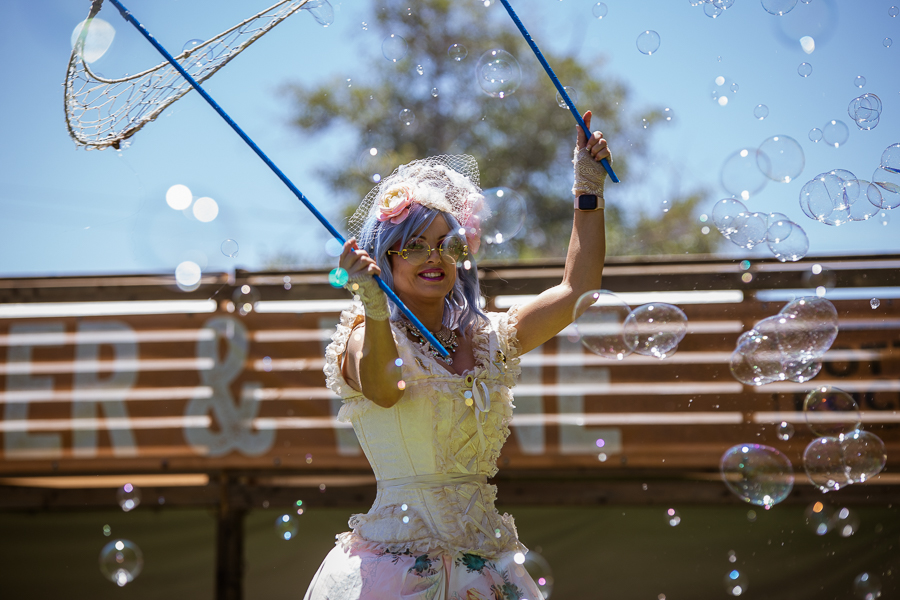 A stilt walker at BottleRock Napa Valley at Napa Valley Expo on May 28, 2022.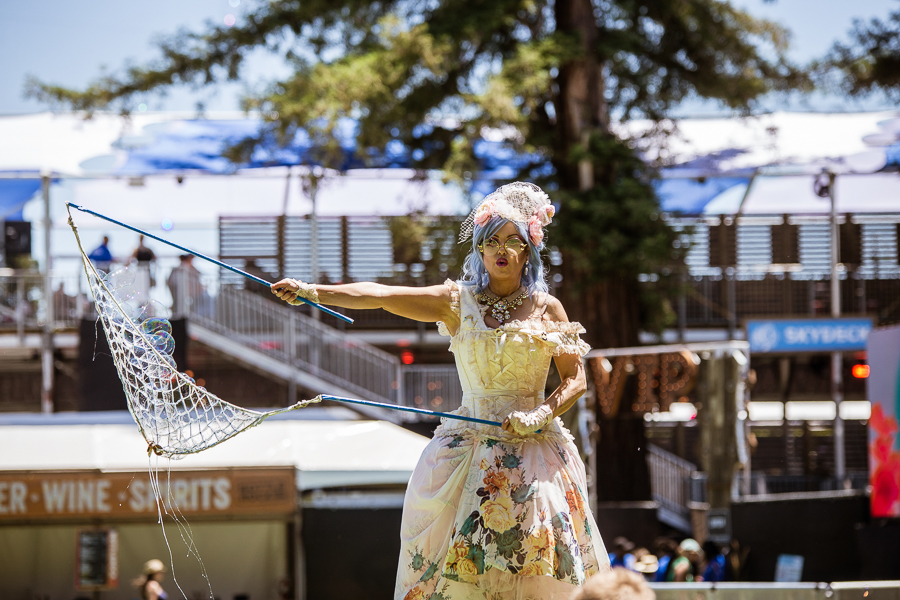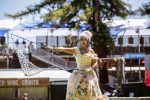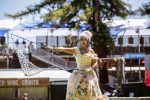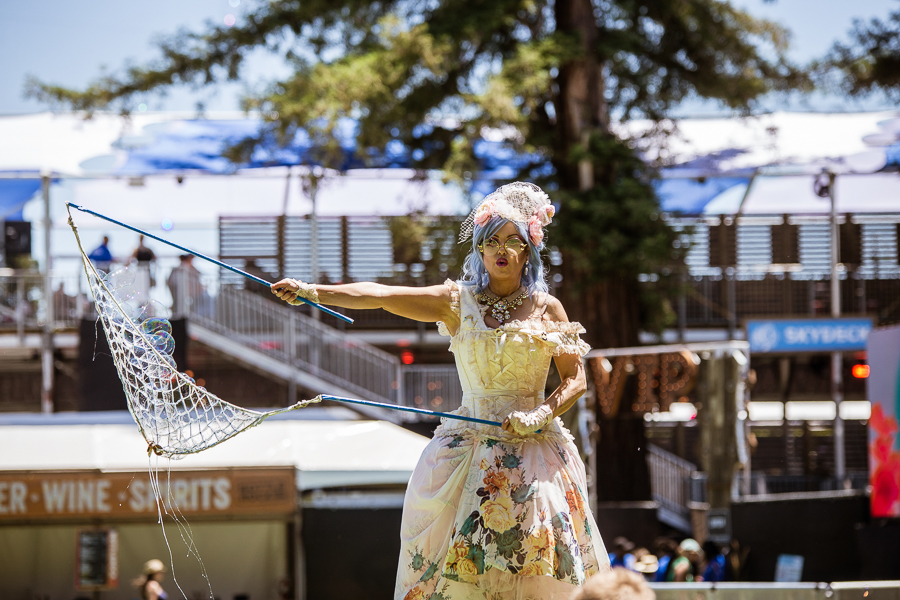 A stilt walker at BottleRock Napa Valley at Napa Valley Expo on May 28, 2022.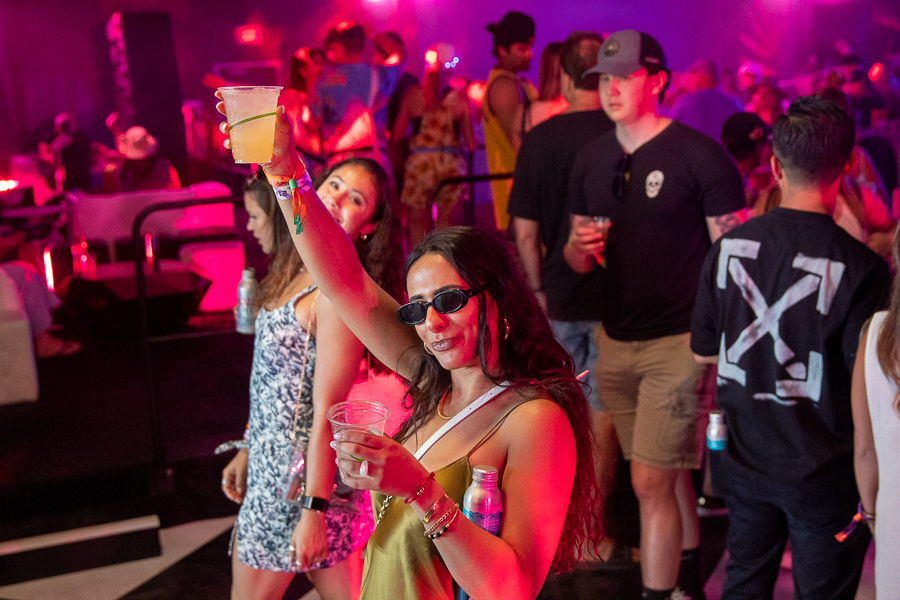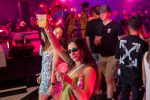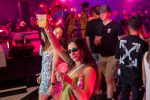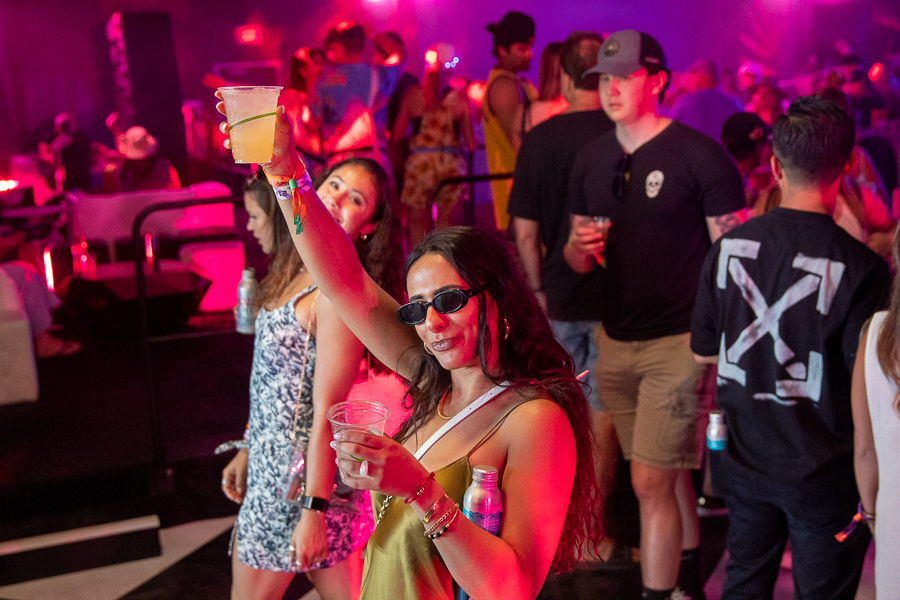 Attendees at BottleRock Napa Valley at Napa Valley Expo on May 28, 2022.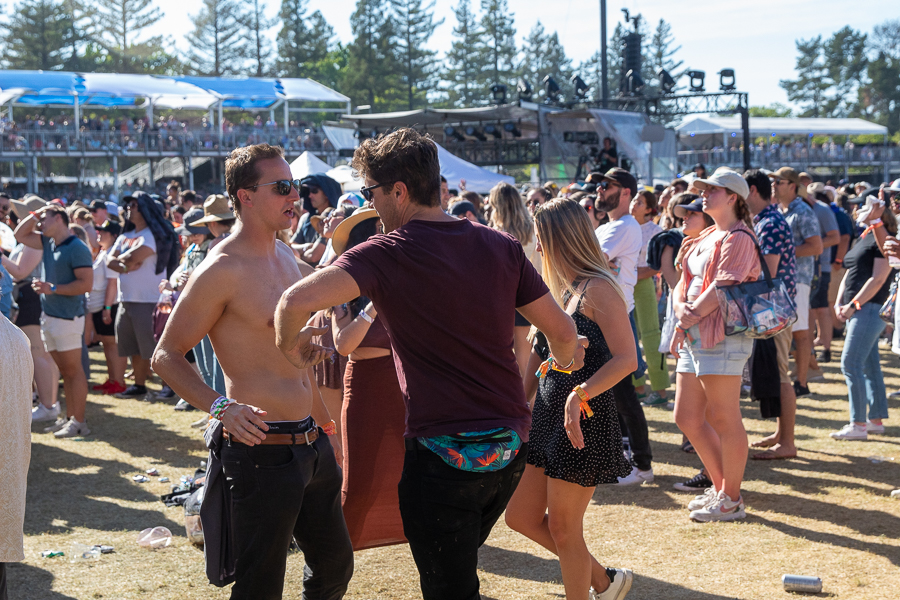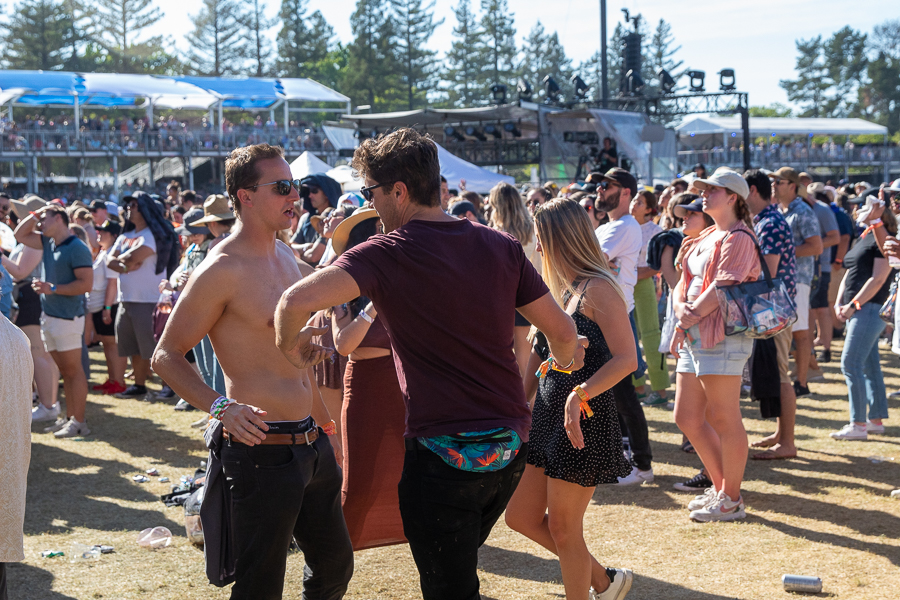 Attendees at BottleRock Napa Valley at Napa Valley Expo on May 28, 2022.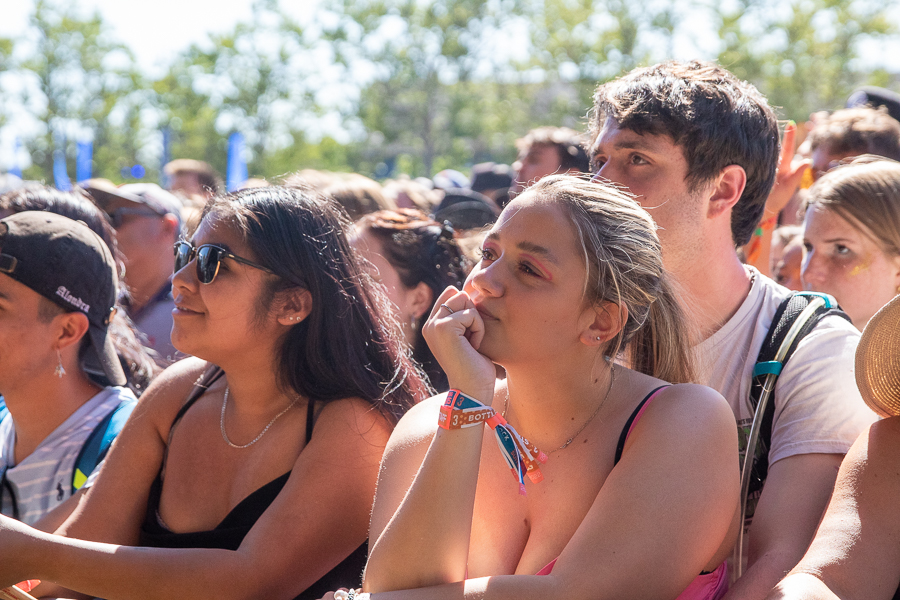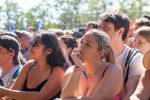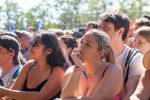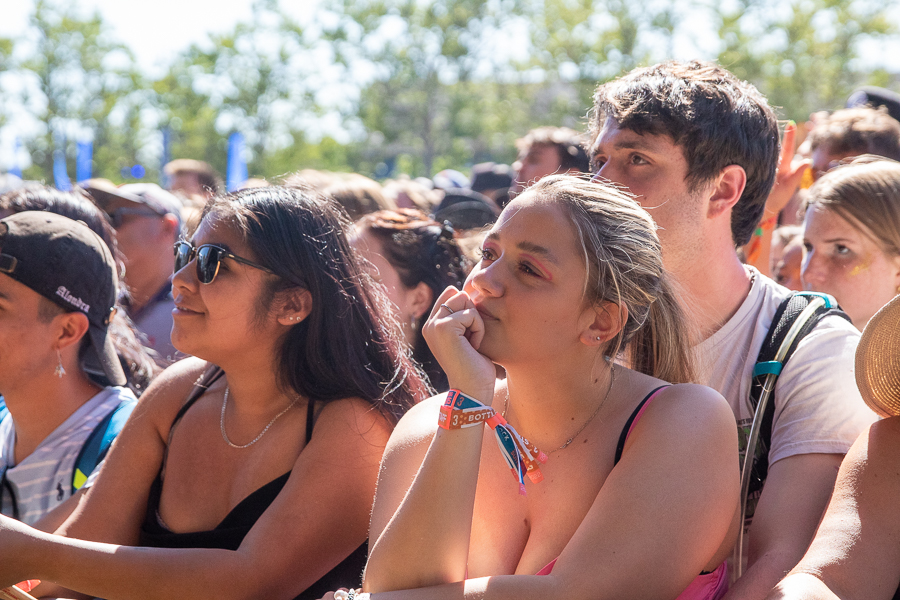 Attendees at BottleRock Napa Valley at Napa Valley Expo on May 28, 2022.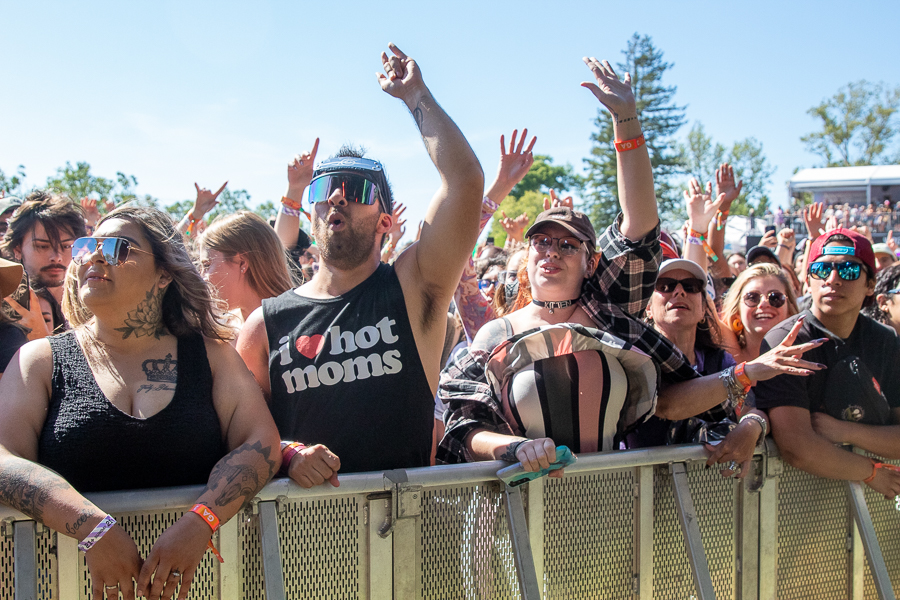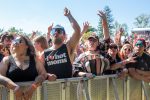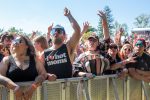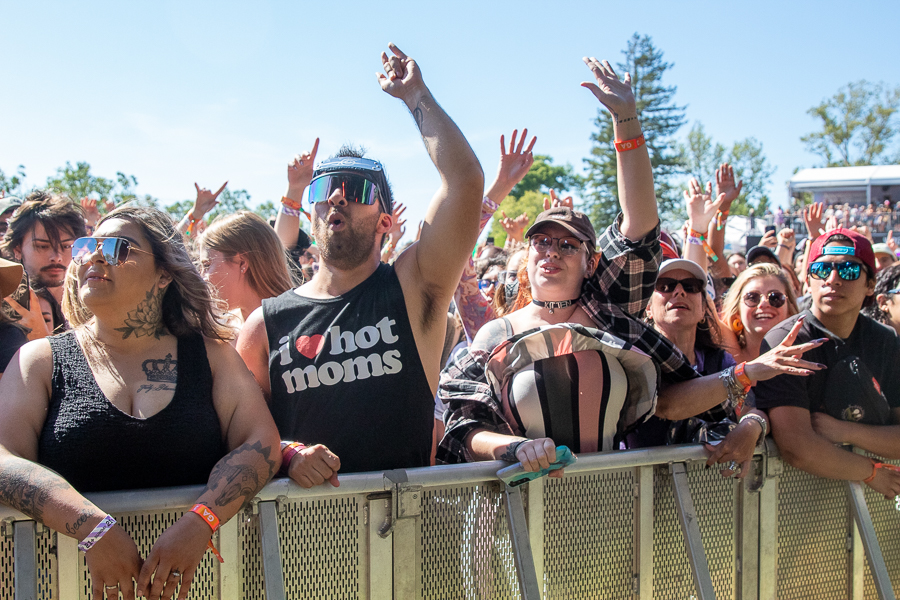 Attendees at BottleRock Napa Valley at Napa Valley Expo on May 28, 2022.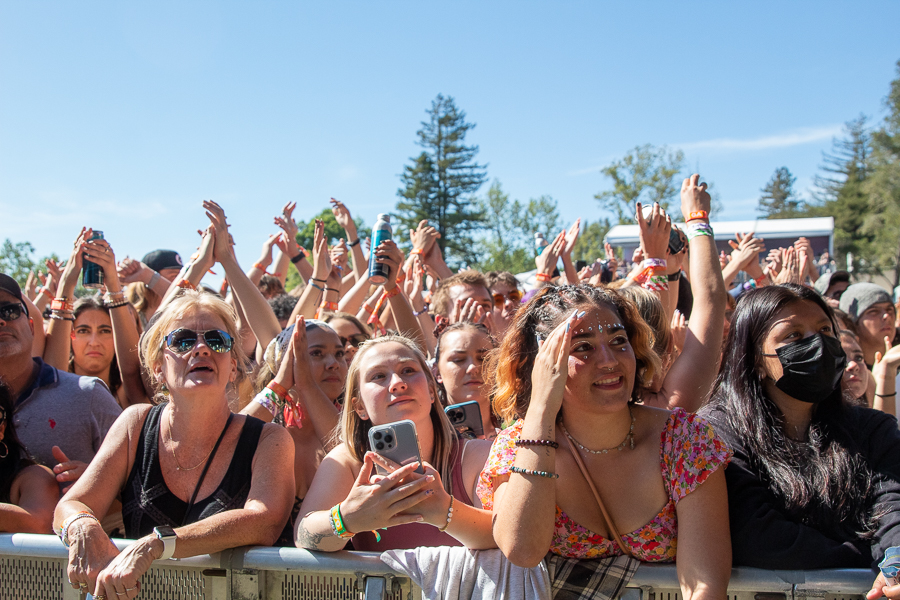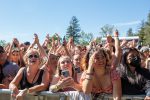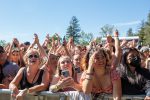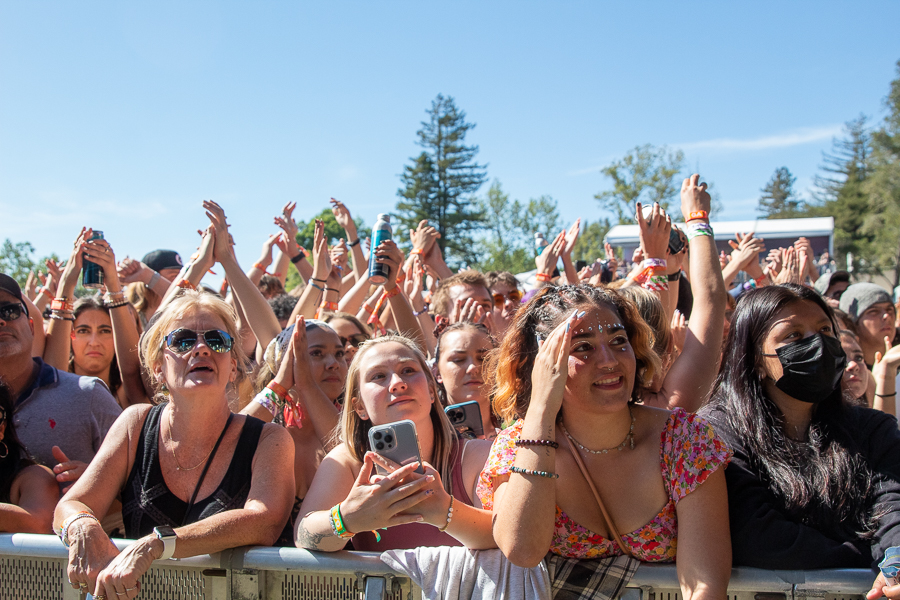 Attendees at BottleRock Napa Valley at Napa Valley Expo on May 28, 2022.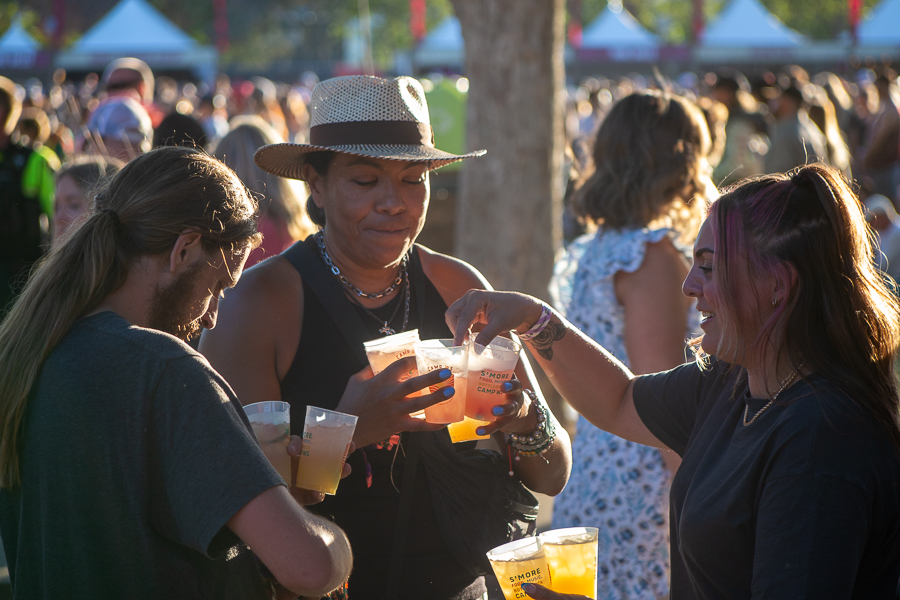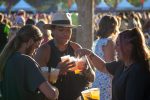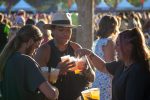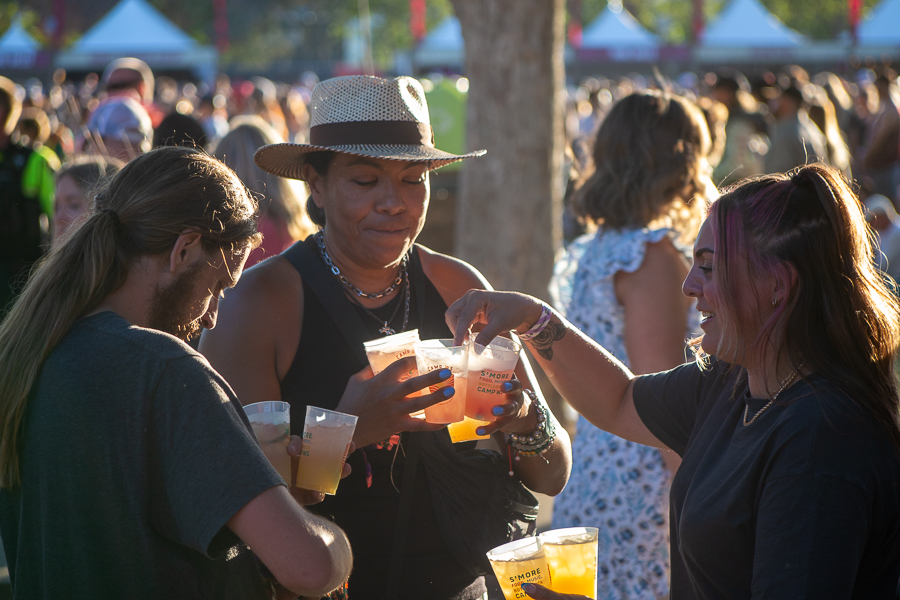 Attendees at BottleRock Napa Valley at Napa Valley Expo on May 28, 2022.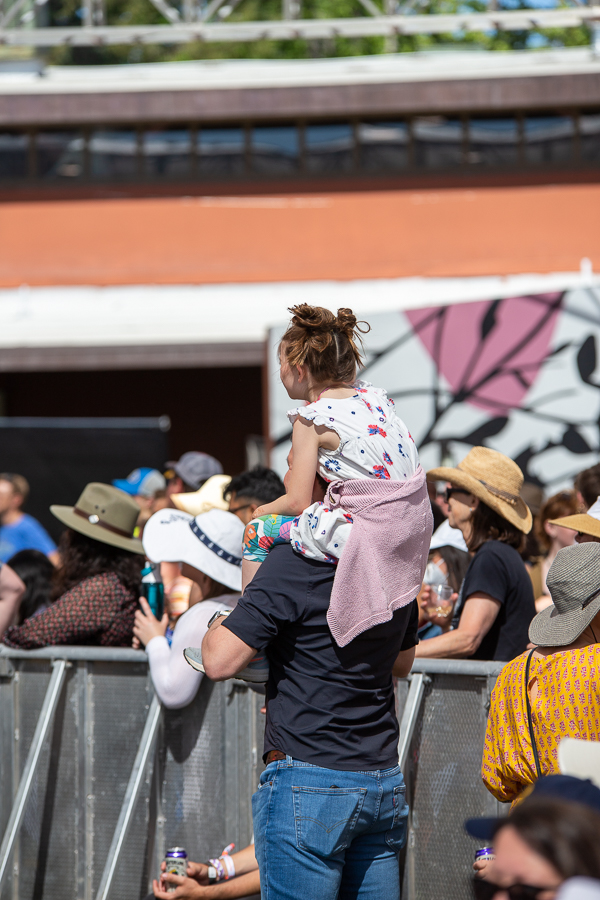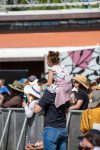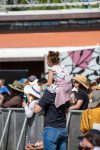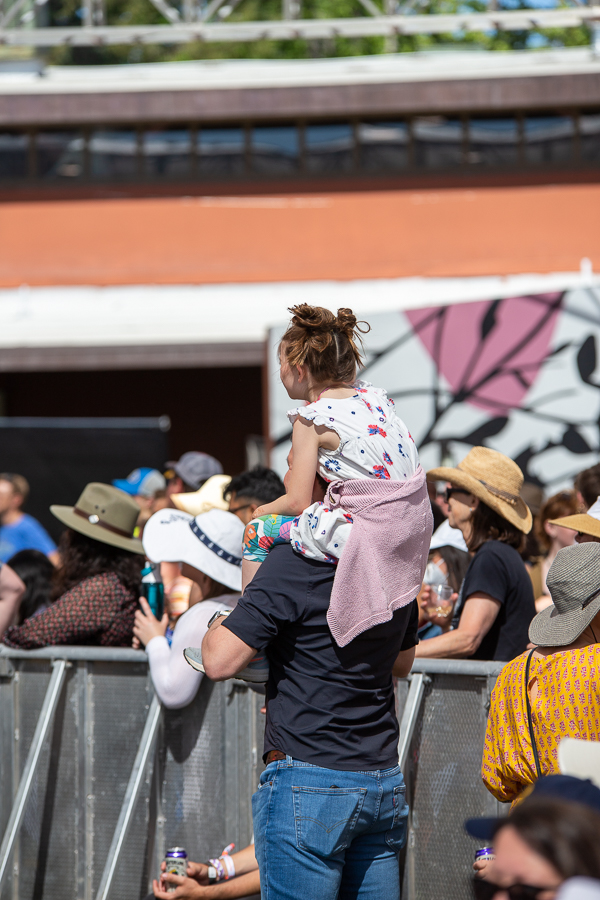 Attendees at BottleRock Napa Valley at Napa Valley Expo on May 28, 2022.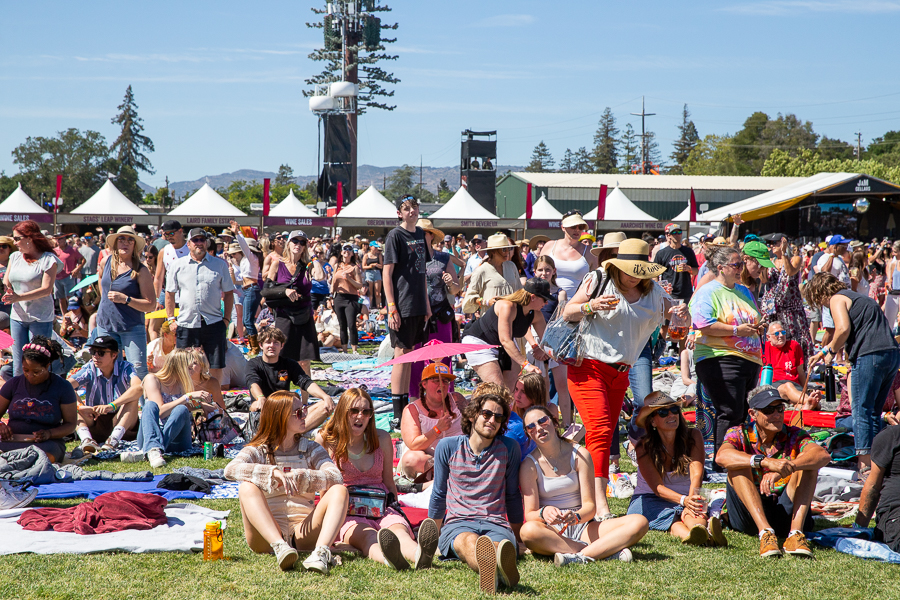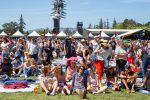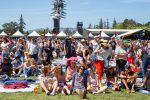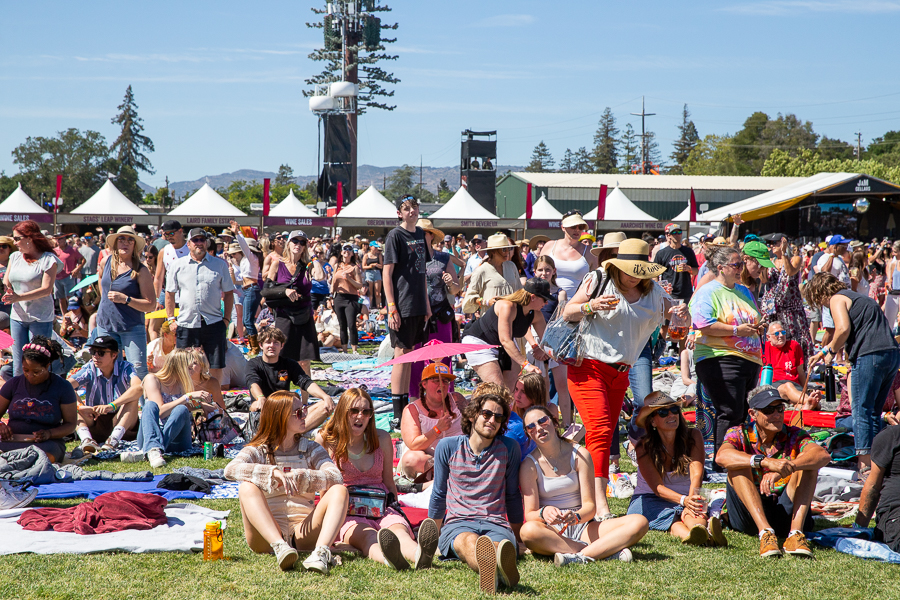 Attendees at BottleRock Napa Valley at Napa Valley Expo on May 28, 2022.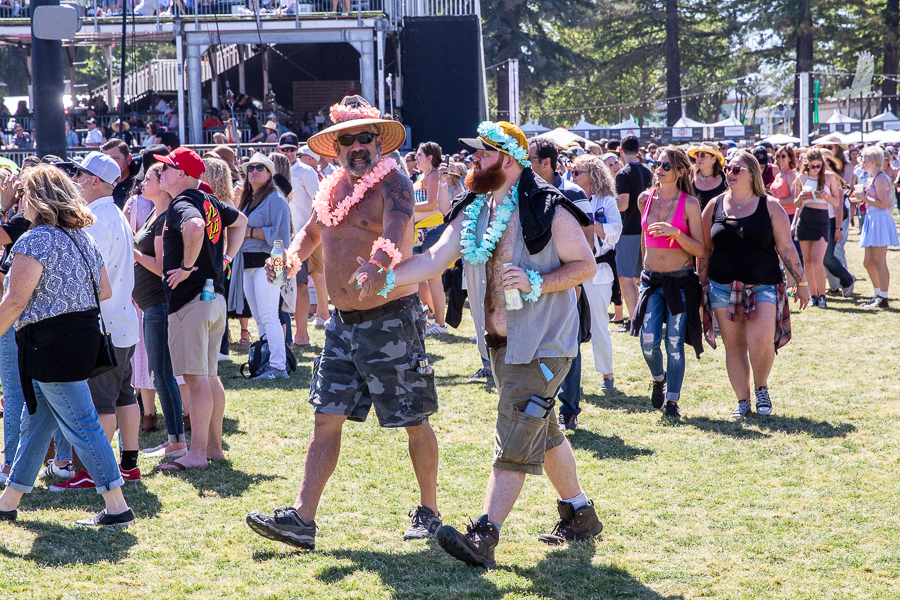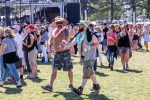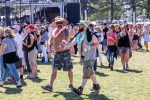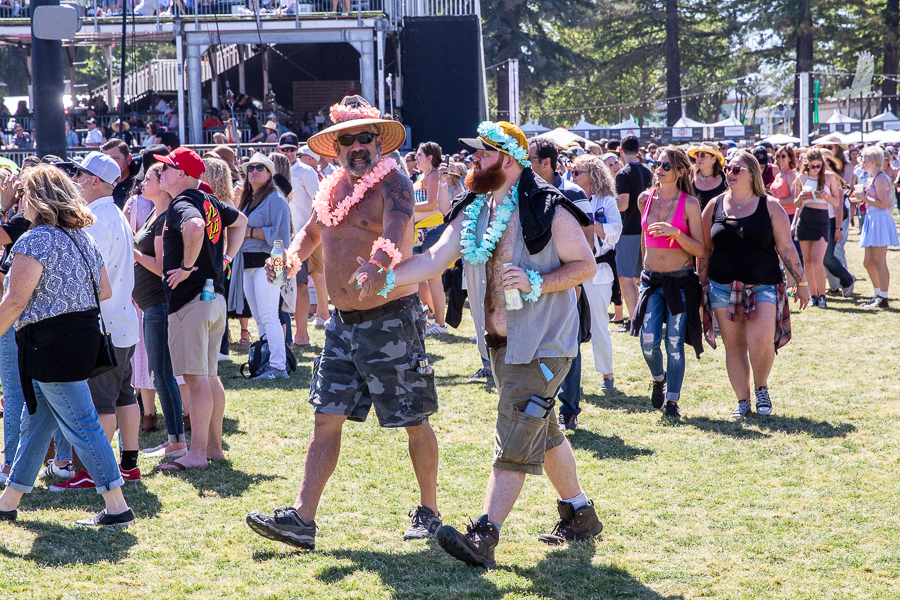 Attendees at BottleRock Napa Valley at Napa Valley Expo on May 28, 2022.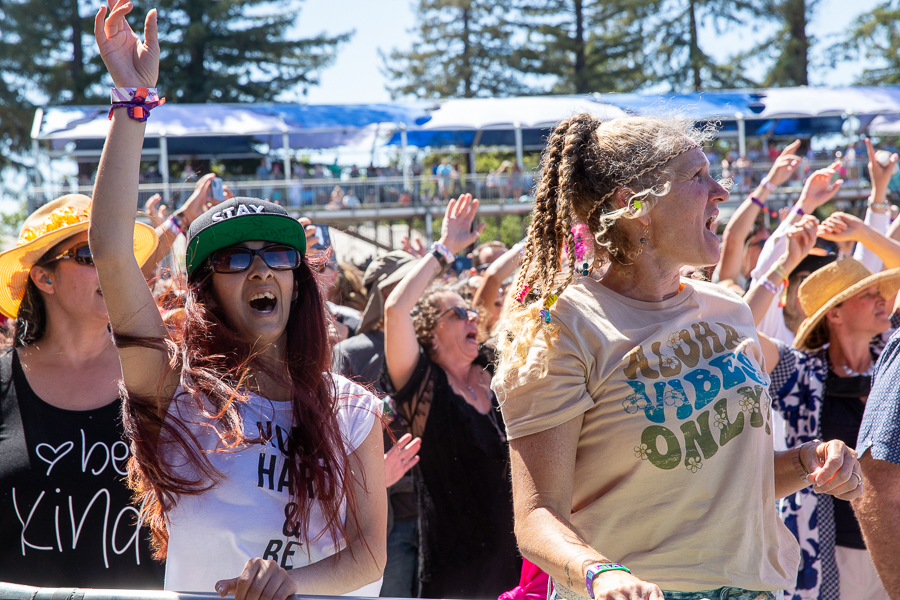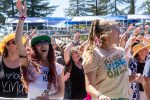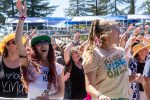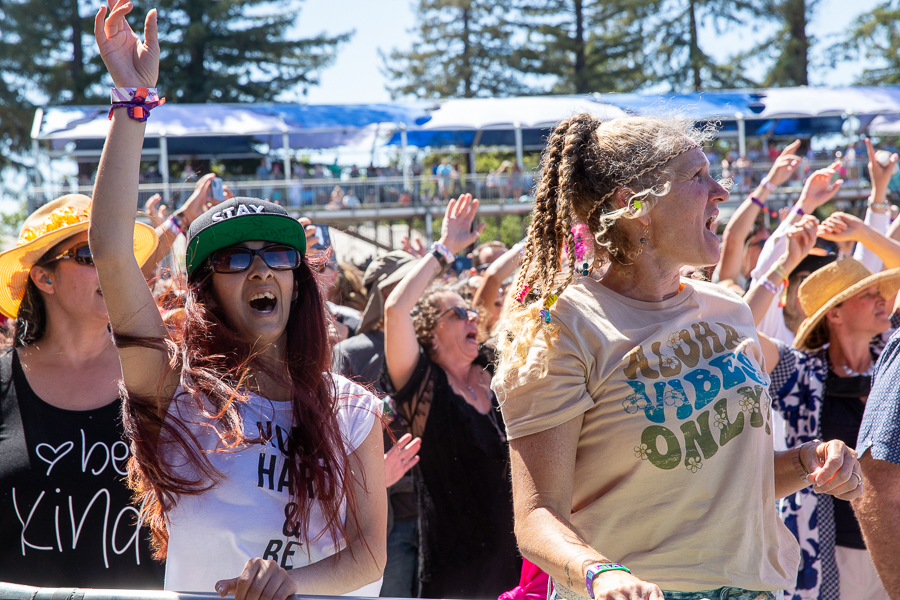 Attendees at BottleRock Napa Valley at Napa Valley Expo on May 28, 2022.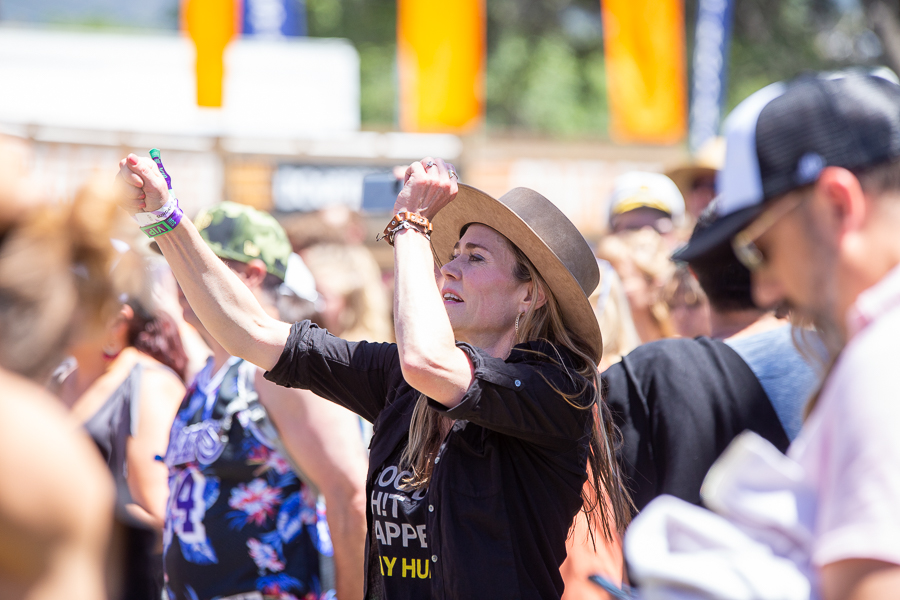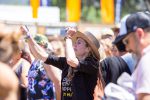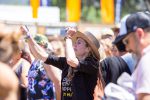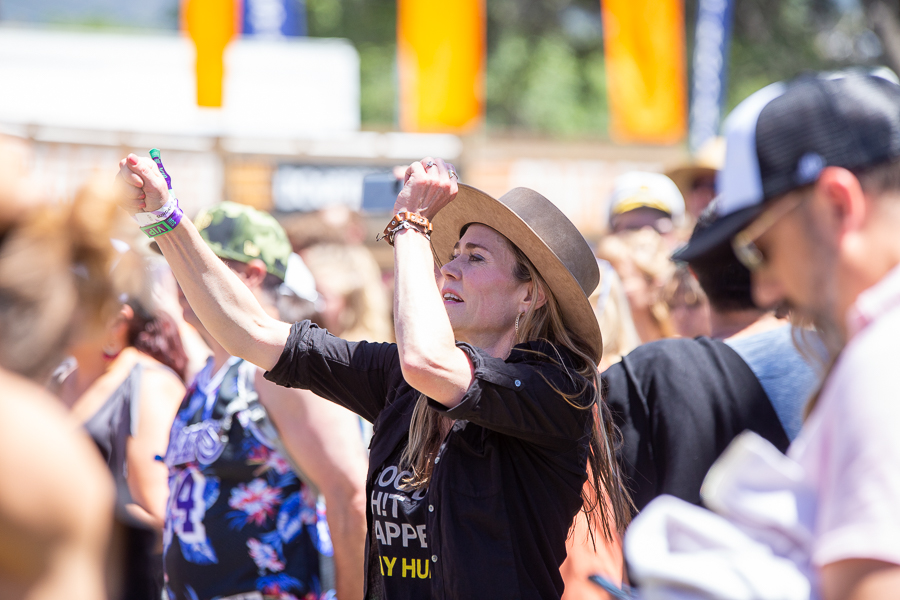 Attendees at BottleRock Napa Valley at Napa Valley Expo on May 28, 2022.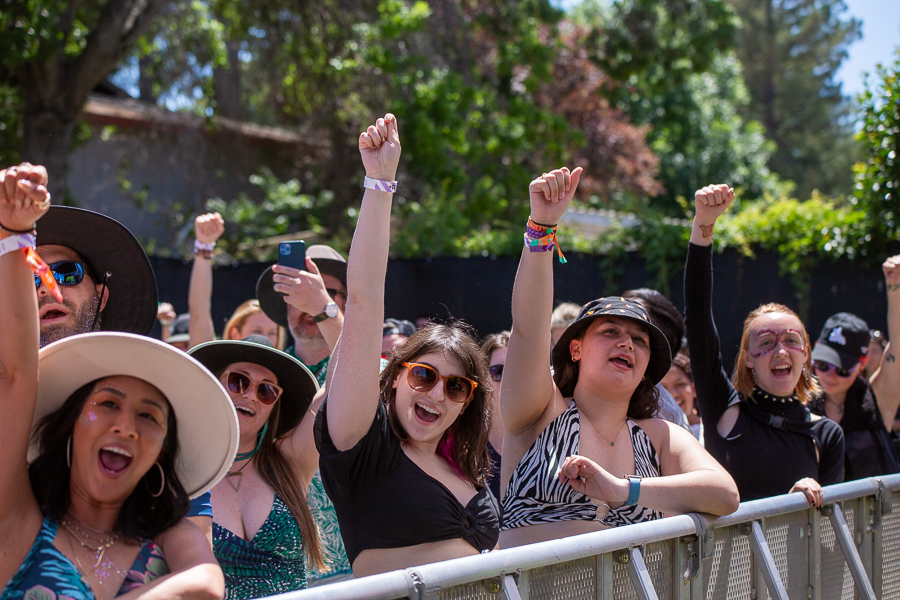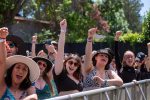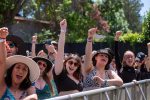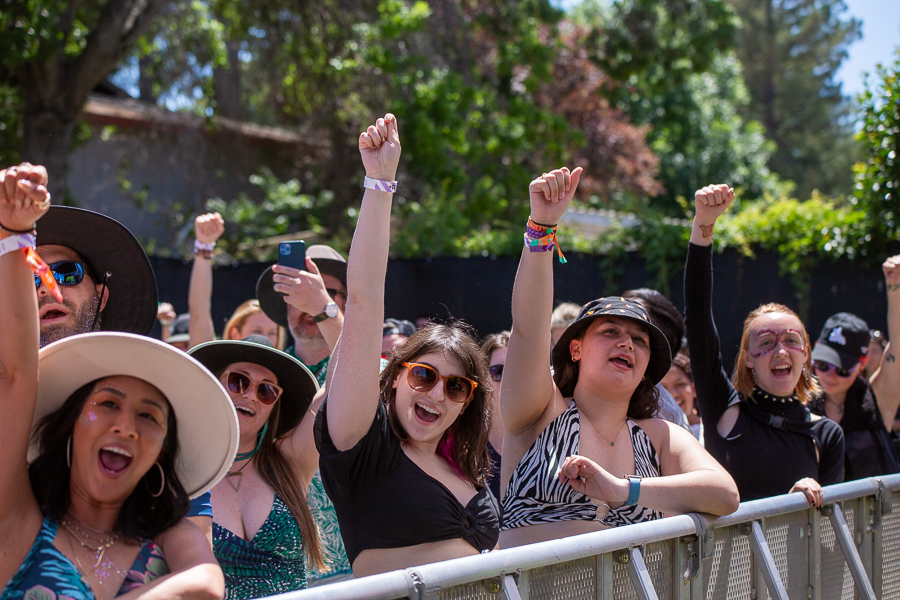 Attendees at BottleRock Napa Valley at Napa Valley Expo on May 28, 2022.


Follow writer Mike DeWald at Twitter.com/mike_dewald. Follow editor Roman Gokhman at Twitter.com/RomiTheWriter. Follow photographer Nathan McKinley at Instagram.com/memories.by.mckinley.