The Wetaskiwin-born actor, musician, podcast host, life coach and father of two credits meditation for his success with the heavy load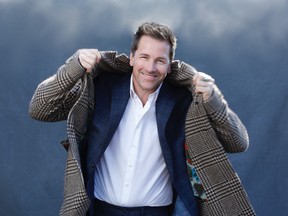 Reviews and recommendations are unbiased and products are independently selected. Postmedia may earn an affiliate commission from purchases made through links on this page.
Article content
He's been dubbed The King of Christmas, and Paul Greene doesn't have a problem being designated royalty in that particular area.
Article content
"It's such a special niche that makes people really happy," says the Wetaskiwin-born actor, musician, writer and podcaster from his home in Los Angeles. "I'm thankful and proud that I get to be in that world."
Article content
Greene gets to be in that world not once but twice this year, first in the Great American Family movie I'm Glad It's Christmas, which premiered on Nov. 26 and is available to watch on CTV, and in the CBS/Paramount+ film Fit For Christmas, which drops Sunday. Add it to the 11 or so holiday films already under his belt since 2015 and you've got a montage landslide of kisses under the mistletoe. But Fit For Christmas is a little different in that the holiday-themed romance had its genesis in a very sad time in the lead actress's life.
Article content
Paul Greene
Set in Mistletoe, Montana, the film follows Audrey (Amanda Kloots), a Christmas-obsessed fitness instructor battling to keep her financially-failing business going while falling for a mysterious businessman played by Greene. Kloots, perhaps best known as one of the co-hosts of The Talk, lost her partner Nick Cordero during the early days of the pandemic. Depressed, she found herself watching and enjoying Christmas movies in the summer, and determined that she should make one herself.
"Someone connected her to the writer Anna White, who had written a movie I did last year called Christmas CEO," says Greene. "Amanda had never acted in something like this before, but she wrote something with Anna that got CBS interested, and then CBS reached out to me because of work I'd done for them in the past. There was so much chemistry right away, like I was working with a long-lost friend of mine."
Article content
Greene's other Yuletide offering, I'm Glad it's Christmas, switches out his entrepreneur persona for that of a jingle writer who meets a beautiful, ambitious singer, played by Jessica Lowndes. Of note is the presence of Motown legend Gladys Knight, who's had a little experience herself in festive films such as Holidaze: The Christmas That Almost Didn't Happen, Almost Christmas and Seasons of Love. Greene reveals he was awestruck working with such an icon, considering the 78-year-old singer put in long days and nights in her role as matchmaker Cora Ross.
"It was amazing," says Greene. "I don't think she's had a role before that was quite as big as this one, but she was fantastic in it. We did a lot of singing together and that was incredible for me."
Article content
The 48-year-old Greene has had many such moments in his life. Born in Wetaskiwin, he took acting classes as a teen in Edmonton before he was discovered by Kelly Streit, founder of the Calgary-based Mode Models, while attending Red Deer College. There were globe-trotting excursions as a highly paid model, acting classes with the legendary Stella Adler, and a series of Hallmark roles building to his current status as The King of Christmas.
Of equal importance to Greene is his burgeoning side hustle as a singer-songwriter. To date, he's released a couple of albums, Long Way Home and Freedom for Your Soul, available on both Bandcamp and his website. His career really took off during the pandemic, when he began streaming live concerts, racking up close to 500 of them in the last two years. He's played Carnegie Hall, The Factory in Nashville, and he'll be hitting the stage at Christmas Con in New Jersey the first week of December.
Article content
"It's very different from acting," he notes. "With acting I'm just one part of the story, which also includes producers, writers and directors, but with music, I'm in full control of everything. It's something I enjoy a great deal."
Throw that together with his podcast, The Grass is Greener, a life-coaching sideline with his partner Kate Austin called The Freedom Alchemist, plus a nearly complete parenting book, and it seems like Greene has taken on a heavy load.
"So how do I schedule everything and have quality time with my 19-year-old, my 11-month-old and my wife?" he asks. "How do I balance all of this? I have a very strict morning routine that involves yoga breathwork and meditation, and when I do that I go through the day feeling as though I'm in the pocket, not unlike a good drummer."
Article content
In addition to the projects noted above, Greene is working on a few other things. He's particularly excited about a pilot for a TV comedy series he produced called Topanga, and the film Jaguar My Love, which was helmed by French director Gilles de Maistre. Greene is hosting a four-night Caribbean cruise in January, details available on his website, and, of course, there's at least one more Christmas movie in the future.
"Doing those films is a pure pleasure," he says. "I laugh all the time on the set, especially the ones we did this year. With Jessica in I'm Glad It's Christmas I would tune my guitar and we would sing every minute we weren't acting. She's got such a beautiful voice. I think I've been doing it now for so long that I've stopped trying to get it 'right' and instead just focused on being of service and telling the story. But really, the only challenge is that sometimes it's too hot because we're filming in the summer." He laughs. "It's really nice knowing that we're making something that brings people together, especially since there's so much fighting these days about religion or politics. With these movies, we can give people something that will allow them to come together for 90 minutes and just enjoy themselves."