One of Donald Trump's favorite political activities is taking to social media. During his time in the White House, and before, his favorite place to send messages to his base was Twitter, where he had about 89 million followers. But in January 2021, after the assault on Capitol Hill, carried out by his fans at his own incitement, his account was suspended due to the "risk of further incitement to violence." His managers then said: "In the context of this week's horrific events, we made it clear…that additional violations of Twitter's rules could result in this same course of action. Our public interest framework exists to allow the public to hear directly from elected officials and world leaders. It is based on the principle that the people have the right to openly call power to account. However, we have made it clear for years that these accounts are not above our rules and that Twitter cannot be used to incite violence."
After being removed from Twitter and other networks, in February 2022 the Truth Social platform appeared on the Internet, which belongs to Trump Media & Technology Group (TMTG) and was naturally founded by Trump himself with former Republican congressman Devin Nunes as its head. executive. Since then, the former president has been doing the same thing as before, that is, inventing, lying, inciting, juggling and flip-flops as part of his favorite strategy, as he once confessed in the book The Art of a Deal, co-written with the journalist Tony Schwartz: "being bold, controversial and confrontational will force people to pay attention to you". There, too, the term "truthful hyperbole" was codified, that is, "an innocent form of exaggeration and a very effective form of promotion." That was the basis, in brief, of those "alternative facts" coined by his advisor Kellyanne Conway defending on TV, against all evidence, the statements of the then Press Secretary, Sean Spicer, about Trump's inauguration having been attended by more people than Barack Obama's.
One of those specific audiences that Trump is addressing in Truth Social is the QAnon army. For the reader unfamiliar with the subject, it should only be remembered that it is an extreme right-wing cybernetic sect that for some time now has been socializing any number of constructs in which fiction, nonsense and conspiracy theories are indistinctly mixed. His entrance to the stage was marked by socializing on the Internet the idea that a cabal of pedophiles and Satan worshipers were at the forefront of a global network of child sex trafficking that conspired against Trump.
In 2016, websites used by the so-called alt-right such as 4chan, 8chan, and Reddit began spreading the idea that Hillary Clinton and her campaign chairman, John Podesta, were running a pedophilia ring from the basement of Comet Ping. Pong, a Washington DC pizzeria. Not long after the announcement, 28-year-old Edgard Maddison Welch stood outside Comet Ping Pong with an AR-15 and a .38-caliber pistol, among other irons. He fired, but fortunately there were no deaths or injuries. And, beware, in that pizzeria, there was not even a basement. The attacker surrendered peacefully when he realized that it was all a bluff. During the trial, he stated: "I read online that the restaurant was housing sexually enslaved children and I wanted to help rescue them." Here we notice a first practical detail: he was sentenced to four years in prison for illegal transportation of firearms and for assault with a dangerous weapon, as well as to pay more than 5,000 dollars to the restaurant in damages. But the story did not stop there. In 2019, the young Ryan Jaselskis, 24, entered that same place and set fire to a curtain. Several employees and a customer were able to put out the fire before it spread. Jaselkis was sentenced to four years in prison. The case is known as Pizzagate.
An FBI memo early listed QAnon as a domestic terrorist threat. Going against the grain of the press, the FBI warned that its conspiracy theories posed a threat to national security: "The FBI assesses that these conspiracy theories will most likely emerge, spread, and evolve in the modern information marketplace, which occasionally will lead groups and individual extremists to commit criminal or violent acts."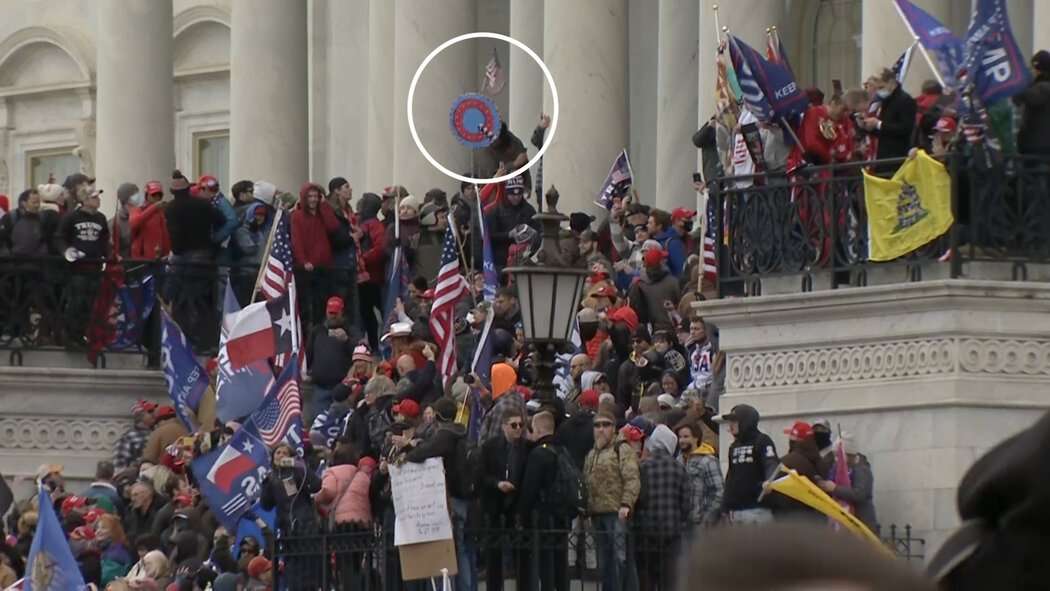 Events on Capitol Hill in Washington, D.C., indeed proved the feds right. That day the QAnon brand was clearly seen among the mob, along with identity badges from other far-right organizations such as Proud Boys and Oath Keepers. Here we have a second practical detail: to these events, the champions of QAnon contributed the figure of Jacob Anthony Chansley, better known as Jake Angeli, 33, from Phoenix, Arizona, the "Q Shaman" who captured the attention of users early on and who is currently serving a prison sentence of three and a half years for obstructing an official proceeding. And we must also add to that list of victims Rosanne Boyland and Ashli ​​Babbitt, both of whom died in the coup attempt. The first, crushed by a vociferous crowd; the second, by the shot of a security guard when trying to enter through the gap of a door in an area of ​​the Capitol in which several congressmen were taking refuge. QAnon's words don't fall into a void either. Both women firmly believed that the election had been stolen from Donald Trump.
Perhaps the construct most validated by QAnon consists of the so-called Deep State, a term recycled in the political idiolect by Mike Lofgren in 2014. In his essay "Anatomy of the Deep State," he defines it as "a hybrid association of elements of government and parts of high-level industry and finance capable of effectively governing the United States without reference to the consent of the governed, expressed through the formal political process." The deep state is not "a secret and conspiratorial cabal; the state within a state mostly hides in plain sight, and its operators act mostly in the light of day. It is not a very united group and does not have a clear objective. Rather it is an expanding network that stretches across government and the private sector." QAnon decoded it unequivocally: the ultimate goal of the Deep State was the overthrow of President Donald Trump.
That Deep State is precisely the forced foot recently used by Trump to address them and try to distance himself from the crime committed by taking classified and top-secret documents to his mansion in Florida. He sent them the following message: that he was preserving the documents once convinced that "Biden would destroy the evidence in a Deep State plot against him." And he added that the current executive team would grind or destroy them. And last but not least, that his strategy, therefore, had been to… declassify them. An ideal opportunity to swing the pendulum and drop another lie: that the FBI and members of Antifa were the ones who stormed the Capitol, instead of their own supporters. And to reiterate the mantra that federal agencies have no legal authority to review documents seized at his Mar-a-Lago resort.
Not coincidentally, NewsGuard, an organization that monitors the credibility of news and information websites, revealed that it has identified 47 QAnon-promoting accounts on Truth Social with more than 10,000 followers each. For his part, Media Matters senior researcher Alex Kaplan has found that Trump has used his new platform to boost at least 50 accounts supporting QAnon and his more than 4 million followers. Those brethren, he said, "play an important role in the Truth Social ecosystem. The fact that Trump has shared the content of QAnon accounts since the FBI broke him into Mar-a-Lago makes it clear that he is doing the same as on Twitter."
Last Tuesday, from Truth Social, Donald Trump sent them a message again: "The storm is coming." In QAnon codes, the "storm" alludes to Trump's final victory, when he will supposedly regain power and his opponents will be tried and possibly executed on live television.
The saying goes: "where they give it, they take it."

Alfredo Prieto