Arnold Schwarzenegger has played the role of a doting father to his children. His eldest daughter, Katherine Schwarzenegger is a published author who married actor Chris Pratt in 2019. While the bodybuilder may have had a rough ending to his marriage, Katherine has been working on hers. In order to strengthen her bond with her husband, Chris Pratt, the author had once taken some proactive steps.
ADVERTISEMENT
Article continues below this ad
Before her marriage, Katherine Schwarzenegger got along with Chris Pratt to go for couples counseling. The couple also had some secrets to share, for a healthy and happy marriage. Since they currently have two daughters, the author also shared some tips on parenthood.
ADVERTISEMENT
Article continues below this ad
Katherine learns from her father Arnold Schwarzenegger
The eldest daughter of former Mr. Olympia Arnold Schwarzenegger, talked about her relationship with her husband, Chris Pratt. She explained how communication was the key to any good relationship's survival. The author would make sure to constantly communicate with her husband, especially when he was away traveling. She exclaimed how it was a huge part of their life and is even applicable to parenthood.
However, an important part of their relationship was constituted by couples counseling. Both Schwarzenegger and Pratt attended counseling before marriage and swore by its positive effects. Katherine talked about their experience on her podcast and explained its benefits. She said, "It was such an amazing gift in our relationship…having that guidance, talking about things that maybe we wouldn't necessarily have talked about before getting married."
DIVE DEEPER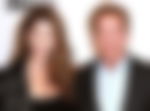 While Katherine has been leading a happy marriage, one could attribute it to her parents' marriage. Arnold Schwarzenegger and Maria Shriver were married in 1986. They separated ways in 2011 after the bodybuilder confessed to having a child with their housekeeper.
ADVERTISEMENT
Article continues below this ad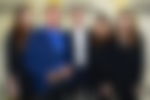 Shriver and Schwarzenegger split shortly after the revelation, and their divorce was finalized in 2021, almost ten years after. However, Katherine has taken steps to ensure that her relationship with Chris Pratt remains healthy.
The Schwarzenegger-Pratt timeline
Katherine and Chris started dating in 2018, a year after Pratt's divorce from ex-wife Anna Faris. However, reportedly, there are no ill feelings between the exes and their current partners. Arnold Schwarzenegger now has two granddaughters, Lyla and Eloise, both daughters of Katherine and Chris. Meanwhile, the bodybuilder also currently stays with his longtime girlfriend, Heather Milligan.
Watch this story: A quick look at legendary Arnold Schwarzenegger's museum in Austria