Bodybuilder Lou Ferrigno is one of the legendary athletes in the United States. Ferrigno is a title winner of the IFFB Mr. America championship and a two-time winner of the IFFB Mr. Universe title. Other than bodybuilding, the star bodybuilder is also a famous Hollywood actor.
ADVERTISEMENT
Article continues below this ad
He has played the iconic superhero "The Hulk" in the CBS TV series "The Incredible Hulk". Even today, the bodybuilder-turned-actor is as fit as he was in his early bodybuilding days. Ferrigno, who grew up in New York, is of Italian descent and grew up with a strict father like his rival Arnold Schwarzenegger.
ADVERTISEMENT
Article continues below this ad
Lou Ferrigno on growing up in Brooklyn
In 1951, Ferrigno was born in Brooklyn, New York, to parents Victoria and Matt. His father was a police lieutenant in the NYPD [New York Police Department].
In 2019, during a candid interview with Tulsa Beacon, Ferrigno talked about his childhood and growing up with a strict and conservative father. He said, "I grew up with an adamant father. He worked for the New York Police Department and I had that strict Italian upbringing."
Ferrigno also recalled that he used to live in a neighborhood full of Jewish and Italian people. Hence, everyone there was like a family to him. Although his father was stern, Ferrigno still enjoyed his upbringing in the city. "It was a lot of fun because people would get together and have a block party," said the legendary bodybuilder.
Ferrigno also grew up with his cousins and other family members who lived in the same locality. In 2015, following his father's footsteps, Ferrigno joined the San Luis Obispo County, California, Sheriff's Department as a reserve deputy.

How was Schwarzenegger's father similar to Ferrigno's?
ADVERTISEMENT
Article continues below this ad
Ferrigno's childhood was somewhat similar to Arnold Schwarzenegger's, under whom he had trained early in his bodybuilding career. Like Ferrigno, Schwarzenegger too had a restricted and strict upbringing.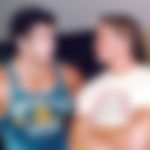 However, the Austrian-born Schwarzenegger's father was a Nazi soldier who was involved during the Second World War. On many past occasions, Schwarzenegger revealed how his father's war injuries affected him as a child. In 1956, Schwarzenegger also served in the Austrian Army to fulfill the duties required by every Austrian male after turning 18.
Watch This Story: Five years younger than Arnold Schwarzenegger, Lou Ferrigno looks like a beast next to the Terminator actor
Even though Ferrigno and Schwarzenegger had orthodox fathers, the two bodybuilders are complete opposites and can be termed the "cool dads".