Arnold Schwarzenegger is an encyclopedia of talents. Every phase of his life is decorated with accomplishments that the 75-year-old can look back and feel nothing but pride. A man of wisdom and a great sense of humor, The Austrian Oak has a unique style of giving responses. The legend never fails to entertain his fans with his wit just as he did with his son-in-law and Hollywood star Chris Pratt.
ADVERTISEMENT
Article continues below this ad
Chris Pratt and Arnold's Twitter encounter dates back to 2015, years before Pratt proposed to Arnold's daughter. 'The Avengers' star wrote a tweet after his presence on a talk show. The Terminator star's reply is a testimony of how supportive he is of Pratt even before they became family. 
ADVERTISEMENT
Article continues below this ad
Arnold Schwarzenegger makes a friggin' tweet
It was in 2015, right after the release of his movie 'Jurassic World,' Chris Pratt was on 'The Late Late Show' hosted by James Corden. He shared a picture of a wall where celebrity guests signed. 'The Guardians of the Galaxy' fame was on cloud nine about writing his name next to the legendary, Arnold. 
"Right next to FRIGGIN' ARNOLD!" Chris wrote on the wall. Just as a true fan would do, he took a picture of the board and shared it on his Twitter handle.
Arnold responded with the tweet, "I'm right next to friggin' CHRIS PRATT. Congrats on the monster opening weekend, @prattprattpratt. You deserve it." A message of such encouraging words coming from the legend himself must have made Chris proud and acknowledged.
DIVE DEEPER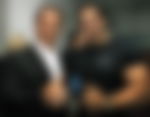 As destiny has it, a few years later, he proposed to Arnold's daughter, Katherine Schwarzenegger. The couple is said to have met in 2018 through Katherine's mother Maria Shriver.
Chris is head over heels in love with Kat
Ever since they started dating, they were both serious about their relationship and hopeful for their future. "Chris doesn't just date to date, and neither does Katherine. She's very excited.". It is interesting to know that they also have a lot in common. 
ADVERTISEMENT
Article continues below this ad
The couple got engaged in January 2019. Pratt wrote, "Sweet Katherine, so happy you said yes! I'm thrilled to be marrying you. Proud to live boldly in faith with you. Here we go!" Soon after, the couple tied the knot in June.
WATCH THIS STORY: Chris Pratt Proves He is Arnold Schwarzenegger's Son-in-Law As Gas Station Act Photo Goes Viral
Ahead of their second anniversary, Pratt shared a few things he loved about his wife. "Her smile, her patience, her fortitude. Her devotion, as a mother, as a wife," he shared during an Instagram Story Q&A." They are blessed with two daughters, Lyla and Eloise.