The retired IFBB bodybuilding legend, Kenneth "Flex" Wheeler, has many accolades to his name. The 4X Arnold Classic champion is also regarded as 'The Sultan of Symmetry' for his meticulous and symmetrical physique. Even legendary bodybuilders like Arnold Schwarzenegger and Ronnie Coleman consider him one of the best and greatest bodybuilders they had ever seen.
ADVERTISEMENT
Article continues below this ad
The 55-year-old bodybuilder hadn't only made his way to the top in the sporting world of bodybuilding, but he also made some money for himself. Wheeler's net worth is around 2.2 million dollars as of 2022. However, this sporting legend had been through a rough childhood alongside poverty and homelessness.
ADVERTISEMENT
Article continues below this ad
Flex Wheeler opens up about his childhood struggles
In the episode of Straight Outta The Lair, Wheeler revealed the difficulties he had to face as a child. He started off by explaining his struggles of living in poverty. "You know I came from just poor, just being a** poor", said Wheeler. As a kid, he was even deprived of proper shelter and food. "Homeless you know at times, hungry all the times," mentioned Wheeler.
He revealed that  Wheeler enrolled himself in the sport of bodybuilding for the sole reason of making ends meet. He said, "I competed based on my ability to make money. If Ronnie was there I knew it would be a battle and I would look at okay this is second-place prize money and if he wasn't there I am looking at first-place prize money. That's how I took care of myself". 
DIVE DEEPER

Not only did he talk about his childhood, but the 5-time Ironman Pro winner also expressed his heartfelt gratitude towards his fans by saying, "the respect that I get from my peers and fans means way more than having an Olympia trophy".
ADVERTISEMENT
Article continues below this ad
Wheeler's childhood and Bodybuilding career
As a kid, Flex Wheeler not only suffered from extensive poverty but also from dyslexia. However, having difficulty in learning didn't stop him from excelling in sporting activities. In his teenage years, Flex started training in Martial Arts, and later his interest got piqued by weight training. Thus, he stepped into the world of bodybuilding. Ever since then, Flex was unstoppable.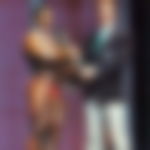 Although Flex Wheeler may have had ordeals and hardships as a child, he made it really big as a bodybuilder. While in 2019, the retired bodybuilding prodigy had to undergo amputation of his right leg because of life-threatening circulatory vascular system problems. Many fans from around the globe wished him well and a fast recovery. 
Watch this Story:  5 WWE stars who have a bodybuilding past