Veni, Vidi, Vici, the Latin phrase is translated as I came, I saw, I conquered. Isn't this phrase a good way to characterize Arnold Schwarzenegger's multifarious career? Two years after moving to the U.S., the Austrian-born won his maiden Mr. Olympia in 1970. It made his first step towards a magnificent life he visualized for himself. It's been more than half a century and the legend continues to inspire every bodybuilding newbie. And it's no different with his son, Joseph Baena.
ADVERTISEMENT
Article continues below this ad
25 years of marriage came to a halt after Arnold Schwarzenegger disclosed that he fathered a child with their long-time housekeeper, Mildred Baena, in 2011. Joseph Baena didn't know his father was the iconic Austrian Oak until that point. Baena developed a passion for bodybuilding which was perhaps in his genes. In a 2019 interview, the bodybuilding legend revealed Baena's plans to compete in the Classic Physique category.
ADVERTISEMENT
Article continues below this ad
Arnold Schwarzenegger spoke with the pride and optimism of a parent
Schwarzenegger struck up a candid chat with the host about the latest happenings in his family. Speaking about Baena, the host pointed out Baena striking his father's signature post stating, "..he looks fantastic." The bodybuilding legend responded spontaneously.
Referring to Baena's hard work and training, Schwarzenegger said, "He's very serious about this whole thing." Moreover, "he wants to compete in one of the classic physique competitions." However, he expressed doubt about Baena's interest in going to the extreme. Thus, the 7x Mr. Olympia reiterated Baena's interest in the Classic Physique.
DIVE DEEPER
Schwarzenegger recounted an experience coaching him on deadlifts in the gym. As a huge believer in training strength, the young muscleman put in a 455 lbs one. When he found that his son didn't struggle much after the first rep, he pushed him to do the second rep.

The Governator commented on Baena's education too
ADVERTISEMENT
Article continues below this ad
Besides encouraging his son to train hard and chase his dream of getting an entry into the top of the IFBB world, Schwarzenegger transformed into a strict fatherly figure as he emphasized on striking a balance between his bodybuilding interests and completing the business degree from Pepperdine University.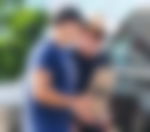 Joseph Baena shares several similarities with his father. He is an actor and a bodybuilder. He is also exploring his business acumen as a real estate agent. However, it's unfair to credit everything to his gene. Moreover, the upcoming champion believes in earning a name by employing hard work rather than exerting his lineage privileges.
Watch This Story | Demise of 96-year-old friend left Arnold Schwarzenegger devastated and aching with pain
What do you think about the Governator's style of parenting as a formerly estranged father? Share in the comment section below.