Alpine Snowboarder Lindsey Vonn had no trouble skiing downhill at tremendous speeds. However, it seems like pop culture isn't her forte. This athlete has been the face of Alpine Skiing ever since her Olympic debut in 2002. The world has seen some really outstanding performances and records set by her since then. But, it seems that an individual as sharp as Vonn has certain weak areas too.
Throughout her career, Vonn has had a few notable sponsors, including Redbull. Until 2019, that is, her retirement year, she was in partnership with the corporation, shooting videos and other content as their lead athlete.
ADVERTISEMENT
Article continues below this ad
Vonn received a bunch of questions during one of these video shoots. And, she got one of the answers wrong. She was unable to name all the sisters of the Kardashian-Jenner clan!
Lindsey Vonn had a slip-up and was unable to recall all the Kardashian sisters
The Kardashian clan is the IT family of Hollywood. They are all celebrity business moguls. From makeup and wellness to the silver screen and television drama, the brood has links to all sides of the field. They are also one of the hottest gossips of H-town. And so, they are not unknown faces by any means.
In the slip-up video, the Olympian was crushing a grueling workout while answering various questions impromptu. And, when the question of naming all the Kardashians came up, and Lindsey failed. 
The question was simple, to name all the Kardashian clan members. But, in midst of a workout, Lindsey was not fully able to concentrate and gave only 5 out of 6 names.
DIVE DEEPER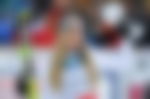 Names she could recall were Kourtney, Khloe, Kim, Kylie, and Kendall, totally leaving out momma Kris. But still, her answering flawlessly while hanging upside down was outstanding! Plus she did get quite a bunch of answers right to some equally challenging questions.

The highs and lows of Vonn's journey 
Lindsey Vonn has had an incredible professional journey. She started her racing career at the tender age of 17 and still managed to keep her sight straight. Wins and losses come as a natural part of being an athlete. And she's handled them gracefully. Lindsey is one of the best in snowboarding, gifting her country 3 total medals.
ADVERTISEMENT
Article continues below this ad
But, her lows were also severe. She has had a rocky dating life including a divorce and a broken engagement. But, even after all of that, Vonn has never slid away from her ambitions.  
WATCH THIS STORY: Lindsey Vonn, Simone Biles, Chloe Kim, and Other Olympians Whose Dogs Have Insane Instagram Following 
Currently, post-retirement, she's all about living a businesswoman's life. She has a net worth of $12 Million and growing. Vonn not only has her own venture but also regularly partners with other celebs like The Rock to expand herself. Overall, she is crushing it and the fans are always cheering for her.