Arnold Schwarzenegger not just earned a name for his bodybuilding and acting skills but created headlines for his larger-than-life lifestyle. Be it his billion-dollar luxury car collection, army tank, or private jet; the 'Austrian Oak' knows how to lead an uber-cool lifestyle. However, he had to ensure that he did not mislead his kids.
ADVERTISEMENT
Article continues below this ad
To turn the wheels of fortune, Arnie had worked hard. He may now be one of the highest-grossing Hollywood actors, but the riches earned did not entitle his kids to live a reckless life. Having seen both sides of the coin, the Terminator star knew the importance of 'discipline' and encourages the same for his children.
ADVERTISEMENT
Article continues below this ad
The eldest daughter of Arnold Schwarzenegger talked about her 'protective' parents 
With a great name comes greater responsibility. Arnold's kids did not just have to deal with the 'Schwarzenegger' title. They also had the added responsibility of the Maria-Shriver identity. Thus, the media attention was always on them and public curiosity was always high.
Aware of the unwanted pressure, Maria and Arnold were protective of their children. Bringing up their young kids away from the glitz and glamor, the ex-couple tried hard to give their kids a normal life. As Katherine, the oldest Schwarzenegger kid, revealed, "They were very protective of having us in the public eye when we were younger."
She further added, "We didn't go to Hollywood premieres." Even though she missed out on accompanying her parents to the red carpet events, she did not miss out on the childhood fun. Like regular kids of her age, she had her plates full. Talking about it, she added, "We practiced community service. We went to school and camp like normal kids." 
Arnold's daughter followed her mother's passion
While Arnold's sons followed in his footsteps, Katherine adopted her mother's passion. Growing away from glamor, she has established herself as a successful author. She is married to Guardians of the Galaxy star Chris Pratt.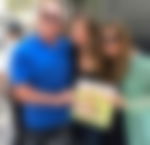 Over the years, she diligently fought to be acknowledged for her accomplishments. An avid animal lover and activist, she is the ambassador for the Best Friends Animal Society and the ASPCA. Katherine graduated from the University of Southern California (USC) with a degree in communications. She has written three self-help books. Katherine prefers to keep a low profile.

Watch This Story: Epic reactions by fans to Arnold Schwarzenegger's gigantic frame and workout routines.
ADVERTISEMENT
Article continues below this ad