Lou Ferrigno is a bodybuilding legend. He had an iconic rivalry with seven-time Mr. Olympia, Arnold Schwarzenegger. However, he came into the public eye after starring in Pumping Iron (1977), and later gained even more popularity with his portrayal of the Hulk. The 6'5″ Ferrigno didn't need a bodysuit to play the Hulk.
ADVERTISEMENT
Article continues below this ad
As big as he was, Ferrigno was also strong and had even competed in the 1977 World's Strongest Man competition. In 2017, the former bodybuilder showed how strong he was even at 65. 
ADVERTISEMENT
Article continues below this ad
Lou Ferrigno surprised the anchor
In 2017, Lou Ferrigno was busy promoting the movie 'Instant Death,' where he played the lead role. The actor appeared for a brief interview on Good Morning Britain. However, even before the conversation began, Lou surprised the news anchors. After taking his seat, Ferrigno shook hands with the host, Ben Shephard. Instead of smiling, Ben recoiled in pain, said, "Ouch!" and vigorously shook his hand in the air.
Ben didn't expect the then-65-year-old Hulk actor to possess such a powerful grip. After Ben's reaction, co-host, Kate Garraway, said, "Crikey," before reluctantly shaking Lou's hand. However, this time things were fine, and she said, "Oh! he was very gentle with me!"
Lou is still strong because the former Mr. Universe works out regularly and is ripped. However, during his prime, Ferrigno was a physical specimen. In the seventies, Lou weighed over 270 lbs on stage and became known as the biggest bodybuilder until that point in time.
In 1977, Lou also took part in the World's Strongest Man contest, alongside fellow bodybuilder and Mr. Olympia, Franco Columbu. During the fridge race, Columbu got injured. Lou, however, finished in fourth place overall and won the bar bending event.

Strength saved his daughter's life
ADVERTISEMENT
Article continues below this ad
The Incredible Hulk actor once recalled an incident where his strength saved his daughter's life. Ferrigno had put a 1000 lbs air compressor on the back of his truck. While trying to move it, the truck shifted and would've crushed his daughter had Lou not intervened.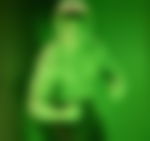 The Hulk actor held on long enough to save Shanna, but the immense strain resulted in a bicep tear. The following day, Lou underwent surgery to repair his bicep.
Watch This Story – Bodybuilding Legend Lou Ferrigno's Three Secrets to Stay In Top Shape
The Incredible Hulk actor didn't hurt Ben Sheppard intentionally. He was extra careful while shaking Kate Garraway's hand. However, in the end, the incident added some more flare to the interview. Do you think Lou was stronger than Arnold Schwarzenegger? Comment your thoughts below.