After being a bodybuilding legend for more than a decade, in 1984, Arnold Schwarzenegger welcomed a massive fan base after the release of 'The Terminator'. Schwarzenegger acted in many movies after that. However, most of his work was acclaimed as an action hero.
ADVERTISEMENT
Article continues below this ad
However, there are a few instances where he acted as an antagonist as well. One of the instances of him playing a villain was in 'Batman & Robin' in 1997. Earlier this year, Arnold Schwarzenegger's son, Patrick Schwarzenegger, revealed an incident of him while his father was acting in that movie.
ADVERTISEMENT
Article continues below this ad
Arnold Schwarzenegger's son loved Batman
Kids love superheroes. This is one thing, which will possibly remain constant. Superheroes give strength and hope to the kids to follow the right path over the wrong. Kids love the way superheroes are shown in the movies. Similarly, Arnold Schwarzenegger's son loved batman, and above that, his costume.
While talking with Dane DeHaan, earlier this year Patrick Schwarzenegger revealed his batman craze. When Dane asked, "Did you play dress-up a lot when you were a kid?" Schwarzenegger said, "Yeah, I did." 
He continued, "When my dad was shooting Batman & Robin and he was Mr. Freeze, I had this Batman outfit with a cape and I would wear it to dinners and whenever we would go out. I would try to slide down the escalators, pretending I was Batman. Did you?" 

Patrick Schwarzenegger's following Arnold's footsteps
ADVERTISEMENT
Article continues below this ad
Not so surprisingly, Arnold Schwarzenegger's son has followed his steps into the movies. Patrick has been associated with movies for more than a decade now. However, he began his career in supporting roles, and in 2018, he made his debut as the lead. Patrick was always fascinated by acting and a career in Hollywood from his childhood, especially seeing his father working in them.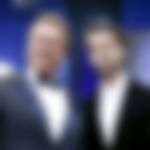 Recently, his work has been highly acclaimed by critics as well as by the people. Whether it be The Staircase, or his first movie as a lead, The Midnight Sun. He had been working on multiple projects in the recent past and will be seen in the next season of the wild superhero redux The Boys.
Watch this story: From Young Age to Becoming a Beast Bodybuilding Legend Arnold Schwarzenegger's Insane Transformation
Arnold Schwarzenegger had to deal with two batmen during the shoot of Batman & Robin as one batman stayed at his home. Patrick Schwarzenegger loved to roam around in Batman's costume as a kid, as do many other children at that time and even now. Do you love to dress up like superheroes?