One of the most well-known action actors, Arnold Schwarzenegger, started his acting career in 1970 with Hercules. His bodybuilding background helped him develop an action hero persona and landed him a supporting role in the film. Arnold Schwarzenegger rose to fame in 1984 after the release of 'The Terminator,' in which he collaborated with Cameron. The movie was a roaring success and led to worldwide acclaim.
ADVERTISEMENT
Article continues below this ad
One of the most interesting tidbits about Hercules is that in 2006, the producers auctioned off the film's rights. Premiere Pictures put up the rights for sale on eBay with a whopping price of $550,000. Arnold Schwarzenegger is currently streamable, thanks to the person who bought the rights.
ADVERTISEMENT
Article continues below this ad
What is the debut film of Arnold Schwarzenegger about?
In the movie, Hercules (Arnold Schwarzenegger) is upset with his father, Zeus, for not letting him have adventures on Earth. When Hercules finally reaches Earth, he interacts hilariously with New Yorkers and makes a friend, Pretzie (Arnold Stang). The plot turns interesting when Zeus attempts to get Hercules back from Earth.
Hercules's career as a professional wrestler in NY enrages Zeus since he feels that gods shouldn't engage in such behavior. Zeus then sends Mercury to find his son, but when he is unsuccessful, Zeus sends Nemesis to bring Hercules back. Nemesis comes up with a plan to turn Hercules into a mortal.
Arnold Schwarzenegger's Movie Career
Arnold Schwarzenegger's acting career had a modest start, but he is today one of the biggest action stars. Another action actor who provides fierce competition to Arnold Schwarzenegger is Sylvester Stallone. In 2012, both actors were framed together in a hospital. Coincidentally, both 'The Expendables 2' actors acquired shoulder injuries during the shoot, which required surgeries.
DIVE DEEPER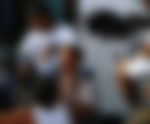 Their surgeries were scheduled on the same day, in the same facility, which built further coincidence. Arnold revealed this on Twitter, saying, "Look who was coincidentally waiting in line behind me for his shoulder surgery."
ADVERTISEMENT
Article continues below this ad
The body-builder-turned -actor proved his worth as a versatile actor in movies like Maggie (2015), Twins (1988), and Junior (1994). And for those who want to check out his debut, Hercules can watch the movie on Amazon Freevee.
WATCH THIS STORY: From Dwayne The Rock Johnson to Arnold Schwarzenegger, Here are the Top Bodybuilders Who Switched Careers to Acting
Which of Arnold Schwarzenegger's films is your favorite? Tell us in the comments.