Arnold Schwarzenegger and his ex-wife Maria Shriver were married for 25 years before they parted ways in 2011. In 2014, while the divorce was still pending, Shriver began to move on. Shriver is a wonderful mother of four children-two daughters and two sons. In an interview, Shriver talked about her second daughter, Christina's wish to give her kids to her in the future.
ADVERTISEMENT
Article continues below this ad
Schwarzenegger and Shriver were a wonderful couple, complimenting one another in every aspect, including creating a positive environment for their children. Although their kids were backed by a sound lineage and stardom, they were encouraged to find their passion and work hard in their pursuit. Perhaps Christina understood it and thought it would be a good idea for her mom to raise her kids in the future.
ADVERTISEMENT
Article continues below this ad
Shriver expressed her interest in children
Shriver has donned several roles in her life with absolute grace and ease. A fourth-generation Kennedy, she is an author, journalist, former first lady of California, and most importantly, a wonderful mother. In an interview back in 2014, she got candid about her views on grandchildren.
Shriver is now an adorable grandparent to her first daughter, Katherine's children, Lyla and Eloise. In 2014, the host asked, "Are you looking forward to grandchildren one day?". Shriver answered, saying, "Christina says that when she has kids, she's going to give them to me! I'm counting on that!"
Besides, Shriver also talked about her Plan B. Further reiterating her love for children. "If not, I'll probably take someone else's kids!" Moving on, she disclosed another idea. "I might start a day care center! Who knows?" she said.

When Arnold Schwarzenegger and Maria Shriver separated
ADVERTISEMENT
Article continues below this ad
Every fan wished for it to be a dream when they heard about the divorce. A family that once thrived on love and trust was shattered, after Schwarzenegger's revelation. Shriver lost her mother in 2009, followed by her father in 2011. Just when she was coping with the tragic losses, she had to take another blow that shattered her personal life.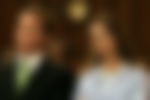 Schwarzenegger and Shriver separated after the scandal about the Terminator actor fathering a son with their housekeeper broke out. It allegedly happened in 1996 when the family went on a trip while the star actor stayed home due to a shooting schedule.
What do you think of Shriver being a wonderful parent? Let us know in the comment below.
WATCH THE STORY: Mr. Olympia Legends Arnold Schwarzenegger Vs Ronnie Coleman Body Comparision