Arnold Schwarzenegger is a legend in bodybuilding and acting with a keen eye for talent. Besides steering his professional career through various fields, 'Arnie' remains a huge combat sports fan. The Austrian-American actor has heaped praise on various UFC stars in recent years. The notable recipients include Ronda Rousey and Conor McGregor. However, when the Irishman received his token of appreciation, he was still working his way up the UFC ladder.
ADVERTISEMENT
Article continues below this ad
When Conor McGregor first burst out on the scene in 2013, it only took him a little over 2 years to claim the UFC title. Without a doubt, 'Mystic Mac' had a dream run that spanned from his debut until his defeat against Khabib Nurmagomedov. Not to mention that he became UFC's first two-division simultaneous champion in the same span.
ADVERTISEMENT
Article continues below this ad
While McGregor is currently on a layoff, fans can expect him to grace the Octagon soon.
Arnold Schwarzenegger praised Conor McGregor
Conor McGregor headlined the UFC Fight Night 46 on July 19, 2014. Interestingly, it was the Irishman's third UFC bout. Coming into the fight with a 2-win streak in UFC, McGregor put in a tremendous display. Displaying his impressive boxing skills, he defeated Diego Brandão in the first round in a TKO victory.
As a result, 'The Notorious' earned his first UFC Performance of the Night bonus. Subsequently, he went on to achieve the same bonus another 6 times in the UFC. Significantly, Conor McGregor's MMA style came to be associated with knockout victories by punches.
The Dublin-born athlete's splendid victory caught the attention of 'Arnie'. Following this, 'The Terminator' actor took to Twitter to congratulate McGregor.
The 75-year-old actor used an apt pun in the message with a reference to his famous Hollywood franchise.

Thus, he tweeted, "Congratulations @TheNotoriousMMA on a fantastic victory yesterday. You are the McGregor-nator."
ADVERTISEMENT
Article continues below this ad
The Terminator series propelled Schwarzenegger's Hollywood career, hence cementing his popularity. According to Celebrity Net Worth, he earned $75,000 for 'The Terminator', followed up by $12 million, and $35 million from the two sequels. It earned him nearly $50 million and also a huge fanbase.
DIVE DEEPER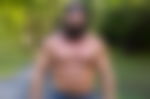 As a matter of fact, just before this bout, McGregor crossed paths with Max Holloway in Boston. However, nobody would have guessed that both fighters would end up becoming world champions in the future. Although the fight went the distance, Conor McGregor earned a unanimous victory over the 'Blessed'.
What do you think of this Arnold Schwarzenegger's reply? Let us know in the comments below.
Watch this story: Insane ways Conor McGregor spends his 200 million net worth