Seems like Arnold Schwarzenegger's look-a-like son Joseph Baena has jumped in on another social media trend. The son of the seven-time Mr. Olympia champion is one of the most-known celebrities on social media and often shares various life updates with his followers.
ADVERTISEMENT
Article continues below this ad
The young actor recently shared his "Spotify Wrapped" on his Instagram story and asked a very interesting question in the caption.
ADVERTISEMENT
Article continues below this ad
Joseph Baena shares his Spotify wrapped
"Spotify Wrapped" is a yearly marketing campaign by the famous music app Spotify. During the year's end, the music app makes a special report of users' top songs and artists throughout the year.
Everyone eagerly awaits their "wrapped" and looks like Baena was one of them too. The young fitness star shared his top music list with his 4 million followers on Instagram. The actor captioned his story and jokingly questioned, "Am I a basic white girl yet?"
Baena's list suggests that his top artist was British record producer Fred again.., while 'So in Love With You' by Jonny Houlihan was his favorite song. His top genre was House and he had spent an average of 51,890 minutes listening to music. Since Baena is a fitness freak like his father and was also a contestant on this year's Dancing With The Stars, it makes sense as to why he spent so much time on the music app.
Although Arnie is yet to join this music trend, do you know what songs he likes to listen to in the gym?

Arnold Schwarzenegger's workout playlist
ADVERTISEMENT
Article continues below this ad
Former bodybuilder Arnold Schwarzenegger is the legend of the sport, and many aim to achieve a physique like him. Arnie has often shared his workout clips, diet plans, and other such training routines with his fans and followers over the years. But ever wondered what kind of music keeps "The Austrian Oak" pumping iron in the gym?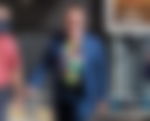 In 1981, the bodybuilder released a "workout album" which is now also available on the Spotify app. The album titled "Arnold Schwarzenegger's Total Body Workout" is another piece from his professional life that he shared with his fans. The album contains 13 songs featuring the legendary bodybuilder and various artists.
Watch This Story: Arnold Schwarzenegger vs son Joseph Baena's arm workout, how different is it?
The album was produced by Michael Case Kissel. It featured iconic artists like Weather Girls, Champaign, Deneice Willaims, and a few others. Wonder if son Joseph Baena also listens to his father's workout album.