HATICE GOCMEN/iStock via Getty Images
Unless you have slept under a rock in the past three months, you probably have noticed that technology and communication stocks have recently suffered massive pullbacks.
Whether you invest in e-commerce (EBIZ), cloud computing (WCLD), or fintech (FINX), these stocks are down almost 40% from their previous high on average. In addition, many individual stocks have been cut in half or more.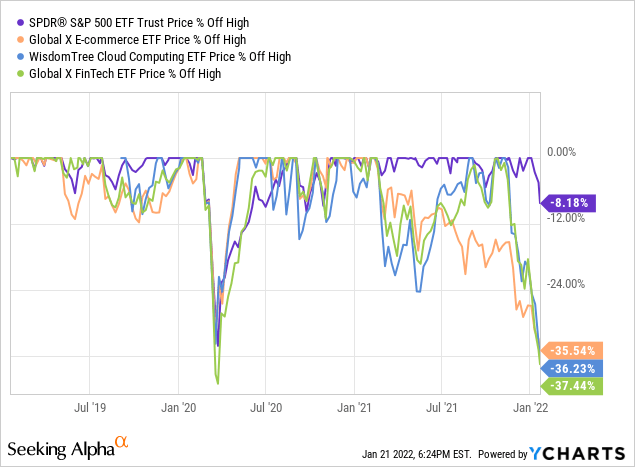 Data by YCharts
You might want to assume that this is merely a reversion to the mean after a huge run-up caused by the global pandemic. However, if we look at the performance of these ETFs, e-commerce and fintech are trailing the S&P 500 since January 2020, and cloud computing is only slightly outperforming.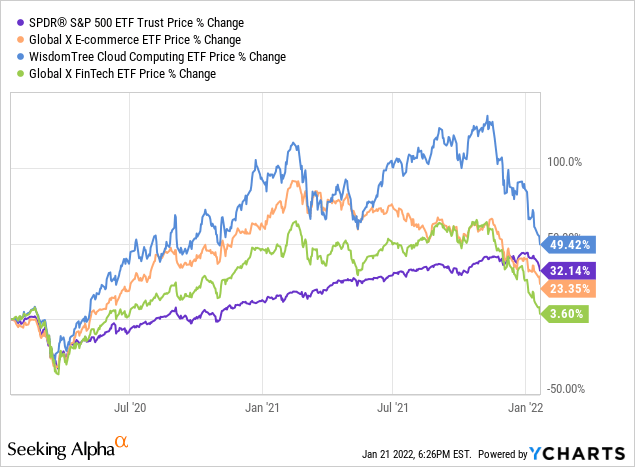 Data by YCharts
While cloud software stocks are still expansive by historical standard, several high-quality companies involved in e-commerce and payments are at their lowest valuation in years.
Many factors, such as inflation fear, the end of the pandemic-era stimulus, or potential interest rate hikes, are at play. These types of sell-offs might cause you to run for the hills. I say au contraire, my friends! Historically, when a sector suffers such a pullback, it creates opportunistic entry points to accumulate shares of high-quality companies that fall in unison with the rest of their industry. The main challenge? It requires holding your nose and accepting that you can't time the bottom.
Would I go "all-in?" Certainly not. My approach has been the same through the ups and downs of the market over the years:
Buy great businesses diligently.
Hold on to them tenaciously.
These pullbacks are usually moments to seize, not to fear. Sell-offs like this one have been the source of my best trades. However, it requires circumstances that may not apply to all investors. To illustrate, I recently discussed four simple steps to survive volatility:
Expand your time horizon to lower the odds of seeing your portfolio suffer a permanent loss of capital.
Diversify your portfolio to sleep at ease, knowing the fate of a single company cannot get in the way of your wealth accumulation.
Invest regularly to remove the need for perfect timing. Instead, build positions slowly over time. If you are in a rush, you are probably emotional.
Gain awareness and conviction so that you can stay the course when the inevitable pullback occurs.
Fundamentals drive stock performance over a multi-year time horizon. The value of a business depends on the profit it can return to its shareholder. That profit results from business operations, with a combination of revenue growth and margin expansion.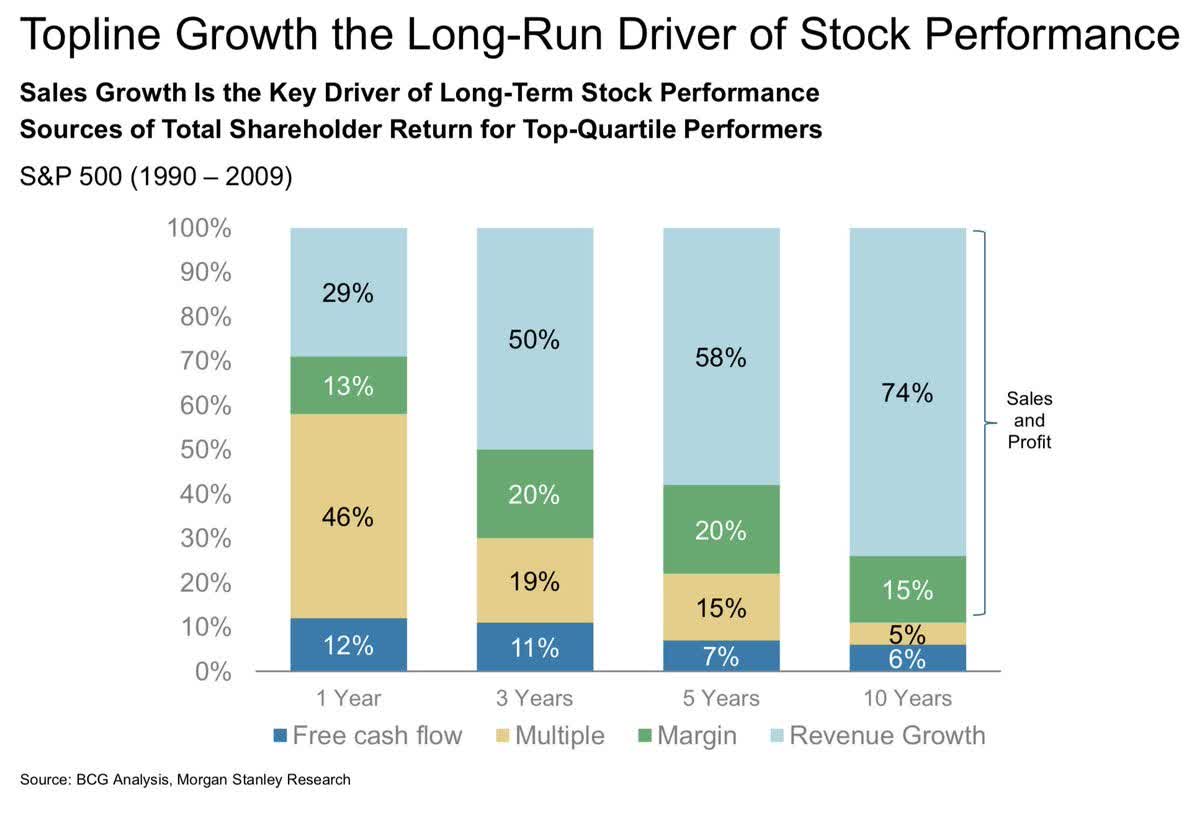 The longer you hold an investment, the less the exact price you pay for it matters. To use a simple example, it's of little importance if you bought Amazon (AMZN) at a valuation of 2X or 3X sales ten years ago. The chart below shows the correlation between Amazon's operating cash flow and the stock price in the past decade (both are up ~16-17X).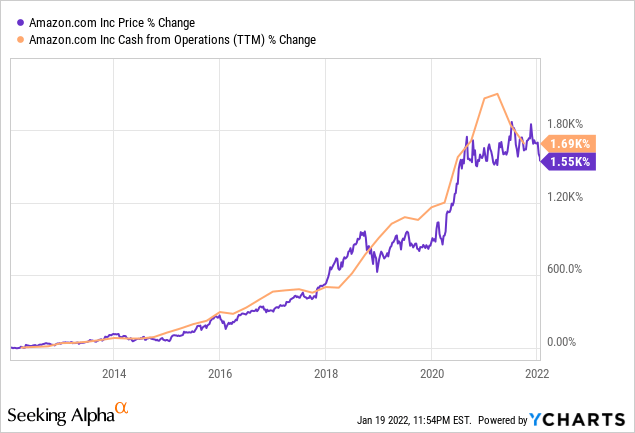 Data by YCharts
With this in mind, acting like an owner can go a long way. Over many years, stock movements don't depend on arbitrary variables. Instead, stock returns rely on future cash flows and the deployment of this cash. As a result, finding businesses that have demonstrated an ability to increase their cash flow, expand into new business segments, and create new revenue streams should be top of mind.
Focusing on high-quality businesses
Today, I'm focusing on three businesses that have been massive winners since becoming public.
Sea (SE) has been a 10-bagger since its 2017 IPO.
Block (SQ) has been a 9-bagger since its 2015 IPO.
Roku (ROKU) has been a 7-bagger since its 2017 IPO.
And, believe it or not, these returns are after factoring in the massive pullback in the recent month. They are all trading more than 50% down from their previous high. ROKU has been down 65% in the past six months.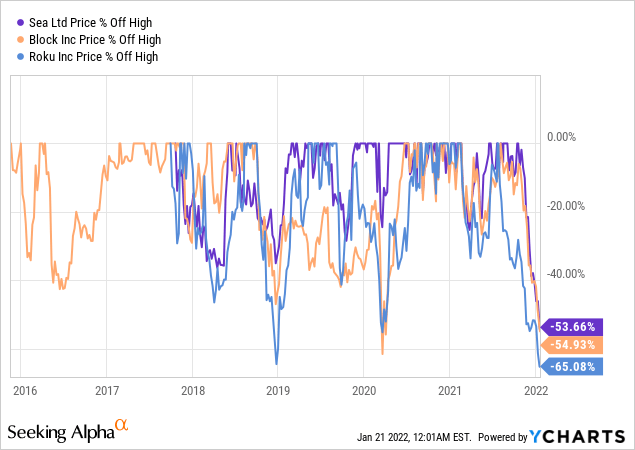 Data by YCharts
Such pullbacks are a rarity. It only happened once or twice, either in late 2018 (tariffs, big-tech regulation, rate-hike fear) or early 2020 (global pandemic crash).
While they could fall further in the near term, they have rarely looked this attractive for investors with a multi-year time horizon. Here's why I find them compelling today:
Sea (SE)

What if I told you that the same company had the most downloaded game and shopping app globally in 2021?
Yep, that's Sea Limited (SE). Sea has the allure of a Tencent (OTCPK:TCEHY) of Southeast Asia as a tech conglomerate that keeps innovating and entering new markets. I discussed the company previously as part of my quarterly review of the Top Buys From The Best Money Managers.
The company is making money from three segments:
Garena (gaming, also called DE for digital entertainment).
Shopee (e-commerce or EC).
SeaMoney (digital financial services or DFS).
Sea's gaming segment has been a cash printing machine. Free Fire, an internally developed game, has become one of the most popular mobile games. It was the most downloaded game worldwide in 2021, with 247M downloads.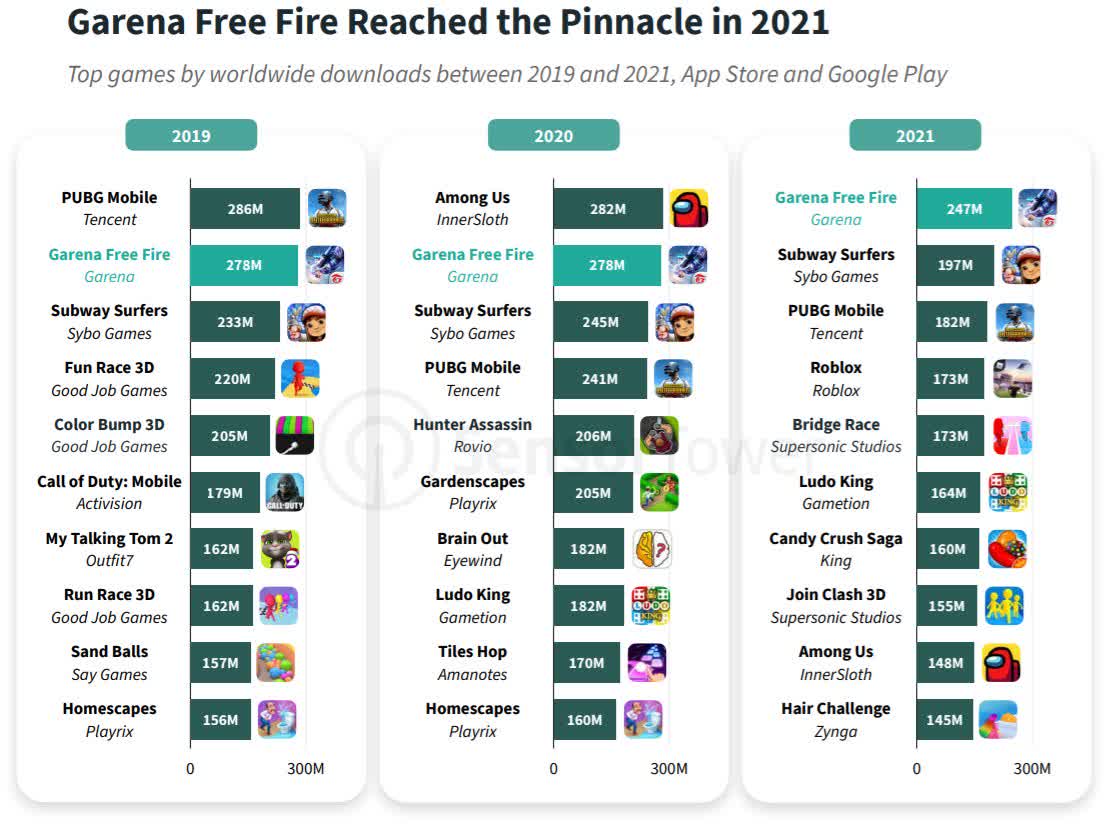 Visionary founder Forrest Li put that money to good use by aggressively growing a massive e-commerce platform with Shopee. As a result, it was the most downloaded shopping app globally in 2021, reaching 203M downloads (an improvement from 2nd most downloaded app in 2020, with 139M downloads).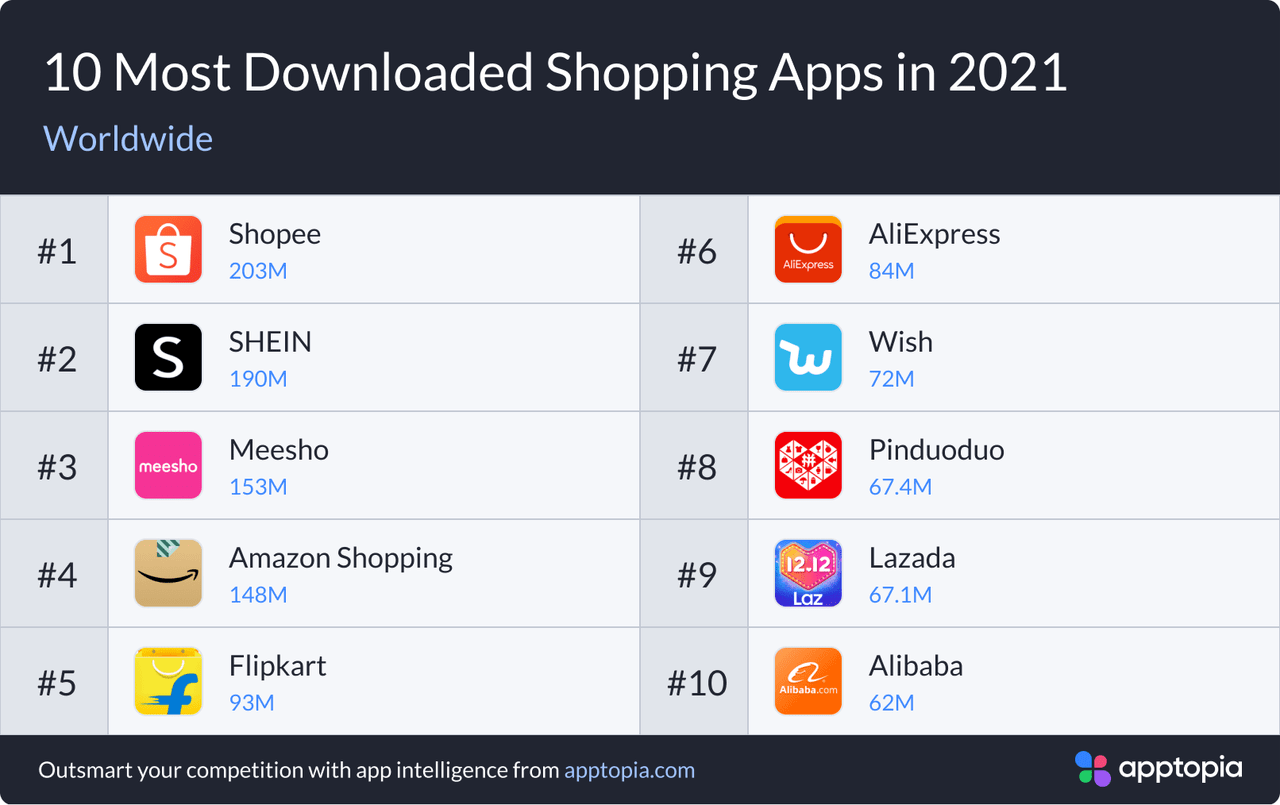 In 2020, Sea's revenue was still derived primarily from gaming, but e-commerce has become the lead source of revenue in 2021.

You can see the gross margin profile for the three categories broken down by management in the chart below.

The non-gaming segments used to have a negative gross margin profile, which was initially concerning to me. However, the company scaled successfully and is expanding its margins steadily. Q3 FY21 was a strong quarter in that regard, with gross margin improving to 37% (+3pp Y/Y).
The graph below shows the story of Sea's profitability (or lack thereof at the moment). Garena's large profits are currently more than offset by the significant e-commerce and financial services losses.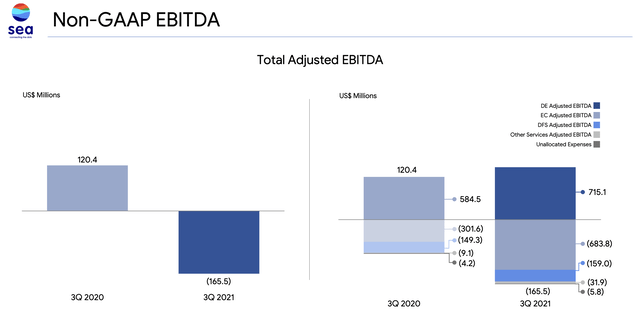 Adjusted margin by segment:
Digital Entertainment = $715M or 66% adj. EBITDA margin.
E-commerce = $(684)M or -47% adj. EBITDA loss margin.
Digital Financial Services = $(152)M or -120% adj. EBITDA loss margin.
The risk/reward profile of the company is becoming more attractive.
Opportunities:
The bull case for SE is that Shopee and SeaMoney will turn profitable in the years ahead as they gain more scale and turn its current subpar profitability into an exceptional cash-printing machine.
The company keeps expanding its TAM by entering new markets beyond Southeast Asia (India, LATAM, and Europe).
Aristotle taught us that "the whole is greater than the sum of the parts," and Sea could be a perfect example. The success of each segment can fuel the others, with potential for user acquisition, retention, and monetization across platforms.
Risks:
The gaming segment growth will normalize in a post-COVID environment. We've seen the first signs of softness in bookings growth for digital entertainment in Q3 FY21 (+29% Y/Y) after several quarters of triple-digit growth. Since Garena is the flywheel of the business, its health is paramount to the longevity of the current growth strategy. To alleviate such risk, Sea raised almost $6B in September 2021 in an equity and bond sale. It was its most significant fundraising yet. It has turned the balance sheet into robust territory with nearly $12B in cash and short-term investments at the end of Q3 FY21.
Garena relies on a partnership with Tencent. The Chinese publisher used to own more than 20% of SE. However, Tencent recently reduced its investment from 21.3% down to 18.7% and may continue to do so in the future. To be sure, this partnership doesn't appear at risk at the moment, as disclosed in the press release: "Tencent intends to retain the substantial majority of its equity stake in Sea for the long term and will continue its existing business relationships with the company."
The margin trends have been excellent since the IPO: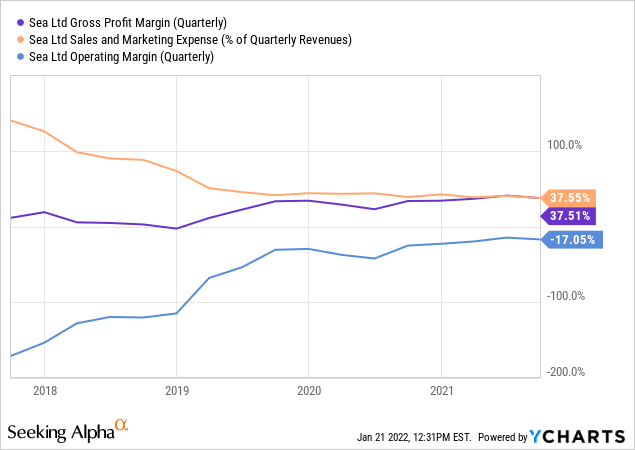 Data by YCharts
Gross margin has improved steadily since 2019, at 38%.
Sales & marketing costs are flagging down, at 38% of revenue.
Operating margin has steadily improved over time, now at -17%.
We can summarize the Q3 FY21 results as follows:
Rapid revenue growth at +122% Y/Y – showing strength.
Improving gross margin at 37% – showing long-term potential.
Flagging sales & marketing costs, at 38% – showing scalability.
Improving operating margin – showing operating leverage.
Strong cash position on the balance sheet and positive cash flow from operations – showing sustainability.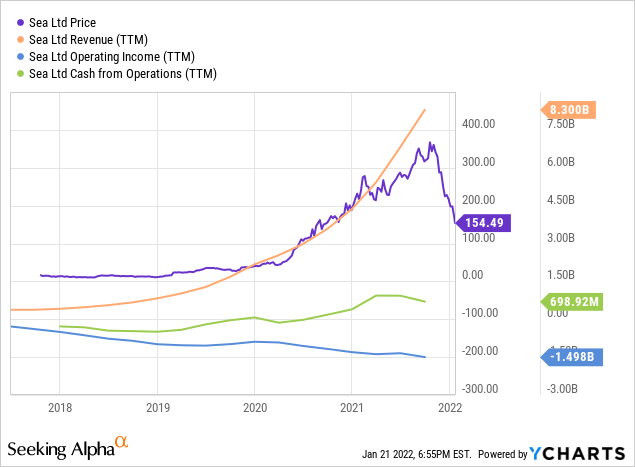 Data by YCharts
To put the current valuation in context, Sea is an $86B company as of this writing, or about ten times trailing revenue. That's where the company traded pre-COVID.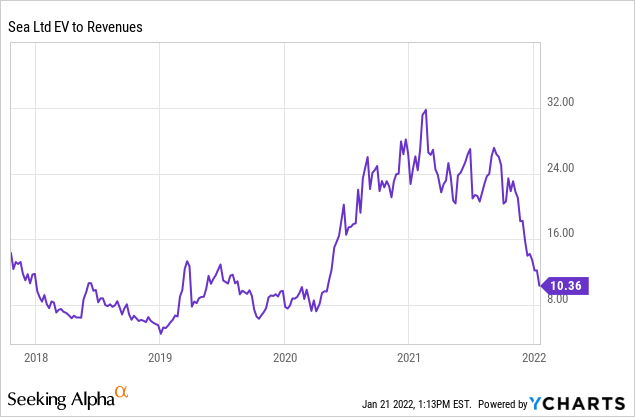 Data by YCharts
SE is expected to maintain a strong growth trajectory for some time. While estimated revenue keeps increasing every quarter, FY23 revenue is expected to cross $18B.
SE is currently valued at:
~6 times FY22 estimated revenue.
~5 times FY23 estimated revenue.
Garena delivered $2.1B of Adjusted EBITDA in the past 12 months. With these metrics, even assuming a valuation in line with more mature gaming businesses like Electronic Arts (EA), Take-Two Interactive (TTWO), NetEase (NTES), or Activision Blizzard (ATVI), Garena could easily be valued at 15 to 25 times EBITDA. It would put Garena's valuation at ~$40B.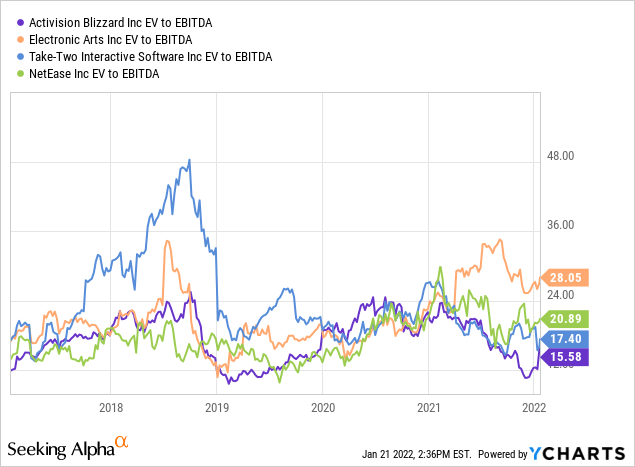 Data by YCharts
That leaves us with Shopee + Sea Money valued at about $46B or less than ten times revenue. It's not cheap but hardly a significant premium for segments growing triple-digit Y/Y. For context, that's the low-end of the valuation spectrum of a company like MercadoLibre (MELI) in the past decade.
Sea has good reviews on Glassdoor, but I would use this data point with a grain of salt since only 21 reviews are available (likely due to its home base being in Asia).


Block (SQ)

Block (formerly Square) could be a dramatically different company in the decade ahead, as it keeps re-inventing itself. A few months ago, I would have mentioned only two main ecosystems:
Sellers-side with point-of-sale and managed payments (Square).
Consumer-side with Cash App.
However, additional segments have emerged:
TIDAL (music streaming).
Spiral (formerly Square Crypto).
TBD54566975 (open developer platform).
And that's without mentioning the integration of AfterPay (OTCPK:AFTPY) within Square and Cash App. Square acquired Afterpay at an implied value of $29B at the end of July 2021. However, the value is ~$14B today (about a quarter of Block's valuation) because of the recent pullback. Nonetheless, the transaction was overwhelmingly approved by Afterpay's shareholders last month.
There are many more announcements on the way, such as Cash App's adoption of the Lightning Network that allows for free Bitcoin payments between cash app users. The funny video below shows the recent initiatives at Spiral and how they think about the mission of the business and its Lightning Development Kit.
Cash App remains one of the best-positioned to be a super app. In the most recent survey from Piper Sandler about buying habits of US teens, Cash App's penetration reached 34%, an increase of 6 percentage points from six months ago. In contrast, Venmo's penetration was down by six percentage points over the same period, to 41%.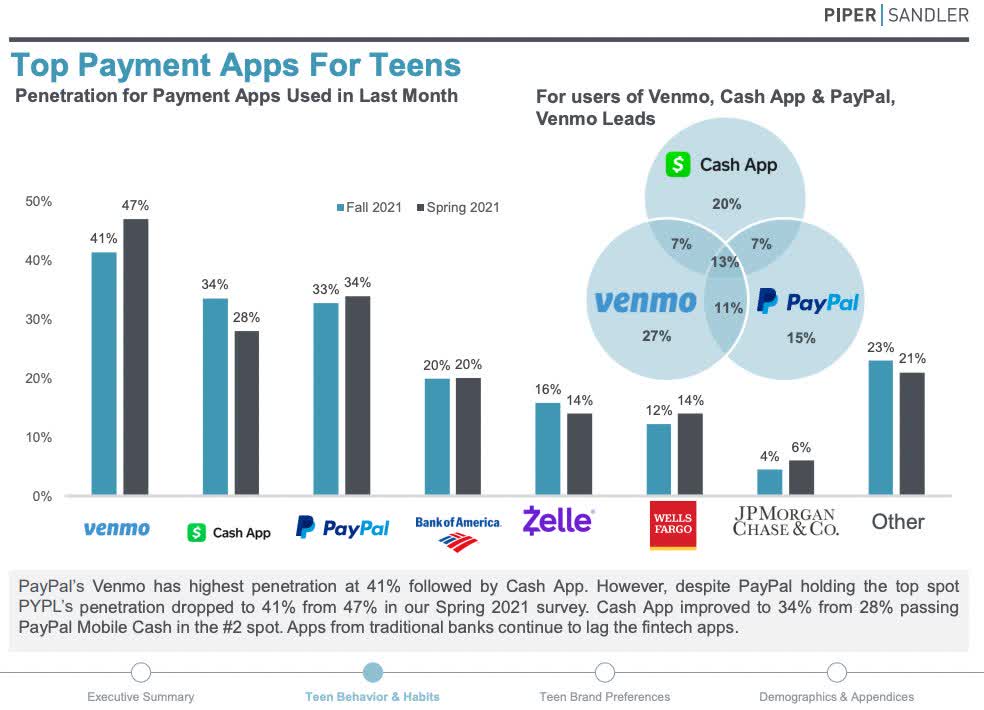 As expected in my bull case shared two years ago, Cash App has been the star of the show and went from 25% to about half of the company's gross profit in just a few quarters.
In June 2021, Cash App reached 40M monthly transacting active customers. In addition, management has underlined a growing portion of these active customers engage weekly with the app. A growing community combined with increased engagement is all I can ask for.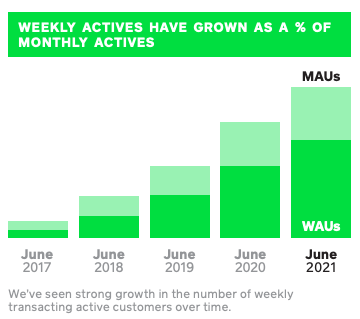 In the Seller Ecosystem, larger sellers (with Gross Payment Volume > $500K) are growing the fastest. It shows that Square is moving upmarket.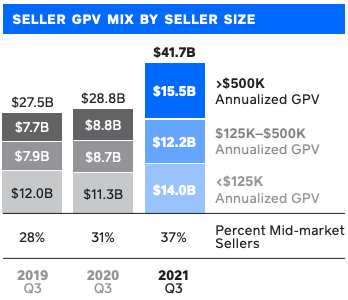 Block offers an attractive profile for long-term investors:
Opportunities:
Block has created new revenue streams relentlessly since going public, and its TAM keeps expanding with new products and services.
The synergy between its "blocks" can lead to improved retention and monetization across the board and will be harder to replicate for new entrants.
Risks:
With the end of pandemic-ear stimulus and normalization of consumer behavior, Block has tough comps in the quarters ahead, which could adversely impact the stock price in the current environment.
It remains to be seen if Jack Dorsey's bet on Bitcoin is right.
Fintech is increasingly competitive, with many companies building super apps and consolidating multiple services under one roof. While Block is well-positioned, it may have a smaller piece of the pie as a result.
Gross profit is growing faster than sales & marketing expenses, illustrating the scalability of the business. As a result, the company has turned profitable on a GAAP basis in 2021.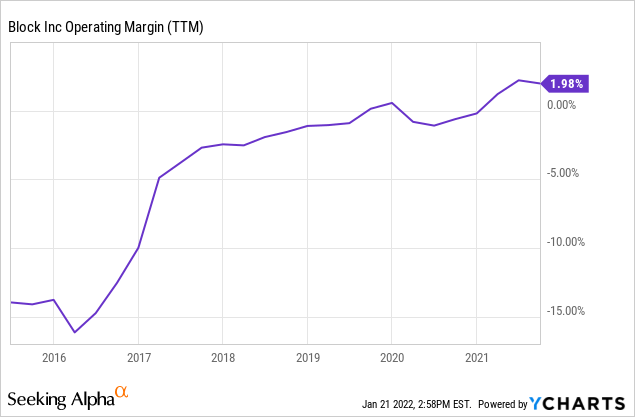 Data by YCharts
We can summarize the Q3 FY21 results as follows:
Strong gross profit growth +43% Y/Y – showing strength.
Sales & marketing expenses are growing slower than gross profit – showing scalability.
Significant cash and short-term investment position on the balance sheet (close to $6B) and positive cash flow from operations – showing sustainability.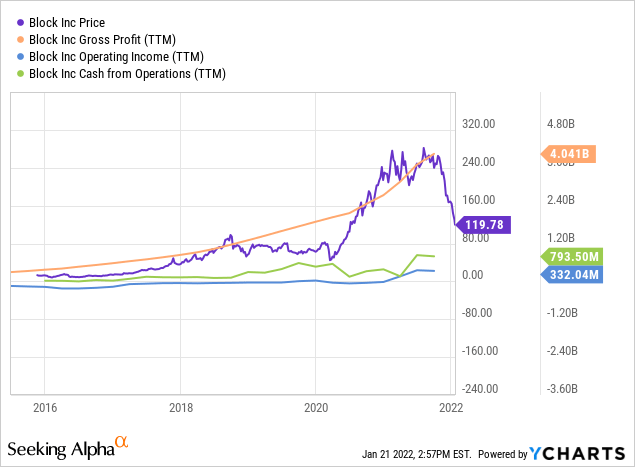 Data by YCharts
From a valuation standpoint, Block is trading at 14 times gross profit, below its pre-COVID valuation.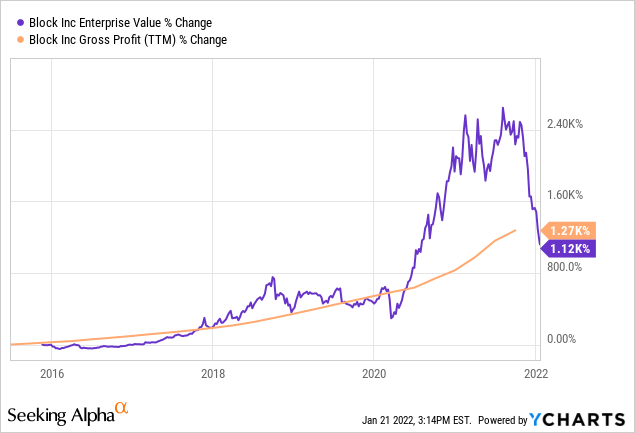 Data by YCharts
Block was recently celebrated as one of the Best Places To Work in 2022 by Glassdoor. I've recently shared my research showing that companies with an outstanding culture tend to outperform the S&P 500 after being featured in this list.


ROKU is trading where it was 18 months ago after a 65% pullback. The short-term movements of the stock are often driven by concerns about competition looking forward. However, it's essential to realize that Roku has maintained its leading market share for years despite the treacherous competitive environment in connected TV.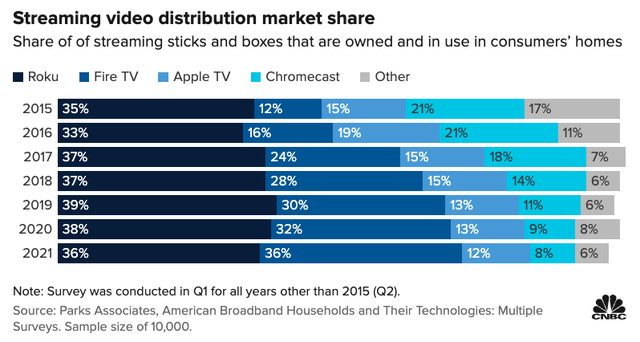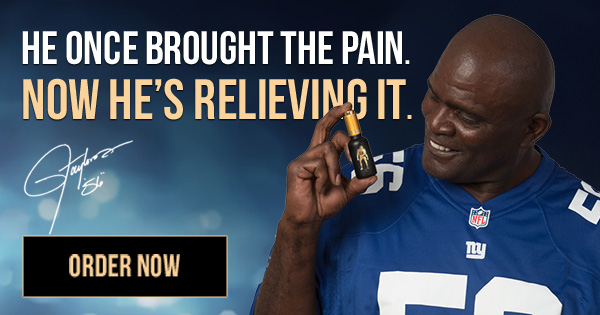 Roku has reached a multi-year agreement with Google (GOOG) to keep YouTube and YouTube TV on its streaming platform. Google had previously threatened to pull both YouTube and YouTube TV to obtain a preference for YouTube over other providers in the search results. Roku pushed back. It shows that Roku has more power than most people think. Great news after months of negotiations.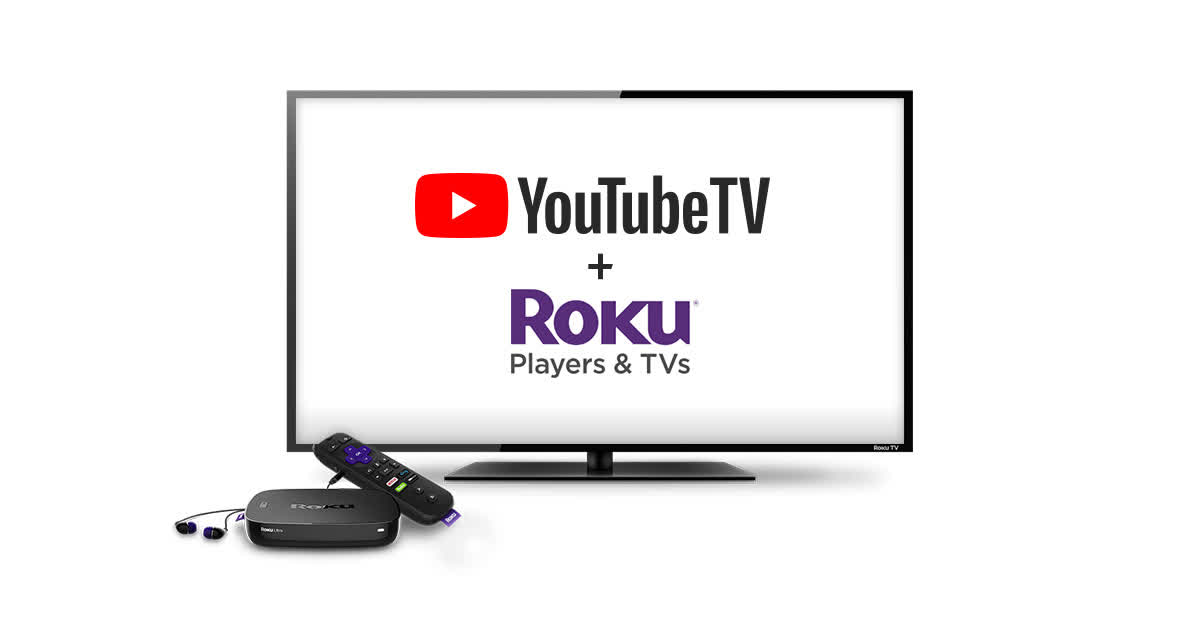 Earlier this month, Roku announced the departure of Scott Rosenberg, the GM of the Platform business. He had been at the company since 2012 and had grown from a VP level. CEO Anthony Wood said Scott is ready for his next professional challenge, indicating he has accepted a job offer elsewhere. After almost a decade at the company, It's not unconventional to seek a new opportunity elsewhere. Many things can happen in someone's life to justify a move like this. It's not a concern for me, and it does not impact the investment thesis. The stock tanked almost 7% on the news. While the departure of a top executive can generate temporary challenges, the market reaction appears overblown and has contributed to my decision to add to my ROKU position.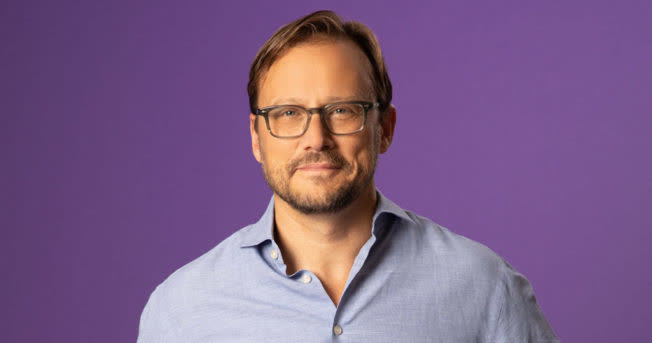 The company reported Q3 FY21 showing continued strength for the three pillars of its growth:
Active accounts +23% Y/Y to 56M (vs. +28% Y/Y in Q2).
Streaming hours +21% Y/Y to 18B (vs. +19% Y/Y in Q2).
ARPU grew +49% Y/Y to $40.10 (vs. +46% Y/Y in Q2).
The risk/reward profile of the company is becoming more attractive.
Opportunities:
Roku is firing on all cylinders (acquisition, retention, and monetization) and could continue to do so for the foreseeable future. With years of steadily improving KPIs, the proof is in the pudding.
International growth could boost the near-term growth if Roku can enter new markets successfully in Europe and LATAM.
Non-advertising revenue is still in its infancy.
Risks:
So far, Big tech had not been able to dislodge Roku's leading position in the US. However, companies like Apple (AAPL), Amazon (AMZN), or Alphabet (GOOG) will likely continue to treat their respective TV OS as a strategic initiative worth pursuing, which could slow active accounts growth for Roku.
The recent clash between Roku and Google could occur with other partners over time, challenging Roku's position.
The margin trends are fantastic.
Gross margin has improved gradually and is now at 53%.
Marketing costs are relatively low, now at 16%.
Operating margin turned positive since Q3 FY20, most recently 10%.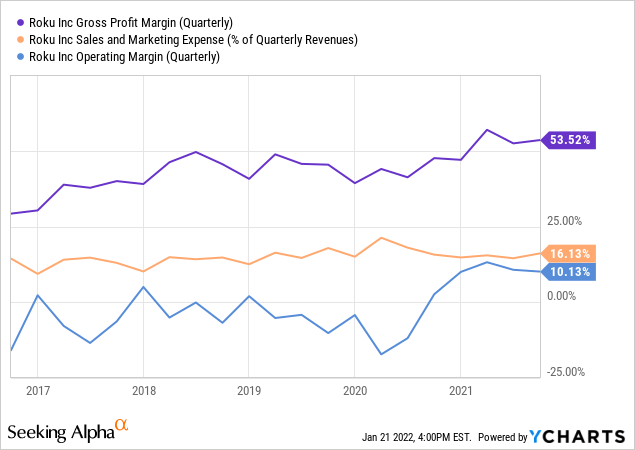 Data by YCharts
Given the recent growth re-acceleration and the positive developments, Roku remains an attractive long-term opportunity.
We can summarize the recent results as follows:
Rapid revenue growth +50% Y/Y – showing strength.
High gross margin at 54% – showing long-term potential.
Sales & marketing costs are relatively low at 16% – showing scalability.
Improving operating margin – showing operating leverage.
Positive net cash position on the balance sheet and positive cash flow from operations – showing sustainability.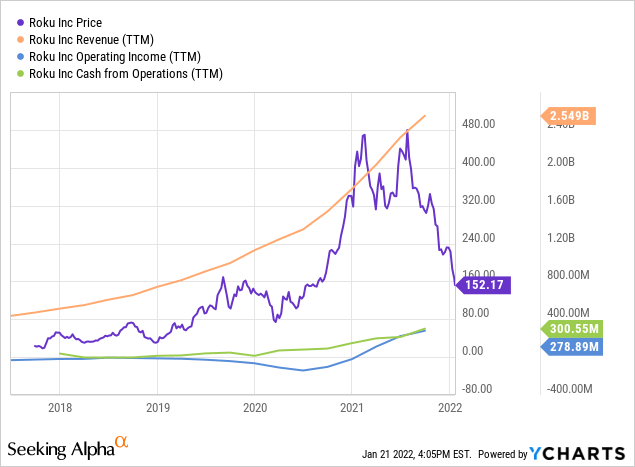 Data by YCharts
The company has recently reached its lowest valuation since the market sell-off in early 2020, trading at less than six times forward sales.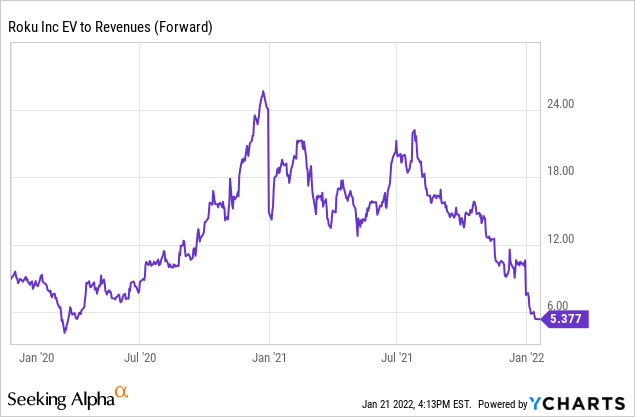 Data by YCharts
Founder Anthony Wood is still at the helm and committed to Roku's success.

Final Word
I recently added to these three positions of the App Economy Portfolio. They represent about 5% of my portfolio as of this writing.
How about you?
Have you been accumulating beaten-down stocks in the current sell-off?
Are you using pullbacks as a reason to build up positions or as a reason to run for the hills?
Do you believe these stocks are overvalued or have become attractive for investors with a multi-year time horizon?
Let me know in the comment!