The 2022-23 season is just a couple of months away, and it is time to start looking ahead to the action. When it comes to pure talent and skill, the point guard position may just be the most widespread in the entire league. The point guard is the floor general. The one that can set the tempo for the game and command an offense no matter the situation. Many of the NBA's marquee names reside at the point guard position as it currently stands, with even more young stars looking to join that group and make a name for themselves.
Last season, we saw young point guards like Luka Doncic, Trae Young, and Ja Morant leap into the superstar realm. Veterans like Stephen Curry and Chris Paul maintained their status as two of the league's best at the position. The 2021-22 season also gave us a glimpse into the future, with guys like Cade Cunningham, Darius Garland, and Tyrese Maxey all improving over the year and showing flashes of what are sure to be brilliant careers. As we look ahead to 2022-23, the point guard position is something NBA fans are sure to keep their eyes on as everything unfolds over the next year.
With all of that being said, here are Fadeaway World's top 25 point guards heading into 2022-23.
25. John Wall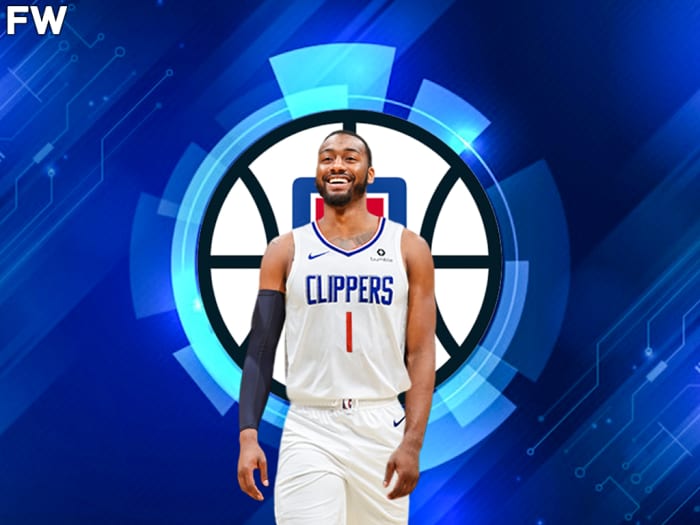 2021-22 Stats: Did Not Play
The last time we saw John Wall on an NBA basketball court was for 40 games in 2019-20 for the Houston Rockets. He has missed a full 2 seasons out of the last 3 due to heel and Achilles injuries as well as disputes with his front office. However, the last time he played gave us some hope that he is going to be valuable to his team this upcoming season should he remain healthy enough to play more than 40 games. In the 40 games he played with Houston, Wall still averaged 20.6 PPG and 6.9 APG, showing us that he is still a very much capable scorer and passer in the right scheme.
This offseason, Wall signed a 2-year, $13.2 million deal with the Los Angeles Clippers. Now it is unknown if Wall will play alongside last year's starter Reggie Jackson or come off the bench to kick things off. What is known is that there is a real buzz around Los Angeles after Wall's acquisition. This is a team with championship aspirations, and Wall has a chance to be a big part of it alongside Paul George and Kawhi Leonard, who are making comebacks of their own. If Wall can contribute with just 60% of his former self to this year's Clippers squad, there is no reason they shouldn't be fighting for a championship in the end.
24. Kyle Lowry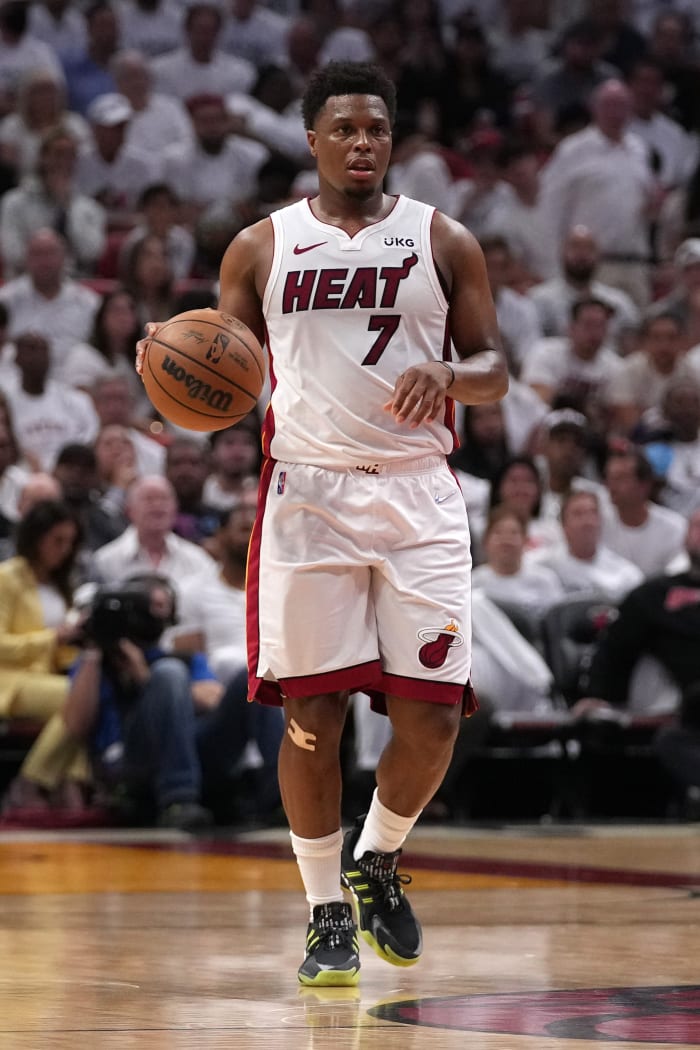 Credit: Jasen Vinlove-USA TODAY Sports
2021-22 Stats: 13.4 PPG, 4.5 RPG, 7.5 APG, 1.1 SPG, 0.3 BPG
Off-the-court issues and injuries marred Kyle Lowry's first season in Miami. In the 2021-22 season, Lowry averaged 13.4 PPG which was his lowest PPG since the 2012-13 season. He still shot 44.0% overall and 37.7% from deep on 6.1 attempts per game. He was also able to distribute the ball well with his 7.5 APG. Lowry is getting older but don't write him off just yet.
Lowry's decline in offensive production can be attributed to a couple of factors. Again, personal issues and injuries severely hampered his play, especially in the postseason. Also, the emergence of Tyler Herro, Max Strus, and Omer Yurtseven as offensive options took away from touches that would have otherwise gone to Lowry. Miami's got as good of depth as any team in basketball so all Lowry has to do is remain healthy and be the facilitator they need him to be. If he can do that and remain relatively healthy going into his age 36 season, there should be no reason that Miami can't finish atop the Eastern Conference once again.
23. D'Angelo Russell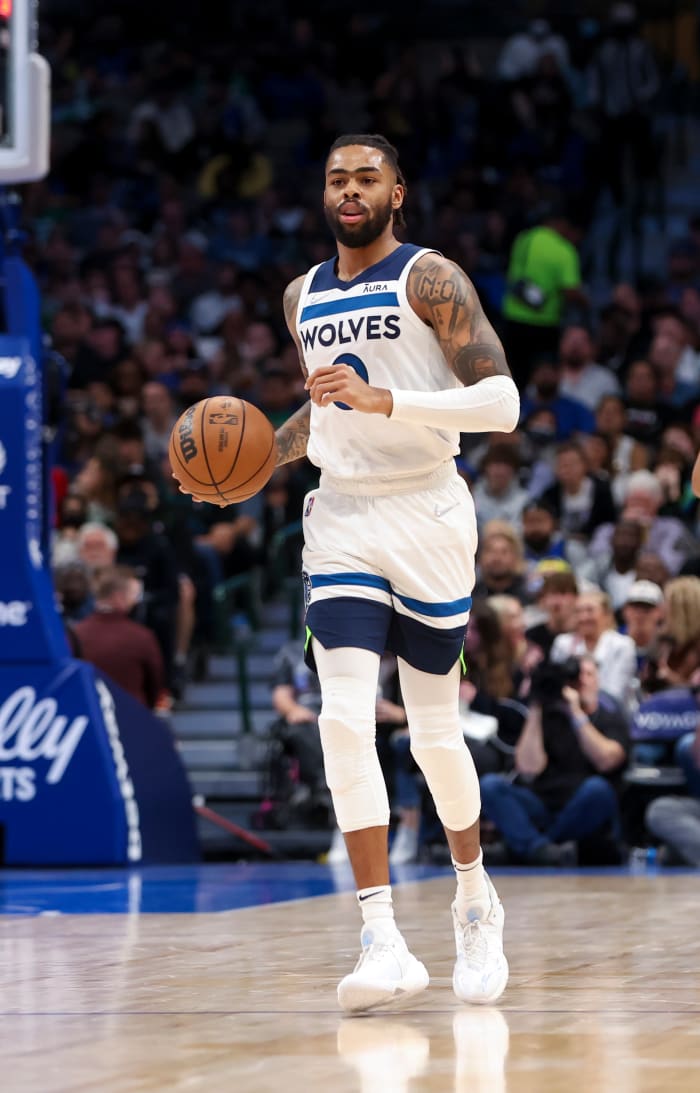 Credit: Kevin Jairaj-USA TODAY Sports
2021-22 Stats: 18.1 PPG, 3.3 RPG, 7.1 APG, 1.0 SPG, 0.3 BPG
D'Angelo Russell had one of those seasons in 2021-22 that made you scratch your head and say "Where the heck do I rank this guy". On one hand, Russell was the floor general that Minnesota needed him to be. He averaged a career-high 7.1 APG and a career-low 2.5 turnovers per game. He seemed to always knock down critical shots in big moments and was a big part of their success. On the other hand, his disappearing act in the playoffs left a bad taste in Minnesota fans' mouths.
Russell's name came up in a lot of trade chatter this offseason, calling into question his status for 2022-23. With the Rudy Gobert trade done and training camp just weeks away, it seems that Russell is staying put. Believe it or not, this is good news for Wolves fans. Russell can continue to be the facilitating floor general he has been on offense and the disruptor he has evolved into on defense. Russell had one of his best defensive seasons last year deflecting passes and clogging passing lanes while also contesting perimeter shots. He has been huge in developing the new culture in Minnesota and you can expect him to play a vital role in their success this season as well.
22. Lonzo Ball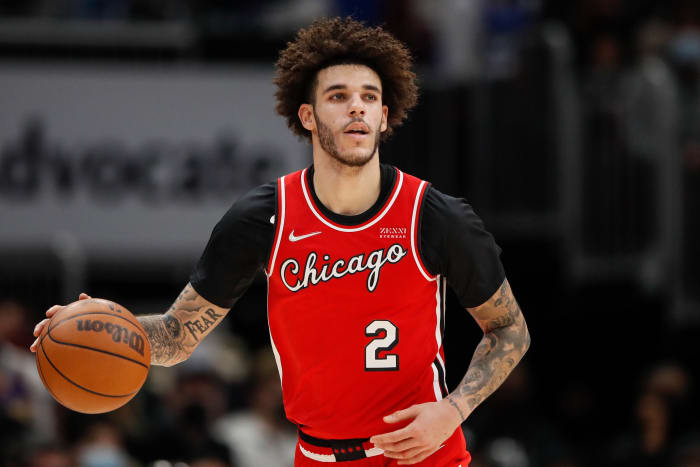 Credit: Kamil Krzaczynski-USA TODAY Sports
2021-22 Stats: 13.0 PPG, 5.4 RPG, 5.1 APG, 1.8 SPG, 0.9 BPG
Injuries were again an issue for Lonzo Ball in 2021-22 as a torn meniscus held him to just 35 games played. When Ball was on the court, he was the perfect fit for the Bulls. He pushes the pace to a fast tempo that Chicago likes to play with and his perimeter defense was the same disruptive play that it has always been. The Bulls went 22-13 when Lonzo was in the lineup, but the problem is; he was hardly in the lineup.
A healthy Lonzo Ball is a difference maker on defense. He finished with 3.2 deflections per game, which was 2nd on the Bulls despite his missed time. Chicago's defensive rating was 107.0 when he was on the court compared to 114.3 when he was off. His ability to navigate screen and roll situations alongside Alex Caruso and other defensive guards is what will make Chicago successful in the long term. The Bulls also need Ball on the floor so that can't create more spacing and perimeter looks. Lonzo shot a career-high 42.3% from three this year on 7.4 attempts per game. If he can stay healthy, that is a big if, look for Ball to make significant contributions come playoff time.
21. Russell Westbrook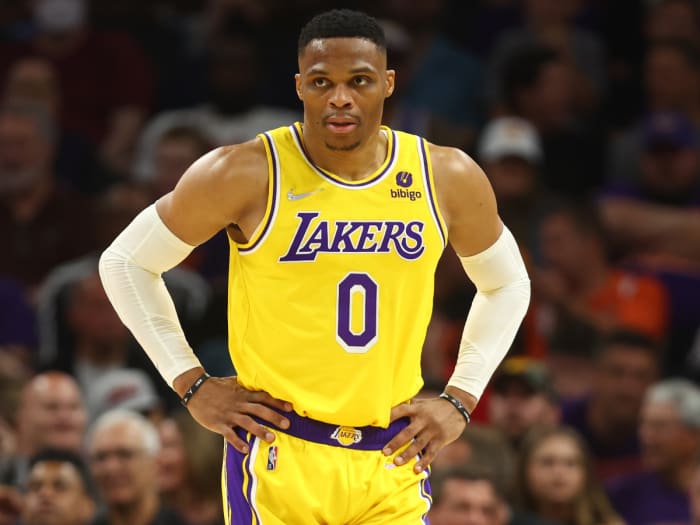 Credit: Mark J. Rebilas-USA TODAY Sports
2021-22 Stats: 18.5 PPG, 7.4 RPG, 7.1 APG, 1.0 SPG, 0.3 BPG
It pains me to rank Russell Westbrook as low as I have here, but let's be honest, it hasn't looked good. His shooting was below average at best and his 18.5 PPG was the third lowest scoring season of his career and the lowest since 2009-10. He was nearly benched altogether by Coach Frank Vogel and pressure from the L.A. fans and national media began to build. Westbrook did seem to start to make a turn for the better toward the end of the season, which is something Laker fans may be able to hang on to.
If Westbrook can learn to make adjustments and play off-ball, he can certainly be the player the Lakers thought they were getting when they acquired him last offseason. In a new system under Coach Darvin Ham, Russ will have to sacrifice some things to make it work. Westbrook has to learn to play without the ball a bit more now that he shares the floor with Anthony Davis and LeBron James. When he gets his touches, he must stay aggressive and attack rather than settle for jump shots at low efficiency. As a fan of his career, I am rooting for Westbrook to prove me and so many others wrong in 2022-23.
20. Jalen Brunson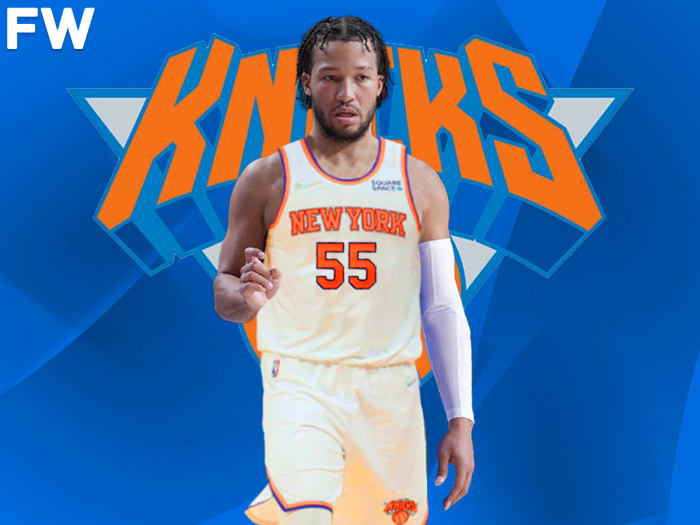 Credit: Fadeaway World
2021-22 Stats: 16.3 PPG, 3.9 RPG, 4.8 APG, 0.8 SPG, 0.0 BPG
Jalen Brunson will have the biggest opportunity of his young career this upcoming season after signing with the New York Knicks to a 4-year, $104 million deal. Brunson will have the chance to take the reigns as the starting point guard for a team that underperformed last season after playing alongside Luka Doncic in Dallas the past 4 seasons. There is no doubt he is up to the challenge of the big contract after a 2021-22 playoff run that saw him start all 18 games and average 21.6 PPG. In the first round of the 2022 playoffs, Brunson led the Mavs with 27.8 PPG and did so while filling in for Doncic, who missed three games with an ankle injury.
By the end of 2022-23, we may be talking about Jalen Brunson as a Most Improved Player runaway. Brunson has the chance to be the offensive initiator of a young and hungry squad that just two years ago got a taste of playoff basketball. With a young star like RJ Barrett alongside him, opportunities will arise where Brunson will have to take on some of the scoring load as well. He is capable of carrying in that manner should the need arise as we have already seen from him in the past. Bringing his playoff and winning experience to a team that needs a leader is certainly something to keep our eyes on with Brunson and the Knicks in 2022-23.
19. Tyrese Haliburton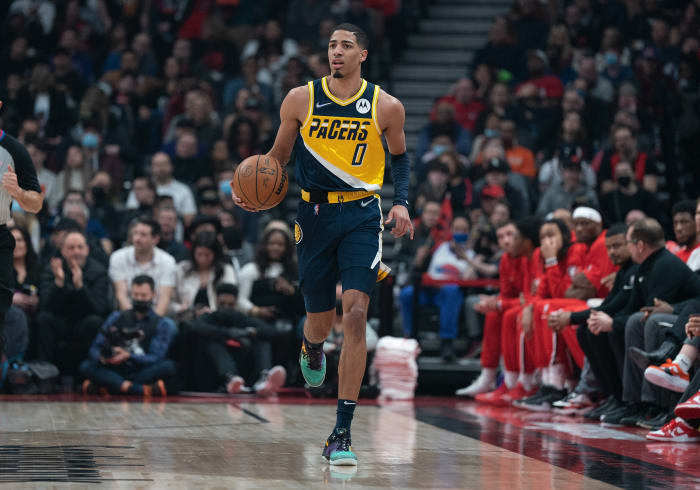 Credit: Nick Turchiaro-USA TODAY Sports
2021-22 Stats: 15.3 PPG, 4.0 RPG, 8.2 APG, 1.7 SPG, 0.6 BPG
After being shocked by a deadline deal that sent him to Indiana, Tyrese Haliburton showed that he is ready to lead a young and rebuilding Pacers team. Once Haliburton debuted with the Pacers, he averaged 17.5 PPG and 9.6 APG. He thrived on getting buckets in transitions and penetrating the lane to either finish or kick it out to an open shot on the perimeter. He was back to the primary ball-handling role he was used to before being placed alongside De'Aaron Fox with the Kings.
Haliburton should continue to thrive with the Pacers, although nobody expects much success from them this season. He is on the cusp of taking "the leap" in his career that we have all been waiting for. Another skill Haliburton has added to his bag is his 3-point shooting. He shot 41.6% from deep as a Pacer which is going to go a long way if it keeps it up for a team that shot 34.4% from 3-point land last season. With his scoring ability and propensity for playmaking, look for Haliburton to step up as the centerpiece of the Indiana rebuild.
18. Ben Simmons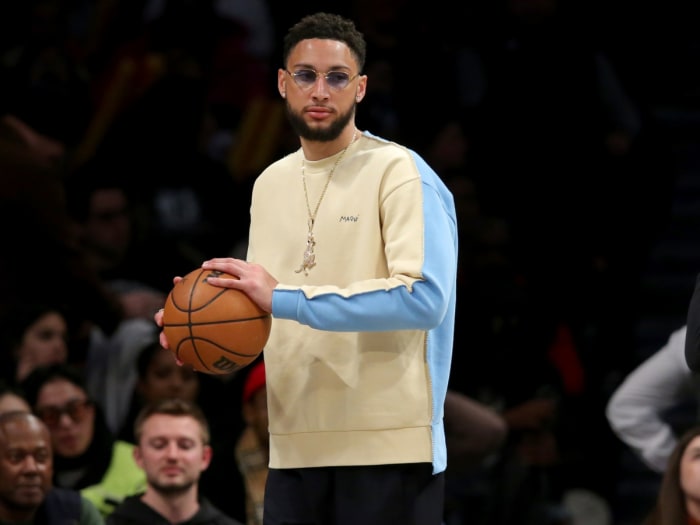 Credit: Brad Penner-USA TODAY Sports
2021-22 Stats: Did Not Play
After a turbulent nearly year and a half, Ben Simmons is finally ready to step back on the floor in 2022-23. This time it will be as a part of the Brooklyn Nets after the point guard was sent to Brooklyn in a deal that sent James Harden to Philly. The last time we saw Simmons on the floor during the regular season, he was a legitimate Defensive Player Of The Year candidate and an All-Star for the third year in a row. The struggles are documented with his low scoring and poor shooting numbers but with a new fit in Brooklyn; it has to work out, right?
As long as Kevin Durant and Kyrie Irving remain in Brooklyn, a ton of pressure will be off of Ben Simmons' shoulders. He won't have to worry as much about scoring with the likes of Durant, Irving, and others. Simmons won't have to worry about handling the ball and setting the tempo on his own. He can focus on what he does best, which is being one of the best perimeter defenders in basketball and facilitating the offense. Simmons is a career 7.7 APG player, so his playmaking will be an advantage for the Nets with their two stars. I think Simmons comes back and in 2023-24 is ranked much higher on this list.
17. Marcus Smart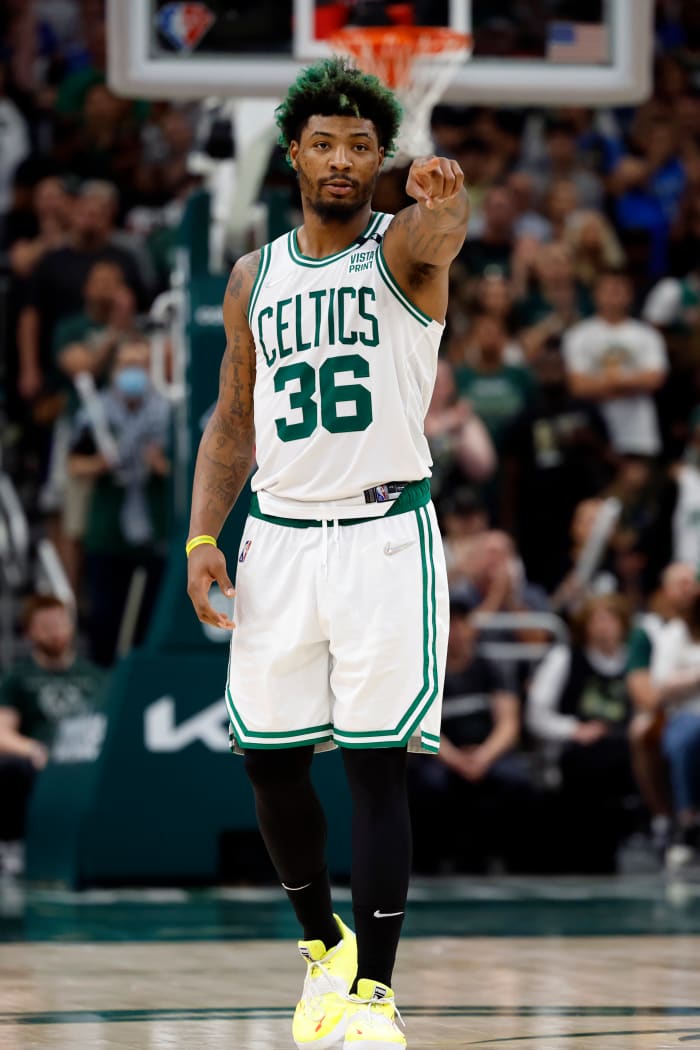 Credit: Jeff Hanisch-USA TODAY Sports
2021-22 Stats: 12.1 PPG, 3.8 RPG, 5.9 APG, 1.7 SPG, 0.3 BPG
Marcus Smart had the best season of his career in 2021-22 that culminated in him being named Defensive Player of the Year. He averaged a career-high 5.9 APG in his first full season as the Celtics starting point guard. He also elevated his game in the postseason as Boston's third-leading playoff scorer and propelled Boston to the NBA Finals with his defensive efforts and playmaking. As the team's emotional leader, Smart can be considered a key catalyst for team success.
It should be interesting to see as 2023 unfolds if Smart's role is diminished in any way by the presence of newly acquired Malcolm Brogdon. What Smart needs to do to stay on the floor late in games is improve his decision-making in big moments and knock down his open shots more often. Smart shot just 33.1% from three 2021-22, something that both Brogdon and Derrick White can exceed. Don't expect Smart to let his poor NBA Finals showing keep him from being anything less than hungrier for a title in 2022-23.
16. De'Aaron Fox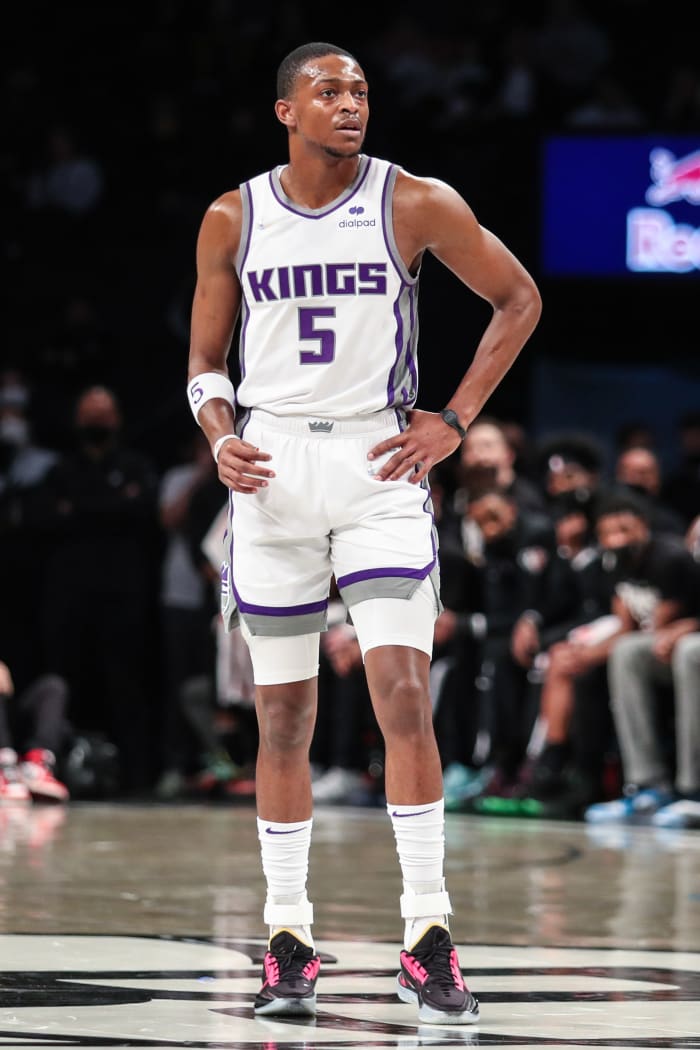 Credit: Wendell Cruz-USA TODAY Sports
2021-22 Stats: 23.2 PPG, 3.9 RPG, 5.6 APG, 1.2 SPG, 0.4 BPG
The start to the 2021-22 season was rough on De'Aaron Fox. He missed significant time due to COVID, dealt with another head coaching change, and trade rumors swirled as Fox struggled to find a rhythm. His numbers regressed in almost every statistical category, aside from minutes played and rebounds. That is until the Kings decided to shake things up and trade for Domantas Sabonis. With his backcourt partner gone and Sabonis in Sac Town, Fox was back to his regular electric self. In the 13 games Fox and Sabonis played together, he averaged 27.8 PPG and 6.2 APG while shooting 50.5% from the field.
We could be looking at an All-Star type leap from Fox in 2022-23. He finally has the big man he has always needed whose versatility plays to Fox's strengths. He has a full offseason to get acclimated even more to Sabonis' playstyle, which could make for the formation of a formidable duo in the Western Conference. Under new coach Mike Brown, look for Fox to have the season that Kings fans have been waiting for.
15. Jamal Murray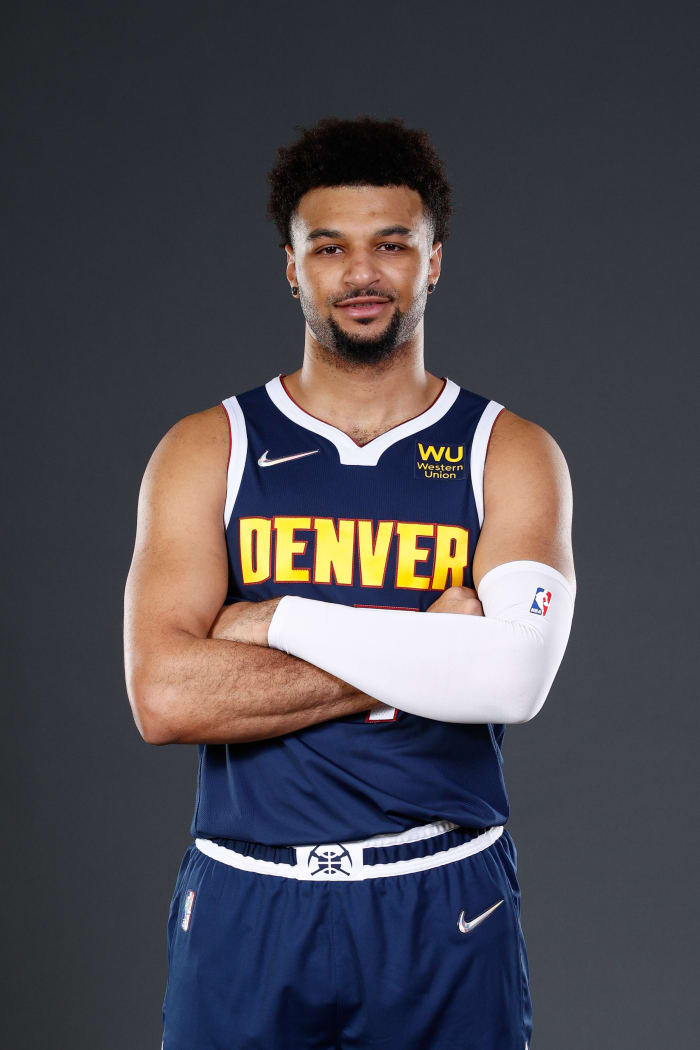 Credit: Isaiah J. Downing-USA TODAY Sports
2021-22 Stats: Did Not Play
Before suffering an ACL injury in 2021, Jamal Murray was having the best scoring and shooting season of his career. Through 48 games he was averaging 21.2 PPG on 47.7% shooting overall and 40.8% shooting from deep on a career-high in attempts. Murray is the perfect compliment to MVP Nikola Jokic's game and who knows what the Nuggets could have accomplished in 2022 had Murray been able to return to the court.
The expectations are high for Denver in 2022-23 and Jamal Murray's return to action is a big part of it. His scoring should continue to tend in the right direction, as it has since his career began. Murray will be relied upon in that department heavily, considering he is the team's primary bucket getter outside of Jokic. With no idea how Murray will return from his ACL injury, there is a right to be skeptical of just how impactful he can be right away for Denver. However, given that Murray is only going into his age 25 season and the advances of modern technology, it is pretty safe to assume that he can return to the player he was or better. Jamal Murray will help lift the Nuggets to serious contender status this season if he can remain on the court.
14. Cade Cunningham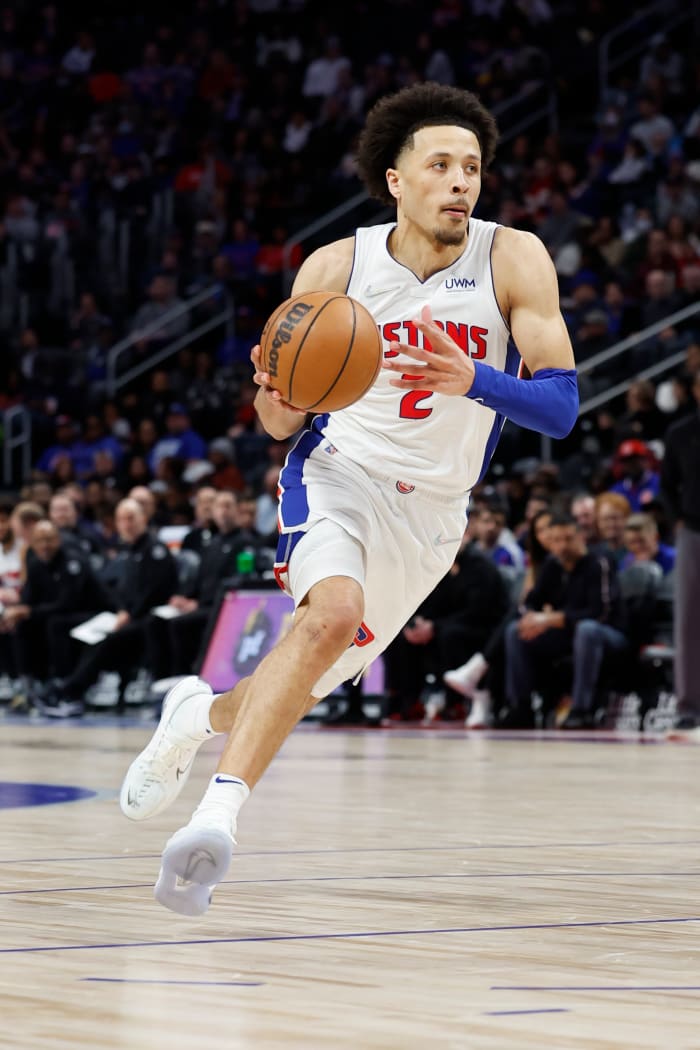 Credit: Rick Osentoski-USA TODAY Sports
2021-22 Stats: 17.4 PPG, 5.5 RPG, 5.6 APG, 1.2 SPG, 0.7 BPG
Despite missing some time early on, Cade Cunningham made a serious push to become Rookie of the Year in 2021-22. Once Cunningham got into his groove, he proved why he was worthy of the No. 1 pick in the 2021 NBA Draft. From December 1st and on, Cunningham averaged 18.6 PPG and 5.9 APG on 43.0% shooting overall and 33.0% shooting from three. He was crafty around the basket with his finishes and could knock down the mid-range elbow shots with ease. His offensive savviness was only matched by the high-octane defense that he brought every night. Looking forward to year 2, there is a lot to be excited about in Detroit.
Cunningham showed an understanding of the game in 2021-22 not often seen by rookies asked to command an offense right away. He isn't afraid of the big stage and has no issue going right at some of the best players in the NBA. He has vowed to get better this offseason and this mentality should instill fear into opponents and energize a franchise that hasn't had much success in the past 15 years. With the youthful core and other additions to the Detroit roster, look for Cunningham and the Pistons to be a tougher matchup than in recent times.
13. Tyrese Maxey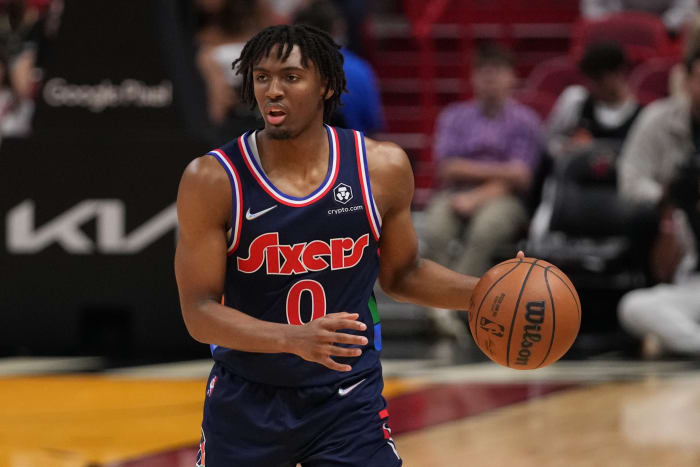 Credit: Jasen Vinlove-USA TODAY Sports

2021-22 Stats: 17.5 PPG, 3.2 RPG, 4.3 APG, 0.7 SPG, 0.4 BPG
Amid the ongoing Ben Simmons saga, Tyrese Maxey was handed the keys as the Sixers starting point guard in 2021-22 and he delivered. Maxey started74 games for Philadelphia and doubled his statistical output across the board. You would think that the addition of James Harden to the roster mid-season would have thwarted Maxey's development, but this was not to be the case. In 21 games alongside Harden, Maxey still averaged 18.0 PPG and 3.7 APG. He has matured at a rapid pace, heading into just his 3rd season, which makes Philadelphia a viable threat in the Eastern Conference.
Maxey is primed to make a run as an All-Star in 2022-23 which bodes well for Sixers fans everywhere. Alongside Harden and Joel Embiid, Maxey will have plenty of opportunities to continue to grow into an elite point guard in the NBA. Opposite his predecessor, Maxey takes pride in working on his weaknesses in the offseason. In 2021-22, he shot 48.5% overall and 42.6% from three, which were double-digit increases from his rookie year. The Sixers will be scary if Maxey went back and made more minimal adjustments to his game this offseason, forming a legitimate three-headed monster in the City of Brotherly Love.
12. Fred VanVleet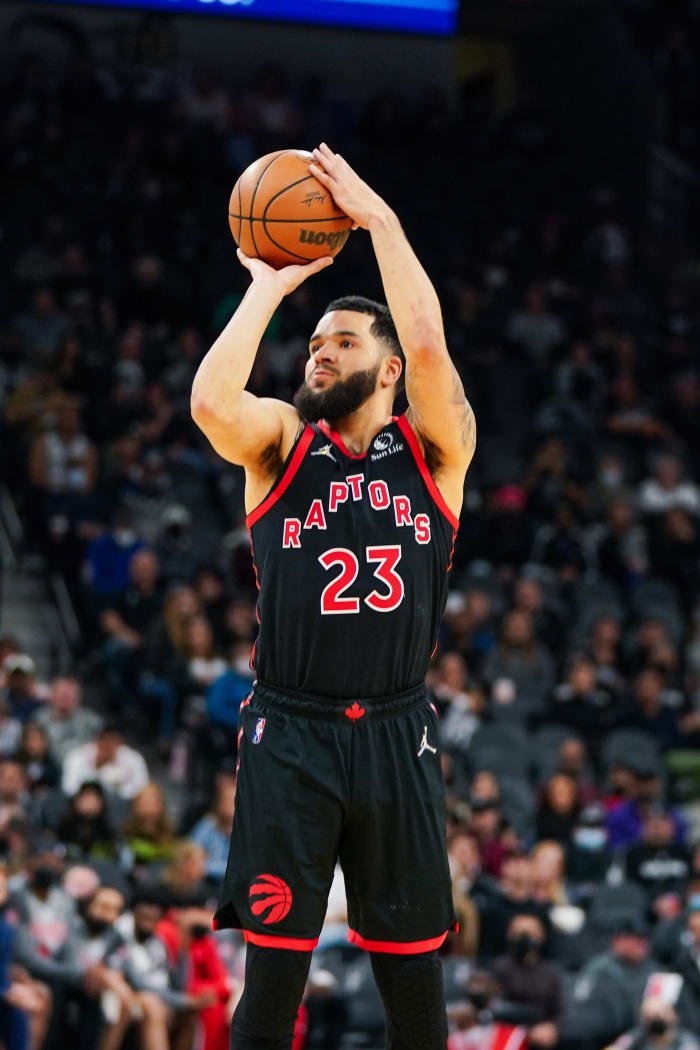 Credit: Daniel Dunn-USA TODAY Sports
2021-22 Stats: 20.3 PPG, 4.4 RPG, 6.7 APG, 1.7 SPG, 0.5 BPG
The 2021-22 season was a huge step for Fred VanVleet as he thrived in his new role as the leader of the Toronto Raptors. Fred put up career-highs in points, rebounds, assists, minutes played, and 3-pointers made per game as he was named an All-Star for the first time in his career. Even under new pressure and a new situation, VanVleet answered the call and ascended to a whole new level. With Fred's rise came Toronto's rise, as they shocked many and finished 5th in the Eastern Conference standings.
VanVleet has all the tools to keep leading the young Raptors to newer and bigger heights. One thing that has to be managed is the minutes per game that he plays, which started to wear on him towards the end of the season and in the playoffs. Headed into a second season with this new-look roster, VanVleet will continue to be the floor general on offense that gets the most out of his teammates almost every night. On defense, he can continue to build on a season worth of All-Defensive consideration. The challenge to lift Toronto even further is one VanVleet will no doubt embrace facing.
11. LaMelo Ball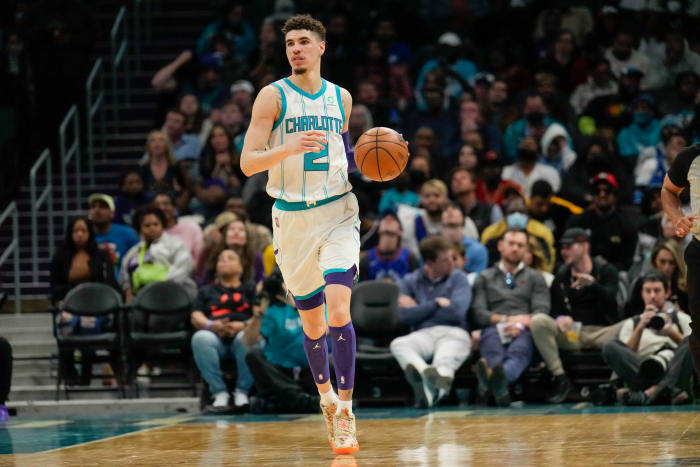 Credit: Jim Dedmon-USA TODAY Sports
2021-22 Stats: 20.1 PPG, 6.7 RPG, 7.6 APG, 1.6 SPG, 0.4 BPG
In his sophomore season in the NBA, LaMelo Ball took the leap into stardom at just 20 years old. He was named an All-Star for the first time and he improved in every statistic that exists. More so than the numbers which he produced, which were very impressive, the biggest improvement was the way he commanded the game and demanded to be trusted with that responsibility.
There is no reason we can't see another All-Star season from LaMelo in 2022-23. His leadership will become far more crucial than it has been the past 2 seasons as the Hornets navigate murky waters off the court. He isn't done developing as we saw in 2021-22 when he improved across the board, but specifically with his scoring and efficiency. Ball is shooting the deep ball at a higher rate and knocking down his contested shots as well. If LaMelo continues to improve his game, look for the Hornets to be more than just a play-in exit.
10. Darius Garland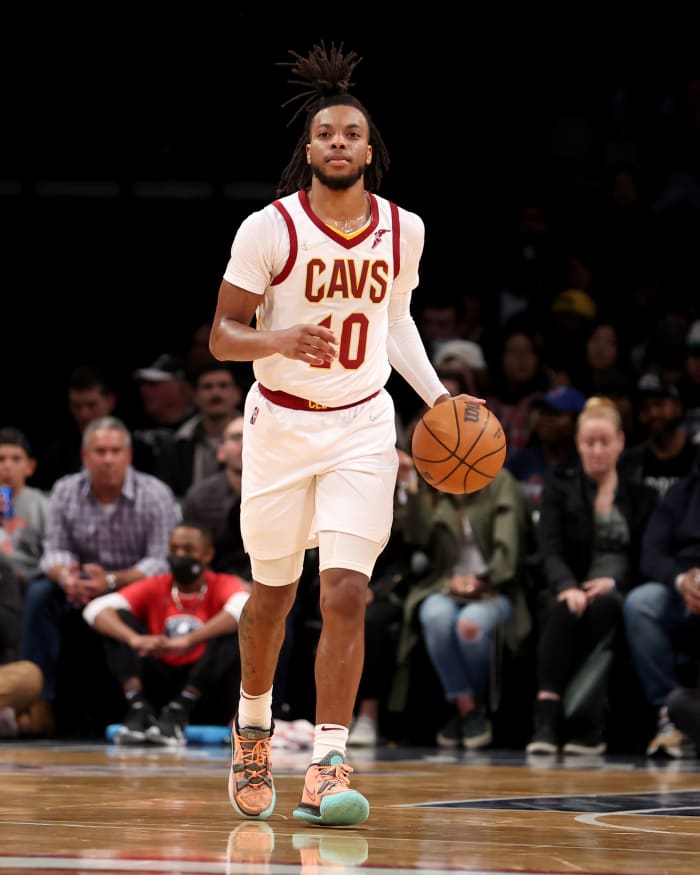 Credit: Brad Penner-USA TODAY Sports
2021-22 Stats: 21.7 PPG, 3.3 RPG, 8.6 APG, 1.3 SPG, 0.1 BPG
Darius Garland was yet another young point guard who took a significant leap in 2021-22. Garland became an All-Star while putting up career-highs in points, assists, steals, and FG% among other things. Garland's rise to All-Star status had him as a Top 3 finisher in Most Improved Player voting and the Cleveland Cavaliers as playoff contenders. Injuries and inconsistency derailed the season toward the end, but Garland's big year along with Evan Mobley and Jarrett Allen in the frontcourt gives Cleveland Fans their most exciting team since 2018.
In 2022-23, look for Garland to continue to make Cleveland a basketball city once again. He should have no issue repeating another All-Star appearance and hopefully securing a playoff spot for the Cavs. Look for an increase in volume shooting from the perimeter as Garland shot 38.3% from 3-point range last season to go with a career-high 46.2% from the floor overall. Mobley and Allen's continued development together is sure to be a boost to Garland's playmaking as well.
9. Shai Gilgeous-Alexander
Credit: Alonzo Adams-USA TODAY Sports
2021-22 Stats: 24.5 PPG, 5.0 RPG, 5.9 APG, 1.3 SPG, 0.8 BPG
The 2021-22 season got off to a slow start for Shai Gilgeous-Alexander, but by the end of it, he was playing like one of the top guards in the league. He then suffered an ankle injury that sidelined him for a month leading up to the All-Star break. Following the break and in his return to the Thunder lineup, Alexander showed exactly why they are building things around him in Oklahoma City. He averaged 30.3 PPG, 6.2 RPG, and 7.2 APG. The problem is the thunder went 2-10 in those games and by March, Alexander was shut down for the season.
Things should get much better for the Thunder in 2022-23. Alexander and second-year standout Josh Giddey should form one of the more exciting young backcourts in the league. Shai could be headed for All-Star status should the Thunder win some more games and he continues to improve his scoring and efficiency. Chet Holmgren comes in as a rookie who gives them some much-needed depth and they re-signed Lu Dort in the offseason, bringing back one of their better defenders for 5 years. I don't expect Oklahoma City to be a playoff team just yet, but SGA can certainly lead them to more than 24 wins.
8. Jrue Holiday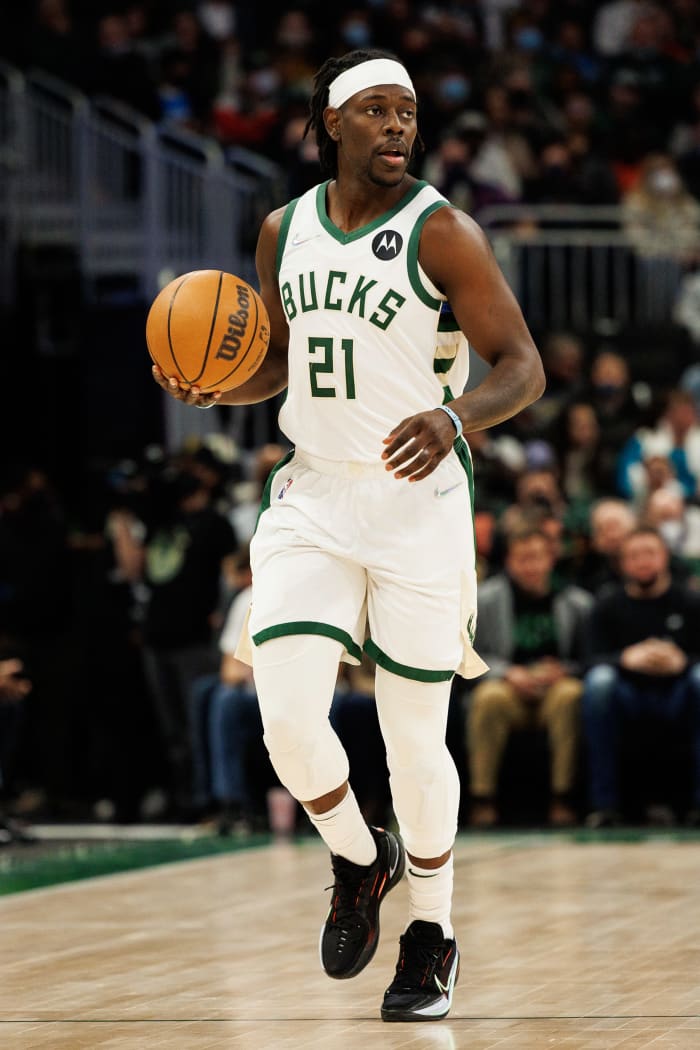 Credit: Jeff Hanisch-USA TODAY Sports
2021-22 Stats: 18.3 PPG, 4.5 RPG, 6.8 APG
Jrue Holiday continued to be the two-way difference maker in 2021-22 that he has been since stepping foot in Milwaukee. His defensive efforts have been game-changing for the Bucks and it continued to be in 2021-22. He continued to give the game's top guards fits, just like he did on the 2021 NBA title run. Not only did Holiday lead the team's perimeter defense, but he contributed with his playmaking and scoring as well.  
If Marcus Smart can win a Defensive Player Of The Year award, then there is no reason that Holiday can't be in the running in 2022-23. The Bucks have been one of the best defensive teams in the NBA since his arrival and that part of his game doesn't seem to be slowing down one bit. His relationship with Giannis and other teammates continues to get stronger, providing a much better rhythm on the offensive end. If Holiday continues to be the guy he has been the past 2 seasons, then expect the Bucks to be competing for another championship in 2022-23.
7. Chris Paul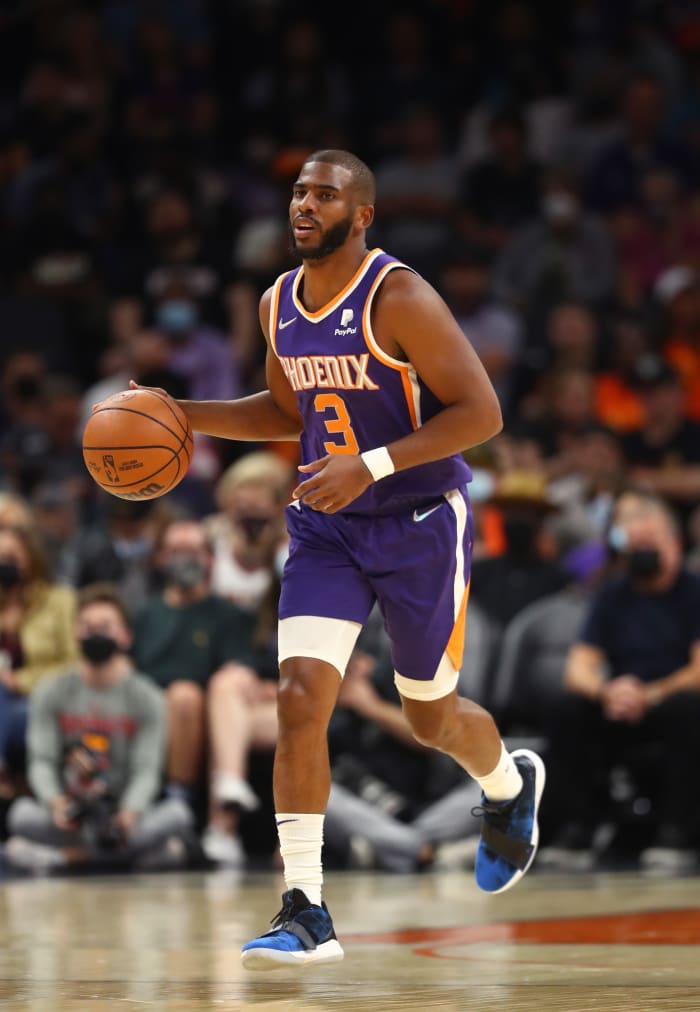 Credit: Mark J. Rebilas-USA TODAY Sports
2021-22 Stats: 14.7 PPG, 4.4 RPG, 10.8 APG, 1.9 SPG, 0.3 BPG
Chris Paul had another spectacular season in 2021-22, leading the NBA in APG with 10.8. It was the 5th time he has led the league in assists in his career and that came even with suffering a wrist injury around the All-Star break that sidelined him for some time. Paul led a Suns team to their franchise-best 64 wins and led the team in assists, steals, Box Plus/Minus, and Win Shares. Much like past seasons for Paul, it all came crashing down in the postseason once again as the Mavericks upset the Suns in the second round of the playoffs.
Chris Paul has the same team hitting the court this upcoming season as he did in 2021-22. The Suns brought back Deandre Ayton, a player whom Paul has developed a strong point guard-center relationship with. They also didn't gut their team to trade for Kevin Durant, giving Paul a chance to replicate the Suns' success from last season. It would be foolish to think that he couldn't lead them to a top seed once again while possibly earning another All-NBA selection. As much as Phoenix has somehow become a villain the past two seasons, look for them to be right back towards the top of the Western Conference behind Paul's leadership.
6. Kyrie Irving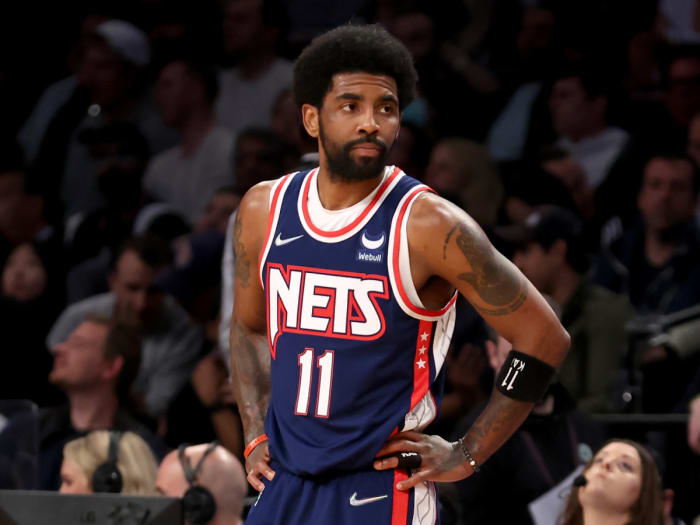 Credit: Brad Penner/USA Today Sports
2021-22 Stats: 27.4 PPG, 4.4 RPG, 5.8 APG, 1.4 SPG, 0.6 BPG
After a tumultuous season of rarely being available to play, trade rumors, and scrutiny, Kyrie Irving is finally set to return to full action in 2022-23. Irving appeared in just 29 games in 2021-22 due to various injuries and restrictions regarding Covid-19 vaccine regulations. In the 29 games he did play, Kyrie was brilliant, averaging 27.4 PPG on his usually efficient 46.9%/41.8%/91.5% splits.
Kyrie has a chance to shut the naysayers and critics up in 2022-23. If he indeed does stay with Brooklyn for the entire season, a healthy and active Irving is as good as any offensive point guard in the league. The offense is his to control and the tempo is his to set In Brooklyn's offense, especially if the Nets end up trading Kevin Durant. If Kyrie can remain active, look for him to return to All-Star form, and in turn, Brooklyn will be playoff bound once again.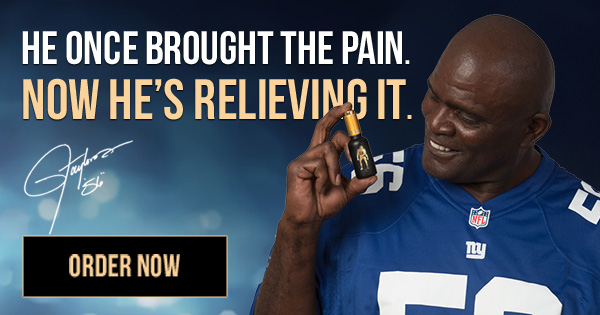 5. Trae Young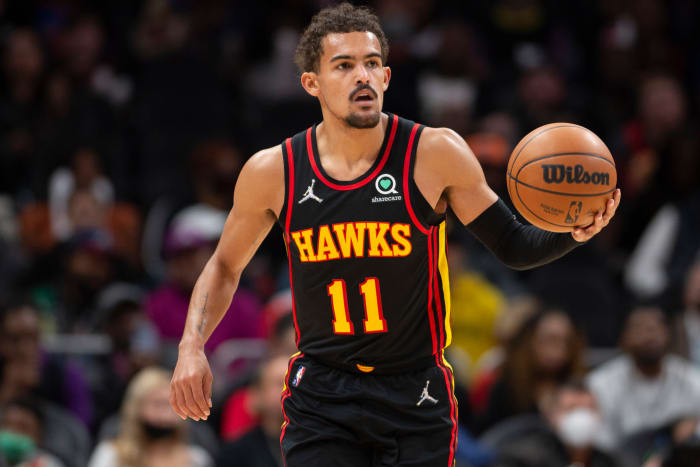 2021-22 Stats: 28.4 PPG, 3.7 RPG, 9.7 APG, 0.9 SPG, 0.1 BPG
Trae Young is coming off of the most complete and impressive regular season of his early career. Young led the NBA in total points and total assists, but also led in total turnovers. He led Atlanta back to the playoffs, where they fell well short of their accomplishments in 2021. Young's numbers are even more impressive when you consider the rule changes implemented the last offseason that made him rebrand his game on the fly. He still went out and proved himself to be in the upper echelon of the NBA.
There is a lot of buzz surrounding Young and the addition of new backcourt teammate Dejounte Murray headed into 2022-23. The Hawks' season ended in disappointment in 2022, with the Miami Heat steamrolling them in the first round with a less than subpar series from Trae. Trae is looking to erase that series from everyone's memory banks and bring the Atlanta Hawks back into serious contention. Headed into just his 5th season, the Hawks are set to follow Young into battle and compete in a loaded Eastern Conference.
4. Damian Lillard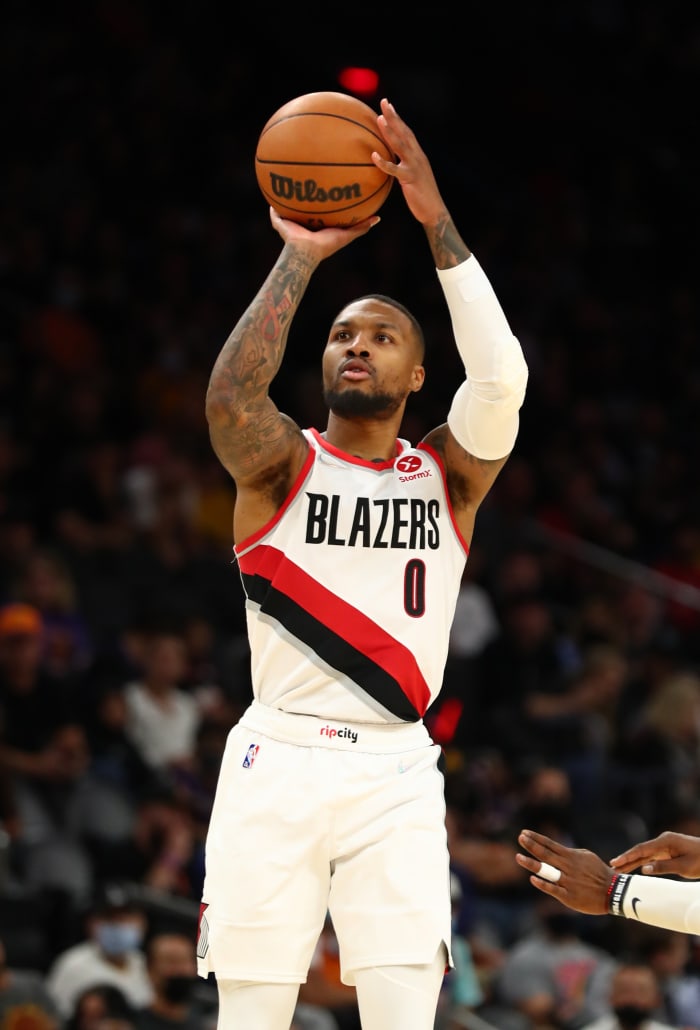 Credit: Mark J. Rebilas-USA TODAY Sports
2021-22 Stats: 24.0 PPG, 4.1 RPG, 7.3 APG, 0.6 SPG, 0.4 BPG
Damian Lillard played just 29 games in the 2021-22 season and is looking to bounce back in a big way in 2022-23. Presumably healthy for the first time since before the 2021 Olympics, Lillard is primed for a big year. An oblique injury that ended up cutting his season short led to career-lows in overall FG% and three-point percentage for the usually efficient Lillard. The injury very visibly hindered Lillard's production, and the team decided to shut him down just a few weeks into the season.
Lillard enters 2022-23 with a bit of a chip on his shoulder. With more than ample opportunity to jump ship, Lillard has consistently opted to remain in Portland and make things work. It will be interesting to see if Portland can compete with a healthy Lillard, an emerging Anfernee Simons, and a few other notable pieces placed around them. The Western Conference is loaded but if history has taught us anything it's don't count out a healthy and motivated Damian Lillard.
3. Ja Morant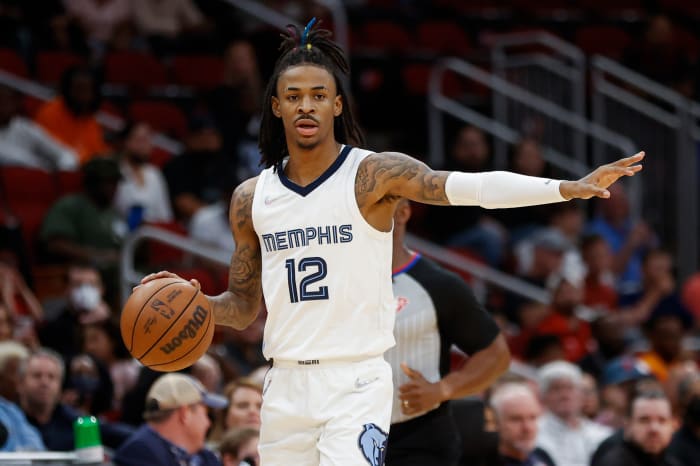 Credit: Troy Taormina-USA TODAY Sports
2021-22 Stats: 27.4 PPG, 5.7 RPG, 6.7 APG, 1.2 SPG, 0.4 BPG
Of all the young point guards that improved in 2021-22, Ja Morant ascended the most. Morant reached near superstar-level heights in 2022, going for career-highs in points, FG%, 3-point percentage, and TS%. Morant's performance led to his being named the NBA's Most Improved Player, but Morant made it clear he wanted more. The Grizzlies ended up winning 56 games behind Morant and a young and hungry squad who ran the floor and smothered opponents with high-level defense.
After finalizing a 5-year max extension this offseason, it is clear that Morant is in Memphis for the long haul. He is the team's on-court leader and emotional leader as well. Even though the Grizzlies were able to win games in his absence, it is clear that his presence makes them one of the best young teams in the league. Look for Morant to continue to build his resume and bring the Grizzlies to new levels as a team.
2. Luka Doncic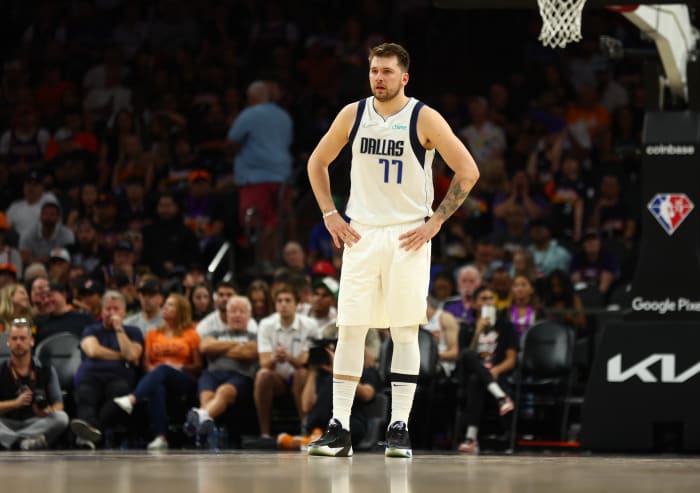 Credit: Mark J. Rebilas-USA TODAY Sports
2021-22 Stats: 28.4 PPG, 9.1 RPG, 8.7 APG, 1.2 SPG, 0.6 BPG
Just when you thought he couldn't possibly amaze you anymore, Luka Doncic got even better in 2021-22. For the second time in his 4-year career, Doncic averaged over 28.0 PPG and over 9.0 RPG. He was named an All-Star for the 3rd straight season as well as to the All-NBA First Team for the 3rd straight season. He once again put the Mavericks on his back in the postseason and propelled the Mavs to a Western Conference Finals berth. He averaged 31.7 PPG, 9.8 RPG, and 6.4 APG in 15 playoff games to continue his dominance in the postseason.
Headed into 2022-23, we are looking at a possible MVP campaign for Luka Doncic. Fans and experts alike have been expecting him to be in that conversation for a couple of years now and 2022-23 could finally be the year. The Mavericks did little to improve the roster but still brought in another capable big in Christian Wood. With his addition, Luka's playmaking should open up a bit more especially in the pick and roll situations that he loves to pursue. Doncic should have the Mavericks in yet another position to make a deep playoff run and a Top 4 seed in the Western Conference. 
1. Stephen Curry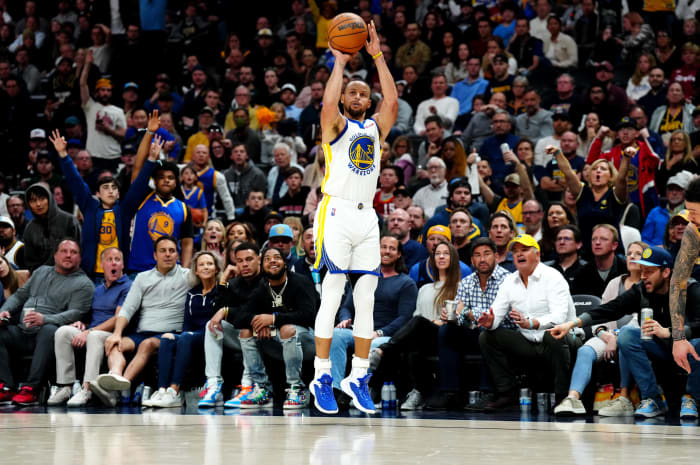 Credit: Ron Chenoy-USA TODAY Sports
2021-22 Stats: 25.5 PPG, 4.6 RPG, 6.5 APG, 1.3 SPG, 0.4 BPG
Midway through the 2021-22 season, critics were slamming Stephen Curry for what they were calling a "down year". By the time the NBA Finals had concluded, Curry had proven every single one of them wrong. During the regular season, Curry shot a career-low 38.3% from 3-point range. Amazingly, Curry's career-low is a very good year for most NBA point guards. Curry had the last laugh in the playoffs as he willed the Warriors to their 4th title in 8 years and took home Finals MVP in the process. He averaged 31.2 PPG, 6.0 RPG, and 5.0 APG while shooting 43.7% from three in the 6-game series win over the Celtics. 
You can't give me one good reason that Stephen Curry shouldn't be the No. 1 ranked point guard headed into 2022-23. The only two point guards I see competing for MVP this upcoming season are Luka Doncic and Curry. Fans everywhere should know that the Warriors will not just relinquish the defending champions' title without a fight. That title defense and mentality will be led by the greatest shooter and one of the greatest competitors in NBA history. To be the man, you have to beat the man and right now, Stephen Curry is the man.
Next
The Western Conference Is Going To Be Absolutely Stacked For The 2022-23 NBA Season
The Most Points Scored In A Game 7 In NBA Playoff History
The Most Realistic Starting Lineup And Roster For The Golden State Warriors Next Season
The Most Accomplished Current NBA Players: LeBron James Leads With 14, Stephen Curry Chases Him With 9
25 NBA Legends And Superstars Career-Highs In Points: Wilt Chamberlain Holds The Record With 100 Points, Kobe Bryant Is No. 2 With 81 Points