It is a truth universally acknowledged that January babies love the summer and absolutely despise the winter months. 
Okay, while I can't speak for Amanda Peet (a.k.a. Betty Broderick in Dirty John: The Betty Broderick Story – Jan. 11), Regina King (whose crime-related star turns include The Harder They Fall and American Crime – Jan. 15), or Patricia Highsmith (if you're reading this publication, I take it you're already familiar with the ur-queen of the psychological thriller – Jan. 19), I can speak for myself (also Jan. 11), when I say that this particular Januarian is not about the cold. 
You know who—or, rather, what—else is a January baby? Roe v. Wade, the landmark Supreme Court case that protected uterus owners' right to have abortions without excessive government interference. That's right. Roe was originally decided on January 22, 1973, and, as of press time…well, if you don't live under a rock, you probably already know all about the current threat to reproductive freedom here in the U.S. (In case you don't, you can read the rundowns here, here, and here.)
Some of you might be thinking, "Um, politics? Isn't this supposed to be a true crime podcast column?" 
Article continues after advertisement
This is a true crime podcast column, but let me say two things: 
One: The intersection between true crime and politics runs deep. Just look at featured pod Will Be Wild (or, for that matter, the politics-meets-crime podcast round-up I wrote for this very publication back in October 2020.)
And two: in my opinion, stripping millions of uterus owners of their right to bodily autonomy is a crime itself. 
Of the 64 million uterus owners in the U.S., more than half live in states where abortion rights are imperiled. In my home state of Florida, Gov. Ron DeSantis signed a bill banning abortions after 15 weeks. (The bill passed in April, before the Supreme Court leak, and goes into effect on July 1.) If Roe is overturned, will Florida move to ban abortion completely? 
As musician and activist Joan Baez said, "Action is the antidote to despair." To see how you can take action (including how to find and/or host events in your area), visit Planned Parenthood's #BansOffOurBodies page.
Article continues after advertisement
Finding Tamika
(Audible Original) – Premiered March 3, 2022
As you've probably noticed, in every column, there's one podcast that really captures my heart, one that stands out among the rest. This time, it's Finding Tamika, helmed by the incredible Erika Alexander (Get Out, Insecure, Run the World) and produced by Kevin Hart and Charlamagne tha God.
In 2004, Tamika Huston, a 24-year-old Black woman from Spartanburg, South Carolina went missing. Around the time of Huston's disappearance, cases like those of Laci Peterson, Natalee Holloway, and Lori Hacking—all white women—dominated the airwaves while cases involving Black women, Indigenous women, and women of color were left out of the spotlight.
Tamika's aunt Rebkah Howard, a licensed attorney and seasoned PR executive, worked tirelessly to ensure that her niece's case received the media attention it deserved. As Tamika's case reveals, media exposure is extremely crucial when it comes to generating case-cracking leads. The amount of media coverage a case receives is a make-or-break scenario—and can be the determining factor in whether or not a case gets solved. 
But what about other missing Black women, Indigenous women, and women of color, the ones who don't have a family member with deep connections in the media world? 
Article continues after advertisement
In the same year Tamika went missing, the late great journalist Gwen Iffil coined the term "missing white woman syndrome" to refer to the disproportionate amount of media attention white women receive when they go missing as opposed to their Black, Indigenous, and POC counterparts.  
As attorney (and Finding Tamika interviewee) Jada L. Moss writes in the William & Mary Journal of Race, Gender, and Social Justice, "[a] thorough comparison of the number of Black Americans who are reported missing with the number of times news media reports Black Americans as missing makes it even clearer that underrepresentation is an issue." Moss cites a 2015 study that found that although Black children constituted 35% of the National Crime Information Center's cases, they accounted for only 7% of media references, with the vast majority of media attention being focused on white children. 
Finding Tamika not only gives listeners a full picture of who Tamika was a living person (an element sadly lacking in many true crime podcasts, in which the "victim" is dehumanized and/or reduced to a set of stereotypes) but also unpacks the toxic legacy of missing white woman syndrome, examining the way racism and bias seep into media coverage and criminal investigations.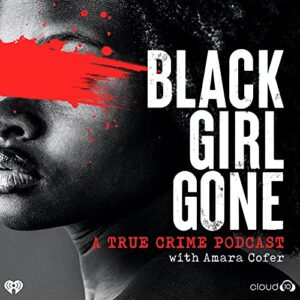 Black Girl Gone: A True Crime Podcast
(Cloud10/iHeartPodcasts) – Premiered March 2021
As discussed in Finding Tamika, the cases of missing and murdered Black women, Indigenous women, and women of color often go underpublicized, underinvestigated, and—in many cases—ultimately unsolved. It's a situation that desperately needs to change, one everyone with an interest in true crime—from big-time media outlets to small-time "armchair detectives" —are responsible for changing.
Article continues after advertisement
Names like Natalee Holloway, Chandra Levy, Laci Peterson, and—more recently—Gabby Petito have gained international recognition. What about Connie Frances Leonard, Hattie Brown, Venika Williams, Alicia Jackson, and Ka'Rena McClerkin? Are you familiar with their names? Why are their faces and stories mostly (or, in Connie's case, entirely) missing from the media landscape? Why do their cases remain unsolved, often for multiple decades? 
Since March 2021, creator and host Amara Cofer has covered over 65 cases, including those of Hattie, a highly decorated military veteran who served in Operation Desert Storm before her 2009 disappearance; Connie, an Ohio mother of four; and Alicia, who had a master's degree in city planning and left behind a two year-old son after her brutal 2010 murder. 
In Black Girl Gone, Cofer confronts a media landscape that ignores the stories of Black women, Indigenous women, and women of color in favor of their white counterparts. Who is considered a victim? Who isn't? How do race, gender, and lifestyle factor into that calculus? All of these questions are on the table in Black Girl Gone. Both Connie and Ka'Rena, for example, struggled with addiction. Does that mean their cases deserve less media attention? No, absolutely not. We need to change the status quo, something Black Girl Gone is working to do.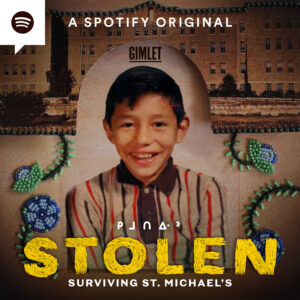 Stolen: Surviving St. Michael's
(Gimlet/Spotify) – Premiered May 17
Back in April 2021, I featured the Gimlet/Spotify pod Stolen: The Search for Jermain, in which award-winning investigative journalist Connie Walker explored the 2018 disappearance of 23 year-old Jermain Charlo, a member of Montana's Confederated Salish and Kootenai Tribes. (Walker, who is Cree and grew up in Canada's Okanese First Nation, also helmed two seasons of CBC's Missing and Murdered podcast: Finding Cleo and Who Killed Alberta Williams?)
Article continues after advertisement
For Walker, the story at the center of Stolen's second season hits closer to home. Last year, Walker's brother Hal told his sister a long-buried family story: in the late '70s, Walker's father Howard, a member of the Royal Canadian Mounted Police, pulled over a suspected drunk driver while out on patrol. When Howard reached the vehicle, he was met with a frighteningly familiar face. The man at the wheel was someone from Howard's past, a former priest from St. Michael's Indian Residential School in Alert Bay, B.C. 
Established as part of the 1876 Indian Act (mandatory school attendance was instituted in 1894), Canada's Indian residential school system was a deliberate attempt on the part of the Canadian government to wipe out First Nations language and culture. Vectors of abuse, starvation, forced labor, and disease, the University of Manitoba's National Centre for Truth and Reconciliation has described these schools as a form of cultural genocide. 
Though the last of Canada's Indian residential schools closed in late '90s, their legacy of intergenerational trauma is far from over. In May 2021, the remains of 215 children were found on the former campus of the Kamloops Indian Residential School. The number of remains has continued to increase, with 751 human remains uncovered at Saskatchewan's Marieval Indian Residential School not long after the Kamloops discovery. While the exact number of Indigenous children who died at residential schools is difficult to pin down (many former school sites have yet to be surveyed with ground penetrating radar), it is likely in the thousands.
Although Howard passed away in 2013, veteran podcast Walker is determined to uncover the truth, to find the man her father encountered that day while on patrol—a man who, according to Howard, abused him. In Stolen: Surviving St. Michael's, Walker examines how a horrific chapter in Canadian history affected her own family.
Article continues after advertisement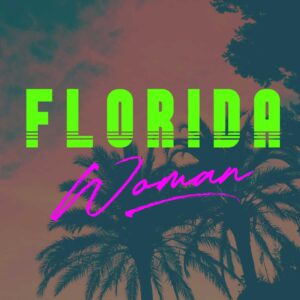 Florida Woman
(Tough Kitty Productions) – Premiered December 2021
Y'all. I know I said last time that Sacred Scandal was my fave Florida true crime podcast, but as of this column, it seems that my affections have shifted like so much renourished Sarasota sand. 

Florida Woman really was custom built for me. On this podcast, Kelsey Ann Wacker (real-life Florida woman) and Nathan Simpson (Midwestern outsider) dive into the weirdest true-crime stories issuing from our nation's most phallic-looking appendage. On this pod, you'll meet serial killers (duh), trigger-happy gold diggers, counterfeit Saudi princes, dangerous doctors (including the aptly named gynecological imposter "Dr. Love"), and one anthropomorphic mouse (what Florida true-crime pod would be complete without an exploration of Disney's seamier side?) 
If you're expecting a "Florida is so weird lol" pod that just recounts the odd doings of some of our nation's most bizarre inhabitants, think again. 
Wacker and Simpson are interested in the why of it all. Why do so many weird true-crime stories come out of Florida? Is it just the state's Sunshine Law? (Florida is known for its rather liberal approach to the Freedom of Information Act [FOIA], meaning it's very easy to get your hands on, well, just about anything document related to any part of Floridian government—including court and police records.) Or is it something else? Wacker and Simpson surmise that Florida is a place to start over, where self-reinvention is as easy as passing the state driver's test (to this day, I have no idea how to parallel park—I never learned because it's not part of the Florida road test!) Everyone (okay, maybe not everyone, but many someones) here is running from something, be it death, income taxes, cold weather, criminal charges—you name it, I'll find you a Floridian trying to escape it. 
Article continues after advertisement
"A sunny place for shady people" indeed.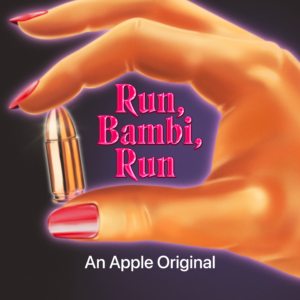 Run, Bambi, Run
(Apple TV+/Campside Media) – Premiered April 11
Full disclosure: I am a total Vanessa Grigoriadis fangirl, and not just because we went to the same college. (Go Wes!) 
So when I heard that the veteran journalist (New York Magazine, The New York Times Magazine, Vanity Fair, and Rolling Stone, just to name a few), author, and podcaster (Chameleon: Hollywood Con Queen; Tabloid: The Making of Ivanka Trump) was helming a brand-new podcast, I was on board immediately. 
I thought I knew the story of Lawrencia "Laurie" Bembenek, otherwise known as "Bambi." (Bembenek earned the cervine moniker during her days on the Milwaukee police force, though she didn't much care for the nickname herself.) 
This case has been featured on a number of true-crime pods (including Generation Why and My Favorite Murder), so I was already familiar with the broad strokes: beautiful ex-cop-turned-Playboy-Bunny murders her cop husband's ex-wife. Fast forward nine years later, a sentenced-to-life Bembenek escapes from a maximum-security prison and spends the summer of 1990 on the run, sparking the "Run, Bambi, Run" catchphrase.
Article continues after advertisement
Look past the surface, however, and what Diane Sawyer dubbed "the most glamorous murder case of the 1980s" is about so much more than just a pretty face. (Grigoriadis describes Bembenek  as a "Teutonic goddess Zeus was probably trying to bang.") It's about the toxic racism and sexism of the Milwaukee police department during the late '70s and early '80s, the way that beauty can be weaponized by both holder and beholder. It's a story of attempted whistleblowing, retribution, and the rise of a feminist folkhero.
Scamfluencers
(Wondery) – Premiered April 11
I love me a good scam story, and you know what's even better? A whole scam-centered series hosted by Scaachi Koul (Buzzfeed) and Sagi Hagi (Gawker, The New Yorker, The New York Times, and many others). These two bad-ass culture writers (also both Canadian—aren't Canadians just, like, the best?) unpack some of the craziest scams in recent history. 
Even if you're thinking, "More scammers? Really? Haven't we had enough of the Elizabeth Holmes wannabes?" I urge you to sit tight and listen. The grifts on Scamfluencers (a fitting title, by the way, as many of scams featured on this have to do with the internet) are bonkers. From the very first episode (featuring Sarasota's own "real-life Black Swan" aka ballet scammer Ashley Benefield), I was hooked, and further episodes have proven to be just as enticing. Also, I dare you not to 1) fall in love with co-hosts Koul and Hagi (it's not often that I find myself laughing during a true crime pod, but this one brings the deep-dive research and the lols and 2) get that theme song stuck in your head. (I feel like a…legend.)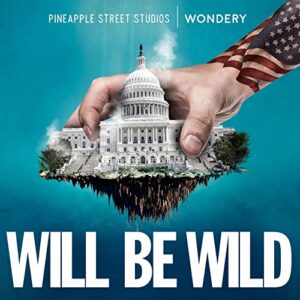 Will Be Wild
(Pineapple Street Studios/Amazon Music/Wondery) – Premiered April 25
As I mentioned earlier, there's a huge overlap between the worlds of true crime and politics, and nowhere is this more apparent in Wondery newcomer Will Be Wild. 
Article continues after advertisement
A number of other podcasts have covered the 2021 Capitol attack, including American Radical, in which MSNBC's Ayman Mohyeldin examines the death of January 6th participant Roseanne Boyland. Like American Radical, Will Be Wild traces the process of right-wing radicalization, one that was compounded by the twin forces of social media and pandemic-era isolation. American Radical took place, for the most part, in Boyland's hometown of Kennesaw, Georgia.  This time, we've moved to Wylie, Texas, a suburban enclave 30 minutes north of Dallas (Wylie is also the setting of Hulu's new five-part miniseries Candy, based on the 1980 axe murder of Betty Gore by fellow housewife Candice "Candy" Montgomery.)
With his long wavy hair and affinity for pastel-colored beanies, Jackson Reffitt resembles Gen-Z Jesus on a snowboarding vacation. (Jackson, if you're reading this, props on the hair care routine.) In all seriousness, though, Jackson had to make one of the toughest decisions last year: deciding to turn his dad Guy Reffitt, a member of Texas's Three Percenters Militia and a Capitol attack participant, into the FBI. Will Be Wild examines the impact of January 6th through the lens of a single American family, unpacking the way that polarization and radicalization changed the Reffitts' lives forever.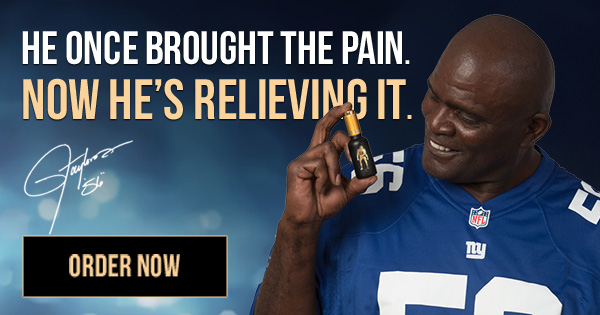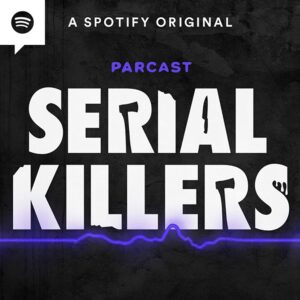 Malicious Moms
(Premiered April 20th)
and

Serial Killers
(Parcast)
Consider this one a two-fer. This summer, Parcast serves up a delectable true-crime duo: newcomer Malicious Moms and the five-year anniversary retrospective of oldie—but goodie!—Serial Killers. 
Can you believe it's been five years since Serial Killers premiered? Neither can I! 
According to The Knot, the traditional five-year anniversary gift is wood. (Trees, roots, ergo a strong relationship? You get it.) While I won't be purchasing this sylvan-inspired whatever-this-thing-is-supposed-to-be (framed coasters? The souls of dead baby trees?) any time soon, I'm more than happy to celebrate 1,826 days of union between Serial Killers and my eardrums with the pod's slate of retrospective programming. Starting July 4th, Serial Killers will examine the 60-year history of serial murders in the United States. Let freedom ring!
Article continues after advertisement
Something old, something new, something…bloody? Malicious Moms (which describes itself as "the mother of all true-crime podcasts") takes on the most devious moms in the universe. Wanda Holloway (aka Texas Cheerleader Mom)? Check. Lori Laughlin (Full House Aunt Becky turned convicted college-admissions con artist)? Check. Betty Broderick? (aka Lady who drove her car into her ex-husband's house) Check. I'm a major JSTOR nerd (I have the T-shirt to prove it), so I very much appreciate the fact that host Vanessa Richardson draws upon peer-reviewed studies when dissecting these dangerous ladies' psychological make-up.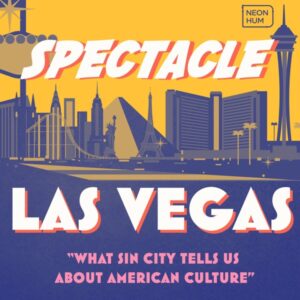 Spectacle: True Crime
(Neon Hum Media) – Premieres June 23
The theme of this podcast is…wait for it…true crime. Before treating me to a series of eyerolls, hear me out. Do you ever stop to think why true crime is so compelling? I don't mean any one case in particular but capital-T, capital-C True Crime. As in, the genre. Have you ever wondered what fuels our obsession with these slice-of-life narratives? (Forgive the pun—also, if you're reading this article, I have to imagine you have more than a passing interest in the genre.)
Spectacle has already aired two seasons (Season 1 traces the history of reality TV while Season 2 examines how Las Vegas became "Sin City"), but production company Neon Hum has remained rather mum on the particulars of Spectacle Season 3: True Crime. (That's okay, though—I like a little mystery.) What little intel we have promises a deep dive into the history of true crime, including a rundown of standout cases and an exploration of what our serial-killer obsession says about our culture.